Students research biodiversity in Costa Rica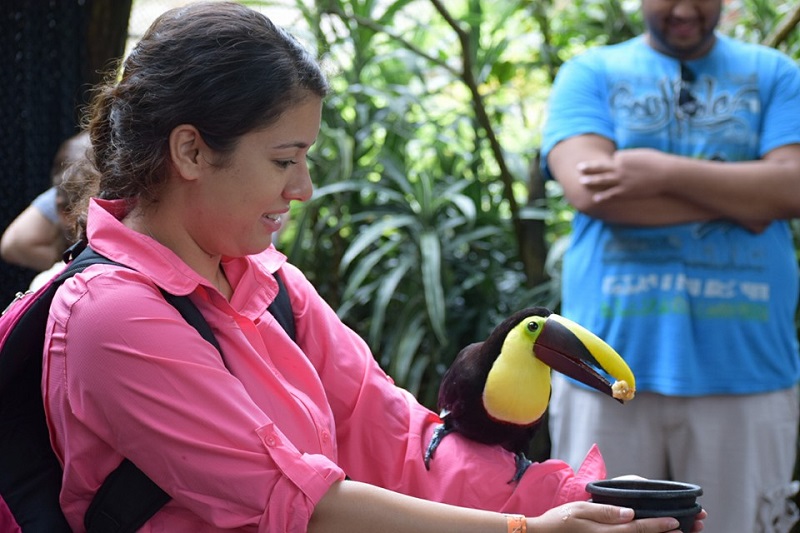 Student Sushmita Adhikari gets up close and personal with a Chestnut-mandibled toucan.
Via multiple locations across the country, University of Nebraska at Omaha students were able to learn about and research biodiversity and conservation efforts in Costa Rica under the leadership of Dr. Roxi Kellar. Two-weeks of classroom preparation regarding conservation strategies and needs was followed by a fifteen-day journey through incredible locations, from volcanoes to cloud forests to active research stations.
Focusing on eco-conservation friendly locations, students visited and stayed in multiple parts of the country to experience a wider variety of diversity. In addition to staying in the capital, San José, Professor Kellar organized research station stays through the Organization for Tropical Studies. Students were able to spend time at La Selva and Las Cruces Biological Research Stations, engaging in hands-on short-term research projects and catching a first-hand glimpse of the natural biodiversity that Costa Rica has to offer. Students saw a range of interesting subjects in the wild, including a baby sloth, a group of howler monkeys, and an eyelash viper!
Program excursions included guided nature and wildlife walks, a night-time rainforest hike, a canopy tour, and visits to cocoa and banana plantations. Students were particularly excited to visit the Arenal Volcano, active until only recently, and the surrounding hot springs supported by its geothermal activity.
The program offers Biology credit, assessed through academic journals, research studies, and classroom presentations. However, it is open to all majors and has no prerequisites. Spanish students may also find the program particularly beneficial.
The faculty-led program in biodiversity alternates locations between Costa Rica and Belize and is tentatively scheduled to head to Belize in summer 2018.