Alex Bauer advises "Get Involved."
contact: Dr. Joseph Price - College of Arts & Sciences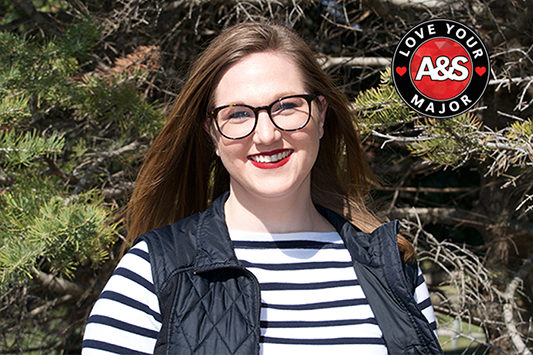 She's served as a Senator for UNO's Student Government, was a Matador for UNO, worked at UNO's Maverick Productions as its Spirit Coordinator, co-chaired Alpha Xi Delta's philanthropy initiative, facilitated at UNO's Sustained Dialogue, worked with UNO's Women's Resource Center, and was last year's president of the Order of Omega.  She's also involved with community service and helped inaugurate the 60 Minutes of Service program, which started with just a few students, and now has over 500 hours of service to its credit.
 If there's one word that best describes Alexandra Bauer, it's "involved."  Alex transferred to UNO from College of St. Mary and now majors in International Studies with a concentration in business and international leadership.  She liked her previous institution, but Alex wanted to experience more diversity, something she didn't get a lot of exposure to in her hometown of Valentine, Nebraska.
Alex got that experience here at UNO.  She's participated in two study abroad experiences, one in London and one in Turkey.  Her experience in 2014 with Dr. Ramazan Kilinc's Turkey study abroad really opened her eyes.  "The trip dispelled many myths, particularly about Muslim women."
 Alex feels her choice of International Studies gives her incredible flexibility.  "New students are bogged down into thinking that what they major in is something they have to do their whole lives… that's not the case… International Studies is very flexible.  It helps you become a critical thinker; it also challenges stereotypes."
 If Alex had one piece of advice to new students it would be to get involved.  "You don't want to regret not being more involved."
If you have a story idea, news tip, or inquiry please contact:
Joan Bell | jbell@unomaha.edu