Teachers As Writers, Learners, and Leaders
Oxbow's Invitational Summer Institute
*Application Deadline extended--Apply Soon*
In a highly collaborative setting, participants and leaders share teaching practices, read and discuss current research, and deepen understandings of the role of literacy as a powerful force for learning. Summer Institute participants also learn about their own writing strengths through daily writing and practice with various ideas, genres, styles, and formats.
This intensive session is designed for teachers and administrators (K to Post Secondary) who are interested in professional and personal growth opportunities. The project seeks applicants who are committed to the teaching of writing in any subject area and who wish to deepen their understanding of theories and practices of writing. 
The Oxbow Summer Institute will be held July 5-21, 2017.  
Oxbow's Youth Writing Project Holds Celebration at Hope Center
In October, participants from Oxbow's Summer Youth Writing Project attended a writing celebration at the Hope Center in October. Director Christin Ones, a first-grade teacher in OPS, directed a creative group of youth participants this past summer. The youth participants presented their writing and artwork to a crowd of parents, participants, teacher leaders. The youth participants received their anthology at the celebration and were eager to share with others.

---
Oxbow Director Presents at Annual NCTE Conference
Maggie Christensen presented "Doing the 'Write' Thing: The Oxbow Youth Writing Project as Community Engagement" at the 2015 annual NCTE conference, held in November in Minneapolis.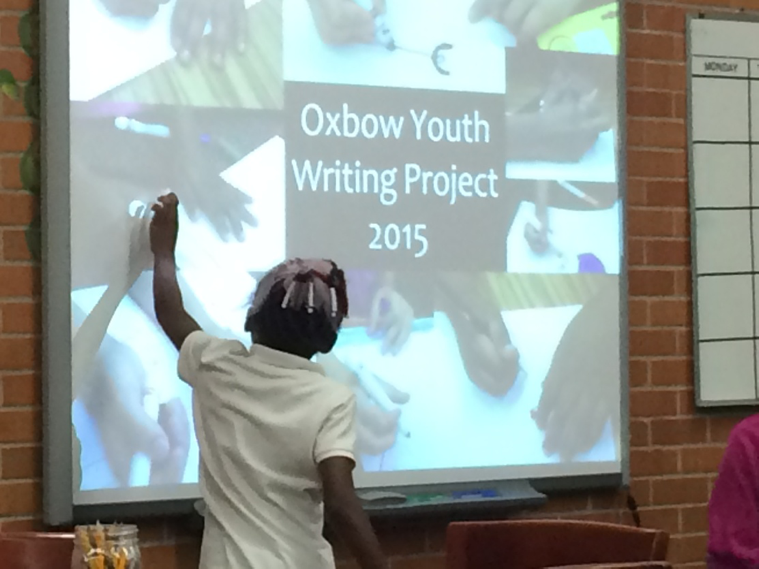 ---
Oxbow Writing Marathons Highlighted at National Conference
In October 2015, Oxbow Director Dr. Maggie Christensen, Co-Director Amy Lovely, Emeritus Professor Dr. Wilma Kuhlman, and graduate assistant Alisha Limoges presented "The Oxbow Writing Project and Place Based Writing In Omaha" at the annual Coalition of Urban and Metropolitan Universities (CUMU) national conference held in downtown Omaha. The theme for the annual conference was "Love of Place: The Metropolitan University Advantage," which fits well with Oxbow's own Writing Marathons. The panel presented on place-based writing within the Writing Project, especially our use of Writing Marathons, and the audience members even participated in their own mini Writing Marathon.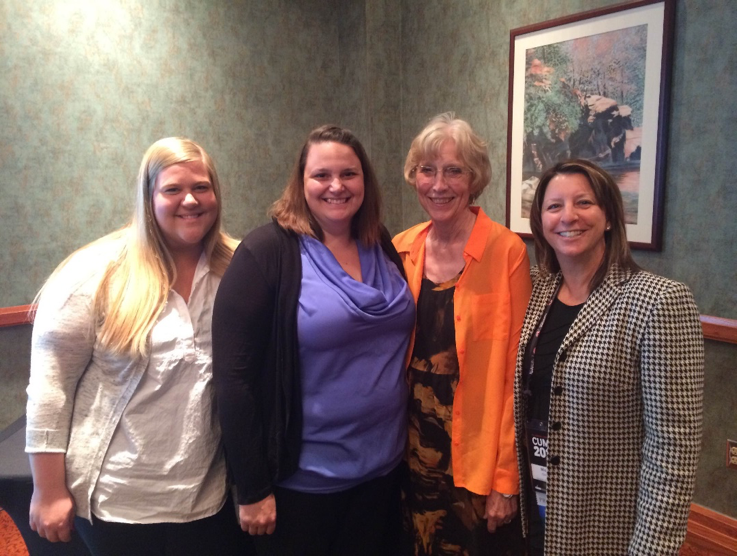 ---
The Oxbow Writing Project's Mini-conference
The Oxbow Writing Project hosted the mini-conference, ELLs and Writing: What's Good for ELLs is Good For Everyone on Saturday, March 5, 2016 for metropolitan area teachers interested in the best practices supporting ELL students. After breakout sessions with area teachers and a keynote address from Dr. Sandra Rodriguez-Arroyo and Pam Erixon, teachers walked away from the conference with practical ideas to bring to their students in the classroom. Oxbow is looking forward to planning the next mini-conference. 
Our Campus. Otherwise Known as Omaha.
The University of Nebraska does not discriminate based on race, color, ethnicity, national origin, sex, pregnancy, sexual orientation, gender identity, religion, disability, age, genetic information, veteran status, marital status, and/or political affiliation in its programs, activities, or employment. Learn more about Equity, Access and Diversity.
scroll to top of page