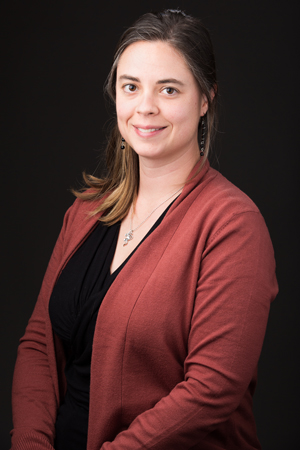 Lacey LeGrand, MS, MA
Academic Advisor
402.554.3032
---
email:
office:
office phone:
areas of focus:
BS & BA BIOL majors
BS BIOI majors
Additional Information
---
Biography
As an academic advisor at UNO, I work with undergraduate students in biology and bioinformatics programs, helping them define and reach their academic goals while meeting university, college, and program degree requirements. I earned both undergraduate and graduate degrees at UNO in biology and geography. I occasionally teach Biology I & II labs and Earth System Science courses, which provides another way for me to interact with students and share my love of higher education.
Interests
My academic interests focus primarily on the natural world including the fields of biology, geography, geology, ecology, and environmental science. I studied lichen diversity in the Big Thicket National Preserve, Texas for my biology thesis, and soil mineralogy in burned vs. unburned soils at Glacier Creek Preserve for my geography thesis. I feel at home in academia and enjoy connecting with college students and assisting them on their individual journeys in any way I can.
Virtual Bulletin Board
Students can find opportunities posted here
Register for this year's Virtual Student Research and Creative Activity Fair, March 26, 2021! The Student Research and Creative Activity Fair allows you to present your scholarly work through demonstrations/exhibits, oral presentations, performances, or posters. Work presented may be something you are working on for class and separate/additional work is not required for participation. Please contact Katy Vitale for questions at kvitale@unomaha.edu or 402-554-2286. Register by February 5th!
The UNO Language Lab is an academic and English language support service for all UNO students. This semester, the UNO Language Lab will have online appointments 30-60 minutes. Students can make up to two appointments each week. 
Students are invited to join as CAPS counselors share resilience tips, discuss different factors that can impact mental health, share strategies for managing the stress of college life, and speak with other students about challenges and successes.
Students must RSVP to attend: https://forms.gle/pP1FY838Gn5Kwfqc7
After registration is completed, a Zoom link will be provided.
Pre-health students can register for the pre-health forum to learn about being a successful pre-health student. Dr. Davis will present, followed by breakout rooms for different majors/pre-health areas.