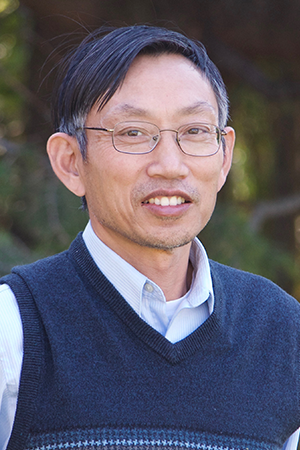 Guoqing Lu, PhD
Department of Biology and School of Interdisciplinary Informatics
Professor
---
email:
office:
office phone:
Additional Information
---
Teaching Fields
Courses taught: BIOI 3000 Applied Bioinformatics, BIOL 4030 Introduction to Bioinformatics, and BIOI 4860/8866 Bioinformatics Algorithms


Courses teaching: BIOL4860/8866 Comparative Genomics and BIOL4030/8060 Genome Technology and Analysis
Research Interests
Dr. Lu's group is interested in a broad spectrum of bioinformatics problems, ranging from sequence analysis, genome comparisons, to system-level biological interactions.

His research spans both theoretical and applied bioinformatics, with a focus on comparative genomics and evolutionary informatics. Dr. Lu's lab has a number of ongoing research projects, which include the pathogen-host-drug interaction networks at the systems biology level and the invasive species – native community interactions and feedback at the ecosystem level.

His lab developed and is currently maintaining several bioinformatics systems, including Phylomarker (http://bioinfo-srv1.awh.unomaha.edu/phylomarker/index.php) and FluGenome (http://www.flugenome.org/).

For more information, please visit the website for Dr. Lu's Lab: http://bioinfo-srv1.awh.unomaha.edu/?page_id=33
Service
Dr. Lu has been on several committees within the university and beyond, including Bioinformatics UPC, Biology GPC, Award Committee, and BIOT Program Committee.  He is on the Editorial Board of four journals: Journal of Pharmacogenomics & Pharmacoproteomics, Journal of Computer Science and Systems Biology, The Scientific World Journal: Bioinformatics, and Journal of Fisheries of China. Dr. Lu reviewed grants for NSF, NIH, NSF-China, UK MRC, Quebec FRQ, et al.
Biography
Dr. Lu is a professor in Bioinformatics and Genomics. He obtained his PhD in Biology from Laval University, Canada, with two master's degrees respectively in Biology and Computer Science.
Dr. Lu was a postdoctoral fellow in the Center for Bioinformatics, McGill University, Canada.
Before joining Omaha, Dr. Lu was the director of the Bioinformatics Research Core Facility in the University of Nebraska-Lincoln (UNL) Center for Biotechnology. Dr. Lu was promoted to associate professor one year earlier than the mandatory year because of his research excellence.
Dr. Lu won the first Excellence in Research Award in the College of Arts and Sciences. Dr. Lu's research programs have been funded by NIH, NSF, USDA, NSF-China, and other grant agencies.