Position Announcement: Spanish-Speaking Business Owners Have New Resource for Growing Their Businesses in Nebraska
Carlos Garzón will provide no-cost business consulting statewide for the Nebraska APEX Accelerator program.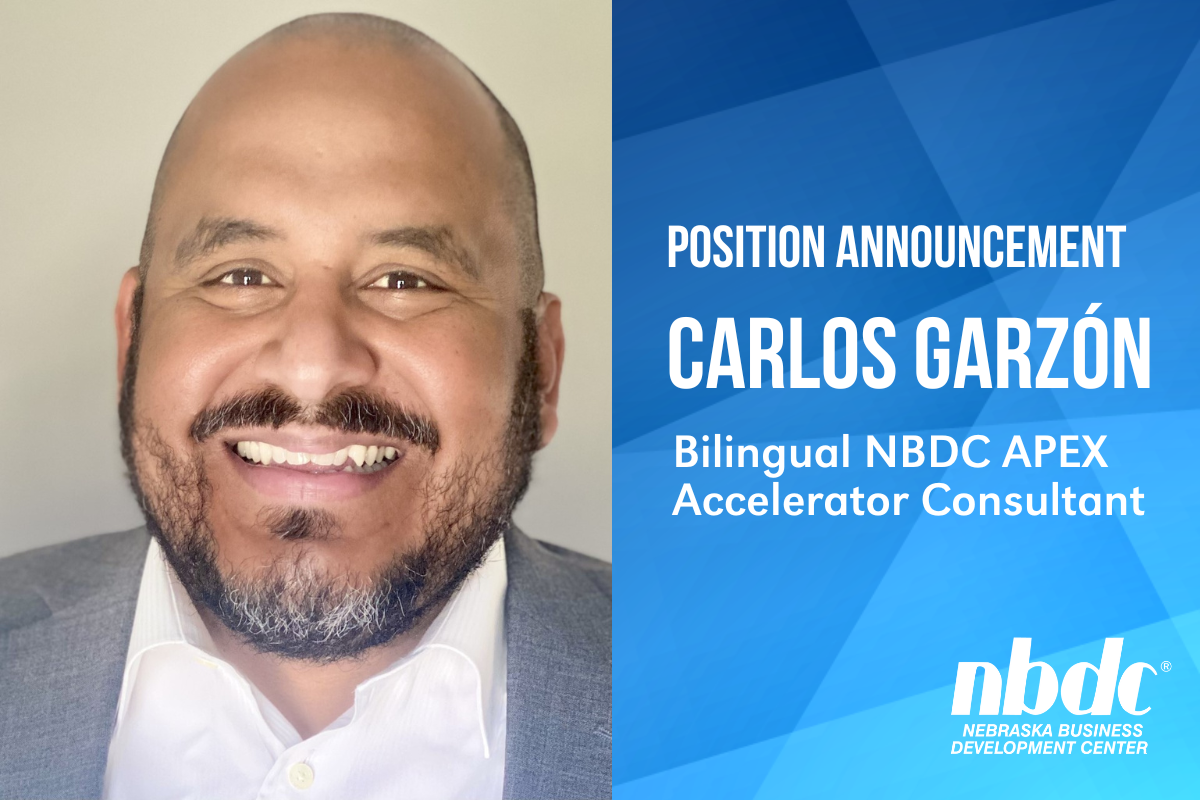 Carlos Garzón has been named the Nebraska Business Development Center's (NBDC) new Nebraska APEX Accelerator bilingual consultant. Based in Norfolk and offering services statewide, Garzón will provide no-cost consulting services that will help Spanish-speaking business owners grow their businesses through government contracting. He is the first consultant in this program dedicated to supporting Spanish-speakers in Nebraska.
His role is part of NBDC's Nebraska APEX Accelerator program which helps businesses sell their goods and services to local, state, and federal government entities. The U.S. government is the largest purchaser of goods and services in the world, and APEX Accelerator consultants can help businesses find opportunities, prepare bids, earn certifications, and navigate often-complicated processes.
The Nebraska APEX Accelerator program is one of five NBDC programs that support Nebraska business owners. In 2022, NBDC consultants served more than 2,000 clients, leading to an impact of $343.8 million to the Nebraska economy through job creation, business investments, sales increases, and government contract awards. Nebraska APEX Accelerator consultants helped business owners in Nebraska earn more than $133 million in government contracts. NBDC is a center of the University of Nebraska at Omaha with offices located across the state. The services offered are available to any business owner or entrepreneur wanting to start, grow, or operate a business in Nebraska.
Garzón, originally from Venezuela, immigrated to the U.S. and earned his degree in transportation and logistics from the University of North Florida. He moved to Nebraska in 2019, and his varied professional experience includes emergency response logistics, creating physical health and wellness programs for wounded veterans, helping establish a procurement department for a major non-profit, and farming in Nebraska.
"Throughout my career I've sought after professional opportunities with a heavy focus on serving others," said Garzón. "As a consultant with the Nebraska APEX Accelerator, I'm able to directly serve and support the hard-working and dedicated members of the Hispanic community. I look forward to helping them navigate government contracting opportunities, elevate Hispanic business to be competitive in the government marketplace, and help remove any obstacles that may be preventing their success."
"We have been working on bringing a bilingual government contracting consultant on our team for a while now, and I am extremely excited to have Carlos join our team," said Veronica Doga, program director for the Nebraska APEX Accelerator at NBDC. "Latino-owned businesses have an amazing growth potential, and with Carlos's help we hope to provide the necessary support to grow the federal and state small business industrial base throughout Nebraska."
This new position is part of NBDC's efforts to expand the organization's capacity to serve Spanish-speakers and ensure more Nebraskans have access to these no-cost services. Earlier this year, NBDC's Small Business Development Center program hired a consultant dedicated to offering small business owners consulting services for needs such as business planning, market research, and financial projections. NBDC's SourceLink Nebraska program can connect Spanish-speaking business owners to other organizations that can support their needs.
NBDC's services are provided at no-cost, and consultants are available for in-person or virtual meetings. Business owners or entrepreneurs interested in NBDC's services can learn more at nbdc.unomaha.edu. Garzón can be reached directly at cgarzon@unomaha.edu or 531.510.4528.