Maslowsky Grading, Inc. Unearths New Business Through Government Contracting
Family-owned business Maslowsky Grading, Inc. in Tekamah, Nebraska, has expanded its operations by securing government contracting opportunities.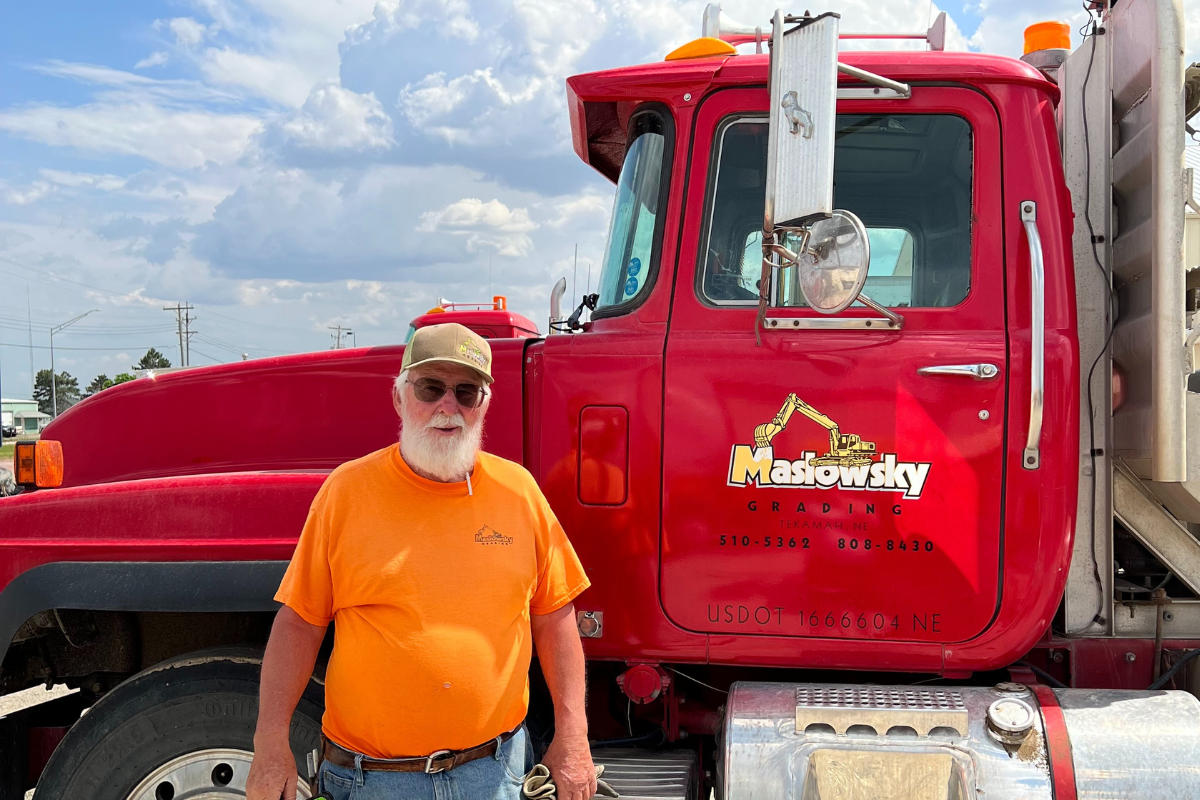 Bernie Maslowsky, founder of Maslowsky Grading, Inc.
Omaha, Nebraska – A family-owned and operated business in Tekamah that offers grading and excavation, demolition and other services is digging up additional business through government contracting opportunities.
Maslowsky Grading, Inc. was founded in 1978 by Bernie Maslowsky. Since that time, four other family members have come to work for the business, which today has 11 employees.
Office Manager Christine Coontz says that being family owned enables the business to offer personalized service to its customers throughout east-central Nebraska. The company primarily offers grading and earth moving, barn and pasture clearing, demolition, heavy equipment hauling, moving rock and sand, trench digging, snow removal and other services.
Coontz says the company's customers have included an increasing number of federal, state and local government entities, sparked by the advice and assistance of the Nebraska Business Development Center (NBDC) and its Nebraska APEX Accelerator (formerly PTAC) program consultants.
The company first worked with the NBDC in 2011 during a series of flood recovery resource meetings, says Nebraska APEX Accelerator Consultant Meghann Buresh. Maslowsky Grading needed an active registration, which at the time was the Central Contractor Registration (CCR), in order to pursue federal contracts.
In 2021, Maslowsky Grading again turned to the NBDC for help, this time to obtain a current System for Awards Management (SAM) registration, which replaced the previously required CCR registration. Buresh says the company sought to pursue a contracting opportunity with the City of Omaha, which occasionally has contracts that require contractors to have an active SAM registration because there are federal funds behind those projects.
"Christine was challenged with the task of completing additional steps to fix various issues that included migrating the CCR registration to SAM, completing and uploading a notarized letter to reassign an entity administrator role, and updating the legal business name from a sole proprietor to an incorporated business," Buresh says.
Coontz says the registration upgrade has led to a variety of government contracts for the company.
Maslowsky Grading has completed several jobs for the City of Omaha, and most recently was awarded a contract for a demolition project in North Omaha. In 2022, also for the City of Omaha, the company hauled dirt that was dug out of a pond in Dodge Park.
The company was awarded three Missouri River flooding jobs by the City of Omaha in 2019, including a contract for the Omaha Wastewater Treatment Plant and another to remove temporary flood barriers.
The Nebraska Game and Parks Commission has contracted with Maslowsky Grading to haul rock and complete site work for the new ranger station at the Memphis State Recreation Park north of Ashland. The company has fulfilled numerous contracts with the local government in Burt County, and also did grading work for the new volunteer fire department station in Uehling, Coontz says.
"Meghann and the NBDC were instrumental in getting our SAM registration going," she says. "We wouldn't have gotten those government contracts without her help, and she still sends us information on opportunities like seminars that could benefit our business. She's been helpful through every step, and we've developed a good friendship along the way."