NBDC Champion of Small Business: Scout Dry Goods & Trade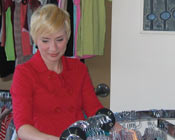 From the quality of the gently used clothing, shoes and accessories it sells; to its customers, its neighborhood and the world beyond, Scout Dry Goods & Trade in Omaha is truly a business that cares. In 2006, owner Kelly Newell attended an NBDC workshop where she learned how to write a business plan, create financial projections and find answers to tough business questions.
The following year, she worked with NBDC consultants to adjust her financial projections, resulting in a loan being approved. Because of this, Scout opened its doors in 2008. Today, Scout employs six people and has an ongoing internship program. Newell says a second store is in the works.
NBDC Veteran-Owned Business of the Year: 21 Delta Engineers LLC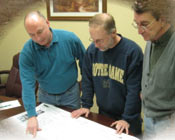 Paul Mattern was introduced to NBDC through a flier advertising the Veteran Business Owners Forum breakfast. Since attending the event, his business 21 Delta Engineers has grown through similar networking opportunities. 21 Delta Engineers, LLC is an engineering consulting and construction company specializing in mechanical, electrical, physical and electronic security, audio visual and fire protection systems.
Founded by Mattern in 2008, the company is a participant in the NBDC's Federal Contractor Certification Program. In military terminology, "21" is the engineer series and "Delta" signifies facility engineers. Mattern and two others serve as 21 Delta's design and construction engineers.  
NBDC Government Contractor of the Year: Dyna-Tech Aviation Services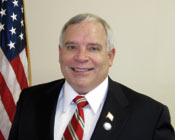 Dyna-Tech Aviation Services of Omaha is charting new routes to success by partnering with the Procurement Technical Assistance Center (PTAC), a not-for-profit arm of NBDC. Dyna-Tech's President and General Manager Mark Spadaro is an Air Force veteran who has been the company's majority shareholder since 2009.
The company has a current contract to maintain and fly the U.S. Army Corps of Engineers jet. In addition to flying Corps officials around the country, Dyna-Tech has developed a method of tracking each trip and providing a cost benefit analysis for using the Corps aircraft instead of a commercial flight.
PTAC has become part of the Dyna-Tech team, Spadaro says.
NBDC Technology Business of the Year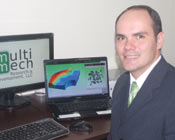 Brazilian entrepreneurs, Leandro Castro and Flavio Souza, earned their doctorates in engineering mechanics at the University of Nebraska-Lincoln. Their company, MultiMech Research & Development LLC, provides Computer-Aided Engineering (CAE) solutions to optimize the design and manufacturing process of innovative products.
Launched in August 2010, MultiMech has developed several software products that reduce the time needed to create and test a prototype. Castro and Souza are currently designing software tools to enable engineers to reduce expenses associated with trial-and-error product development and discover flaws that cause a product to fail before the end of its lifecycle. MultiMech's first client is Eletrobras, a major Brazilian power utility.
NBDC Manufacturer of the Year: Overhead Door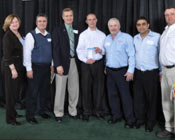 Training opportunities provided by NBDC are enabling Overhead Door Corporation's Grand Island, Neb. manufacturing facility to capitalize on the strengths of its workers and continue a pattern of growth. The Grand Island facility opened in 1977 with 30 employees and 115,000 square feet of manufacturing space. 
After four expansions, the facility now has 200,000 square feet of floor space and more than 200 employees. Overhead Door gives team members opportunities to attend training through NBDC. The training, which focuses on lean manufacturing techniques, has resulted in growth of the teams' capabilities as well as flow improvements within the facility, says Jason Peterson, manufacturing engineer.
NBDC Sustainability Business of the Year: Signs & Shapes International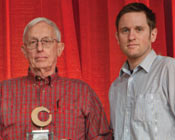 Signs & Shapes manufactures inflatable, "WalkAround®" mascots for sports teams, amusement parks and other organizations as well as huge flags and inflatable RocketSigns. It also rents inflatables and flags and provides contract management of costumes and staffing for appearances around the world—all from a two-year-old, energy-efficient facility in north Omaha.
Co-owners Scott Bowen and his father, Lee, helped design the new building to incorporate innovative energy-saving features including ground source-coupled geothermal heat pumps that condition the air. Skylights stream natural light into the building. Their efforts have earned an "Engineering Excellence Award" from the American Council of Engineers.