2012 NBDC Business Awards
NBDC Champion of Small Business: S&S Plumbing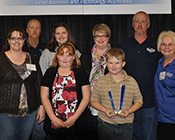 S&S Plumbing opened in June 2005, operating out of Jim Schneider's basement and garage. In addition to the Schneider brothers, S&S Plumbing employs four people. The company is licensed for plumbing, well service and septic systems in Nebraska and well service and septic systems in Wyoming, and has added heating, ventilation and air conditioning (HVAC) service.
The Schneiders are strong believers in giving back to the community. As members of the Mitchell Chamber of Commerce, each year they assist the Chamber with the Scottsbluff County Fair parade and support area schools by adding their business to sports promotions. The company also provides plumbing work for several Habitat for Humanity projects.
NBDC Veteran-Owned Business of the Year: The Garrett Group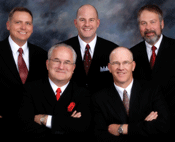 In 2007, Col. Tommy L. Garrett, a veteran of 26 years in the U.S. Air Force, and four others launched The Garrett Group (TGG), a service-disabled veteran-owned business that specializes in information security, intelligence and security consulting. In 2011, TGG won the Solutions for Intelligence Support (SIS) contract at the Defense Intelligence Agency. It is one of four primes on this indefinite delivery/indefinite quantity (IDIQ) contract with a total contract ceiling of $265 million.
TGG's goal is to give at least 10 percent of its annual profit back to the local community through numerous charitable donations and involvement including scholarships to five area high schools. TGG participates in many efforts that benefit veterans, such as its sponsorship of 15 rooms at the Open Door Mission dedicated to homeless veterans. The company hires veterans whenever possible, and is working to build an internship program for college students.
NBDC Government Contractor of the Year: Issues Management Solutions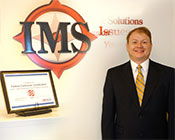 Issues Management Solutions (IMS) uses a science-based approach to develop public relations programs that help organizations communicate effectively in high-profile and sometimes controversial events. Steven R. Wolf, president and CEO, and his consulting team in Omaha, along with staff situated in Texas, Georgia and the D.C. area, utilize their expertise in risk communication management to help clients overcome issues involving mergers and organization changes, litigation, environmental policies, public opposition, regulatory concerns and various other challenges.
In 2001, IMS formed to develop a software product titled, "Key Message Manager." Three years later, the company opened its doors as a full-service consulting firm. Wolf estimates that about 85 percent of IMS clients are within the federal government. In 2012, IMS was awarded more than $865,000 in government contracts.
NBDC Technology Business of the Year: SectorNow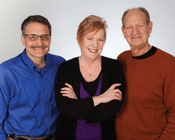 Evelyn Bartlett, Roger Bartlett and Craig Lutz-Priefert of SectorNow LLC use smart technologies and intelligent decision support software to improve people's lives. Their app, WasteFinder, helps businesses, organizations and municipalities track waste and improve their recycling practices.
SectorNow partnered with the Munroe-Meyer Institute for Genetics and Rehabilitation at the University of Nebraska Medical Center, to develop MySocius that uses evidence-based natural teaching procedures to help children with autism communicate more effectively. SectorNow worked with the Groundwater Foundation to develop Water1der, an app aimed at helping schoolchildren understand groundwater cycles and other principles of conservation and water protection. The company also worked with the Douglas County Department of Environmental Services to develop Dump Detective, an app that enables storm water inspectors to better identify and report potential water pollution incidents.
NBDC Manufacturer of the Year: Tri-V Tool & Manufacturing Company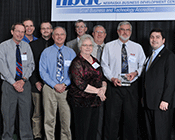 Tri-V was founded in 1984 by Dave, John and Jim Vyhlidal and has enjoyed steady growth since its inception, evolving from a tool and die shop to a diverse manufacturer. In 2003, the company obtained ISO 9001 approval. In 2009, investments in new equipment and the purchase of another company, CSE Automation of Omaha, have kept growth on track. The company continues to add new state-of-the-art equipment and processes including a water jet cutting machine and high-speed machining center. It is one of few job shops with high-rise pallet systems on the horizontal machining centers. Aware of environmental concerns, Tri-V has converted to all water-soluble coolants, reducing hazardous waste to near zero.
Actively committed to the community, John and Jim are involved in the Nebraska Advanced Manufacturing Coalition's "Dream!t Do!t Initiative," encouraging students to consider rewarding careers in manufacturing. Tri-V also sponsors a "High School to Career" program, where students can work part time at Tri-V, with successful candidates receiving tuition reimbursement for completion of the Machine Tool Technology program at Southeast Community College.
NBDC Sustainability Business of the Year: ServiceMaster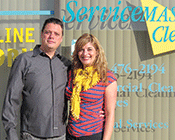 The sustainable cleaning services offered by ServiceMaster Professional Building Maintenance (PBM) of Lincoln are efficient, effective and a benefit to the company's customers and its 170 employees, says Jon Paolini, who co-owns the business with his wife, Angela. Utilizing natural cleaning substances means less exposure for employees as well as customers to harsh chemicals like ammonia.
The Servicemaster Clean Green Fortm products use 90-100% less toxins than traditional cleaners. Paolini worked more than 15 years with ServiceMaster PBM of Lincoln, ultimately rising to the position of general manager, before he and Angela bought the company in 2009.