A New Home: the TRAC Program Partners With the School of Criminology and Criminal Justice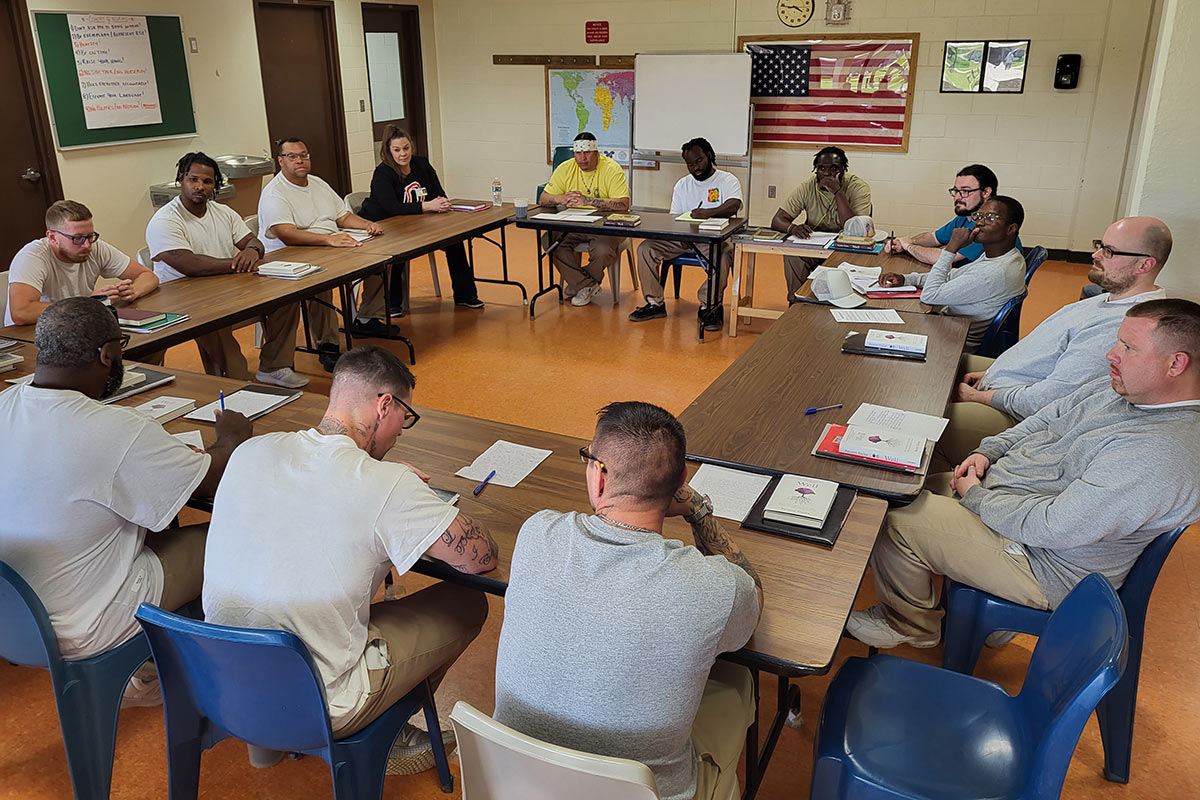 The TRAC (Transforming, Renewing, Achieving, and Connecting) Program has partnered with the
School of Criminology and Criminal Justice
at the University of Nebraska at Omaha to provide post-secondary classes for incarcerated individuals. The program will continue to operate through funding from private donors and under the leadership of Dr. Sadaf Hashimi, an Assistant Professor in the School of Criminology and Criminal Justice.
Formerly housed in the Division of Continuing Studies, the UNO TRAC Program provides for-credit general education and Inside-Out college courses to incarcerated individuals at the
Omaha Correctional Center (OCC)
.
Most importantly, "the TRAC Program offers the opportunity for incarcerated persons to transform their behaviors by increasing their confidence in their academic abilities, improving their intellectual skills, and engaging in critical reflection of self and society," said Dr. Hashimi, Director of TRAC.
With support from OCC and private donors Steven, Tom, and Stephanie Scott, the TRAC Program has offered 27 courses since Fall 2017. While courses range, including English, Chemistry, Public Health, Sociology, and Math, almost all courses fall under UNO's General Education Curriculum. To date, there have been 340 enrollments, with an 80% completion rate. Credits earned during incarceration can be used towards a UNO degree, allowing incarcerated individuals interested in pursuing post-secondary education to continue their education once released. "With the reinstatement of the Pell Grant Funding, this is an opportune time for the SCCJ to continue to pursue community and university-wide partnerships with the possibility of expanding the TRAC Program into a full prison education program," said Dr. Hashimi.
The program's success continues to resonate among the population at OCC, proving to be a transformative experience for those involved. This is demonstrated in the testimonials from several students below:
"I remember the day I was accepted as a UNO student. I was in my cell when I got my UNO welcome letter and student ID number, but I felt like I'd just gotten a million dollars. When you're in prison you feel like you don't belong to anything, but UNO made me feel like I belonged to something."
"The opportunity to be exposed to higher education while incarcerated has provided much more than the education itself. It has given me hope in seemingly hopeless moments. It has given me great moments of satisfaction and accomplishment. Plus, the human connection."
"I have been challenged to think critically like I never have before. I have been exposed to knowledge, thought, and experiences that I have never been afforded before."
"Access to higher education has been an amazing experience. I am able to feel like I am using my time wisely, in a productive manner. Professionally, I see myself getting better with my social and communication skills. I feel encouraged by my progress and the motivation is real."
"The inspiration and motivation from the professors have really been encouraging at making higher education accessible and obtainable during my incarceration. I envision a better relationship between inmates for having the means to enter a classroom and build off each other while learning new skills and tools to better their lives."
"Personally, higher education has built a stronger sense of accomplishment and guidance in my life that I've been missing for a long time. Professionally, I have been expanding my knowledge in all areas and have already adopted new habits and skills I plan to use finishing achieving a degree and implement in my future career."
If you want to donate to the TRAC Program, please contact Sue Kutschkau from the University of Nebraska Foundation at
sue.kutschkau@nufoundation.org
or visit the
NU Foundation fund
. For questions about the program or if you would like to serve as an instructor, please contact Dr. Sadaf Hashimi at
shashimi@unomaha.edu
.
About the University of Nebraska at Omaha
Located in one of America's best cities to live, work and learn, the
University of Nebraska at Omaha
(UNO) is Nebraska's premier metropolitan university. With more than 15,000 students enrolled in 200-plus programs of study, UNO is recognized nationally for its online education, graduate education, military friendliness and community engagement efforts. Founded in 1908, UNO has served learners of all backgrounds for more than 100 years and is dedicated to another century of excellence both in the classroom and in the community.