NCJR Releases Evidence-Based Inventory of Criminal Justice Report
contact: Debbie Vihstadt - College of Public Affairs and Community Service
phone: 402.554.3033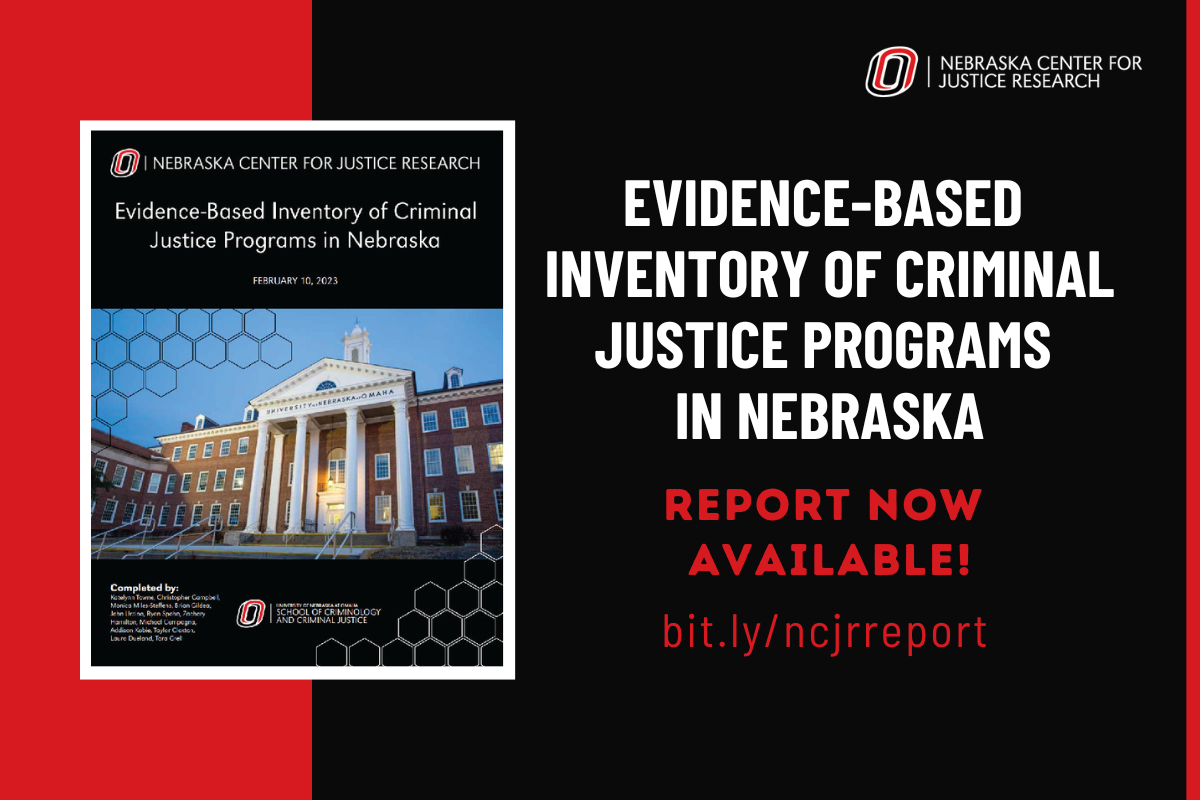 The criminal justice system has faced significant challenges in recent years, particularly in addressing issues related to recidivism and rehabilitation. As a result, policymakers have increasingly turned to evidence-based programs to guide decision-making in the criminal justice system.
"Since I began this work more than 10 years ago, one of the most common questions of policy makers, practitioners, and family members of persons in the Nebraska criminal justice and correctional systems has been, 'What programming is being offered, and where?' the Nebraska Center for Justice Research (NCJR) sought-out to answer these questions," said Ryan Spohn, Director of NCJR. "We also reviewed the literature for evidence of effectiveness of each program."
A lack of information can result in ineffective policies and programs that fail to achieve their intended outcomes. It can also lead to the implementation of programs that are harmful or counterproductive, with unintended consequences for the individuals involved and society at large. Correctional programs are designed to help individuals who have been incarcerated to successfully re-enter society and lead productive lives. However, many of these programs have not been rigorously evaluated, making it difficult to determine their effectiveness. This lack of evidence-based programming can result in the implementation of programs that do not address the underlying causes of criminal behavior and fail to reduce recidivism.
The Evidence-Based Inventory of Criminal Justice Programs in Nebraska report was created as a direct result of LB 896. LB 896 sought to make changes to current provisions that require the Department of Correctional Services to evaluate the structured programming required for all persons committed to the department. "Not only does this report serve as a one-of-a-kind tool for understanding the distribution of programming in Nebraska," Spohn explained, "but it also highlights the scarcity of research and evaluation of most programs and makes clear the importance of the correctional programming evaluations currently being conducted by NCJR. As policymakers continue to grapple with the challenges facing the criminal justice system, evidence-based programs such as those in Nebraska should be a key part of any comprehensive solution."
Evaluations of correctional programming can help reduce recidivism rates. Recidivism is a significant problem in the United States and Nebraska, with a large percentage of offenders returning to prison within a few years of their release. However, research has shown that certain types of programming can significantly reduce the likelihood of recidivism. By evaluating the effectiveness of correctional programs in Nebraska, the Center for Justice Research is helping to identify those programs that are most effective in reducing recidivism and improving outcomes for offenders.
Evaluations of correctional programming can also save taxpayers money. The cost of incarcerating offenders is significant. It can cost upwards of $50,000 a year to incarcerate an individual and over the years, Nebraska has continually struggled with budget shortfalls. By investing in evidence-based programming, that has been shown to reduce recidivism, Nebraska can save money in the long run by reducing the number of offenders who return to prison.
NCJR's evaluations of correctional programming are a valuable tool for improving Nebraska's criminal justice system. By identifying which programs are most effective, policymakers and correctional administrators can make informed decisions about how to allocate resources and improve outcomes for offenders. Additionally, by reducing recidivism rates and saving taxpayers money, these evaluations have the potential to improve the overall health and well-being of Nebraska's communities.
Nebraska Center for Justice Research
Established in 2014, the Nebraska Center for Justice Research (NCJR) is a legislatively funded research center in the School of Criminology and Criminal Justice located in the College of Public Affairs and Community Service. The mission of NCJR is to promote evidence-based practices in criminal justice, substance abuse treatment, and policing throughout the state by providing technical assistance and completing policy and program evaluations for the Nebraska Legislature, administrative agencies, and private organizations.