Dean Bartle Elected as President-Elect of the American Society for Public Administration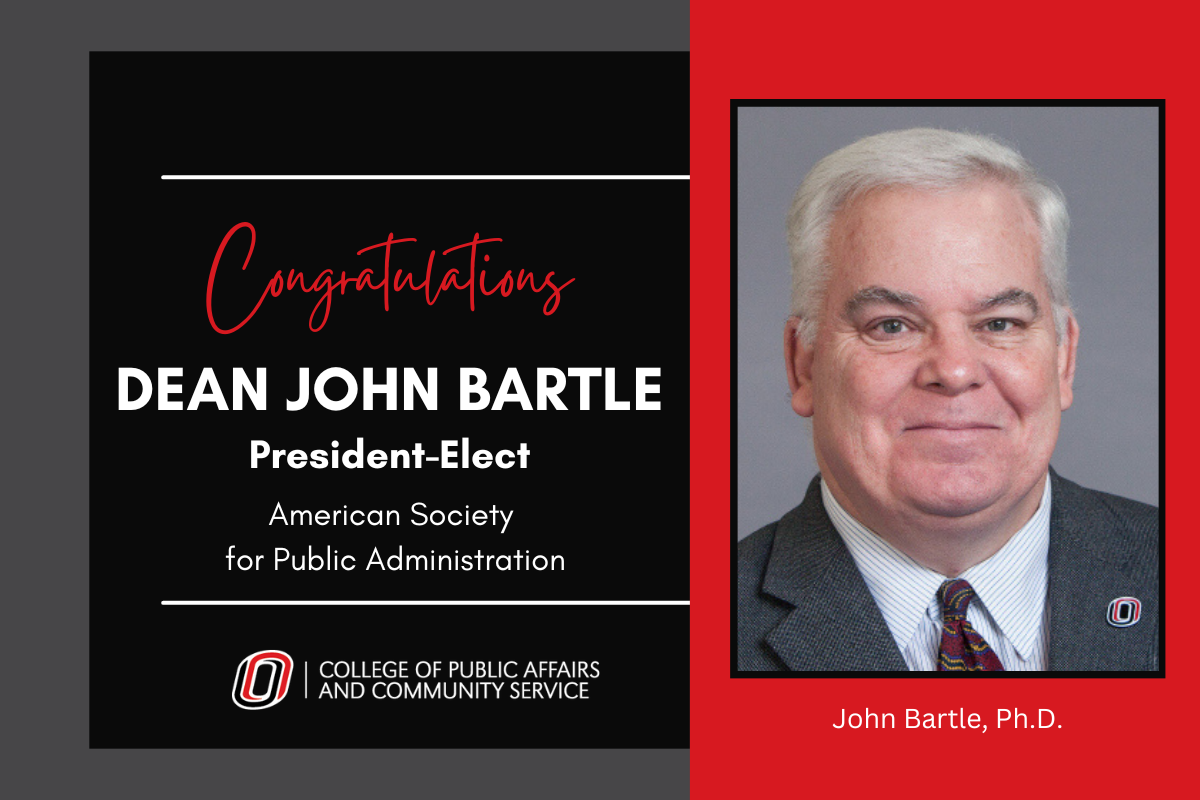 Congratulations to Dean John Bartle, Ph.D., on his election to president-elect of the 8,000 member American Society for Public Administration (ASPA). This is a significant accomplishment that reflects the hard work and dedication he has shown in the field of public administration and his commitment to public service. Bartle will serve a two-year term as president-elect beginning in March of 2023 and will assume the two-year term as president of ASPA in 2025.
Bartle is dean of the College of Public Affairs and Community Service, and a professor of Public Administration at UNO. He has been at UNO since 1994 and has served as dean since 2011, leading several academic initiatives. He has served as chair of the Association for Budgeting and Financial Management (ABFM), and the Section on Transportation Policy and Administration (STPA) of the Network of Schools of Public Policy, Affairs, and Administration (NASPAA). Bartle was elected as a fellow of the National Academy of Public Administration in 2010 and currently serves as treasurer. He received two major awards from ASPA sections: the Aaron Wildavsky Award from ABFM for lifetime achievement in budgeting and fiscal management and the Truitt-Felbinger Award from STPA for significant contributions to the field of transportation policy and administration. He has co-authored or edited four books: Innovative Infrastructure Finance: A Guide for State and Local Governments; Management Policies in Local Government Finance; Sustainable Development for Public Administration; and Evolving Theories of Public Budgeting. He has published 70 articles and book chapters in both academic and practitioner outlets, including Public Administration Review; Public Budgeting & Finance; State and Local Government Review; Public Administration; Sustainability; and Journal of Public Administration Research and Theory.
Bartle has made significant contributions to public finance and budgeting theory and practice. He teaches and does research on transportation, public policy analysis, public budgeting, local government fiscal management practices, and sustainable development. Bartle's research has been used by state and local governments to inform their decision-making processes on various fiscal issues. He has worked with the Nebraska Legislature to provide policy advice for over ten years.
Bartle earned his bachelor's degree from Swarthmore College, his MPA from the University of Texas, and his Ph.D. from Ohio State University. He received the honorary Doctorate of Humane Letters from the State University of New York in 2016. He worked in city and state government in Minnesota and for state and national nonprofit research organizations on tax policy issues.
He said, "UNO has given me the opportunity to grow. I have had great colleagues and students over the past 28 years and have been deeply engaged with many leaders in government and the nonprofit sector in Nebraska. I appreciate UNO's support in my career."
About ASPA
Since 1939,
ASPA
has been the nation's most respected society representing all forums in the public service arena. It is an advocate for greater effectiveness in government, agents of goodwill and professionalism, publishers of democratic journalism at its very best, purveyors of progressive theory and practice and providers of global citizenship. ASPA leaders believe that by embracing new ideas, addressing key public service issues, and promoting change at the local, federal, and international levels, the society can enhance the quality of lives worldwide.
ASPA is the largest and most prominent broadly based professional association in American public administration. It has a diverse membership of approximately 8,000 practitioners, academicians, and students. ASPA serves as the principal arena for linking theory and practice within the field of public administration.