Aviation is a Family Affair for Recent Graduate Scott Lutte
UNO's August 2022 Commencement was a true family affair for Scott Lutte, who graduated with his Bachelor of Science in Aviation.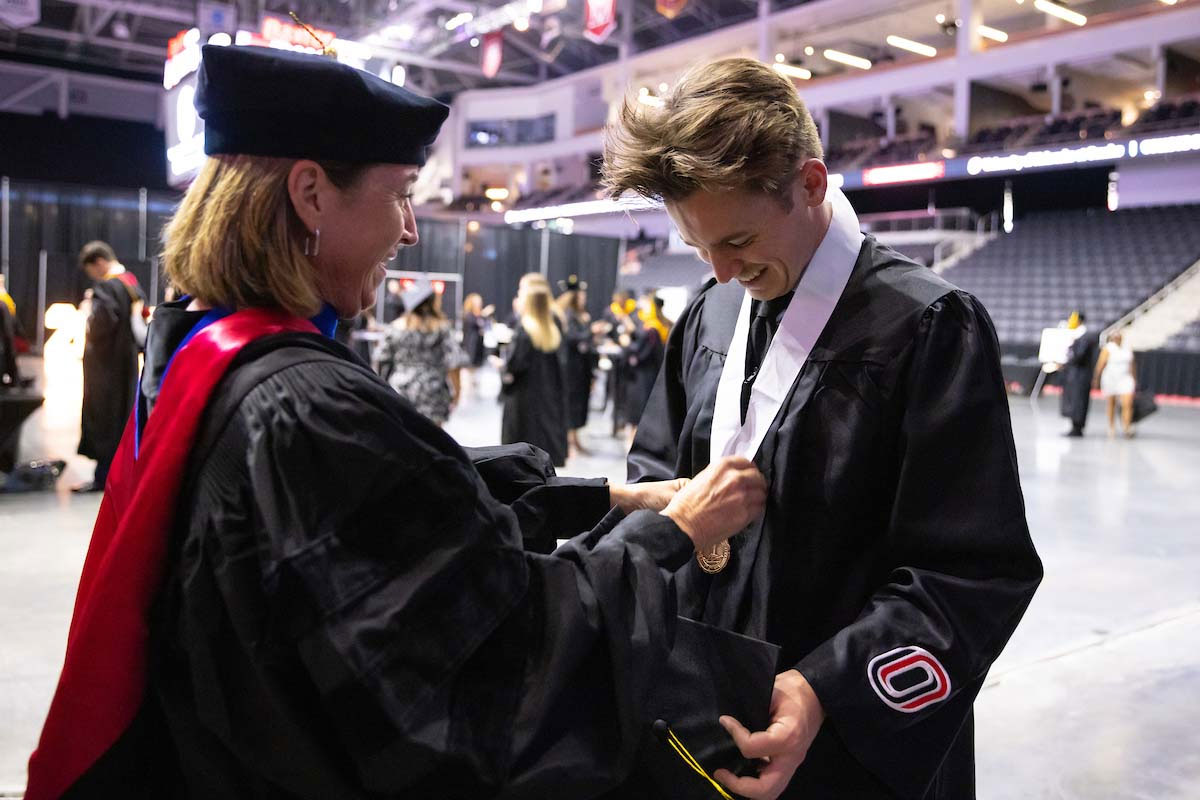 Scott is the latest in a long line of Mavericks, which includes his mom, Becky Lutte, an associate professor of Aviation who also holds a master's degree and Ph.D. from UNO in Public Administration.
Becky, who is also a pilot, was joined at commencement by her husband, Steve, who flies 737s for United Airlines. The pair flew up from Texas to cheer on their son, who plans to follow in his parents' footsteps and pursue a career as a pilot.
"We all have this passion for aviation in our family," Becky said. "We've flown planes and built planes and we all have such a passion for it. To share it is very special. When I got to fly with Scott for the first time [it] was great."
Scott said he got the itch to fly early on as a result of his parents' work.
"As a kid I would walk around all the airports would think how cool it was," he said. "As I got older and started to see it in a different way, I realized it was something I could do for the rest of my life. I'll never forget taking off in the first plane that my dad built. I thought it was the coolest thing."
What made the day extra special for the Luttes is that Scott isn't just a second-generation Maverick, or second-generation pilot for that matter. His family ties to UNO and to aviation go back four full generations with Becky's dad graduating from UNO in 1958 and Becky's grandfather teaching at Omaha University prior. Meanwhile, Becky's uncle, Jim Buick, served on the Aviation Institute advisory board and Steve's grandfather was a private pilot.
"I think it's really cool, and I'm honored to have such a fun family line and because aviation, as a profession, is pretty new," Scott said. "And it means a lot to have so much history at UNO, as well, because there is so much history in Omaha tied to our family."
Scott said even though he was born and raised in Texas, UNO's commitment to aviation and his familiarity with the program made it an obvious choice. Now that he's graduated, he is planning to put in as many flight hours as he can on his way to becoming a airline pilot like his dad.
"I'm really looking forward to it. I don't care about the money or benefits, it's just getting the opportunity to fly cool jets and airplanes and take the next steps to my goal.
"That said," he added. "They are paying well, and I'm not too hurt about it."
The Lutte story was first shared in the August 2022 Commencement Stories. KMTV also did a story on the Luttes, which includes Becky Lutte speaking about staffing shortages in the aviation industry.
The Aviation Institute joined the College of Public Affairs and Community Service in 1995. It now offers a Bachelor of Science in Aviation with concentrations in Air Transport Administration, Professional Flight, and Unmanned Aircraft Systems Operations; and a minor in Aviation. The Aviation Institute offers an Aviation Resource Center and Advanced Simulation Facility thata includes a full-motion G1000 Simulation and a Redbird Simulator.