Nebraska Data Users Conference Series Continues Mission to Build Data Literacy throughout Nebraska
Registration for the Nebraska Data Users Conference Series is now open. Register today!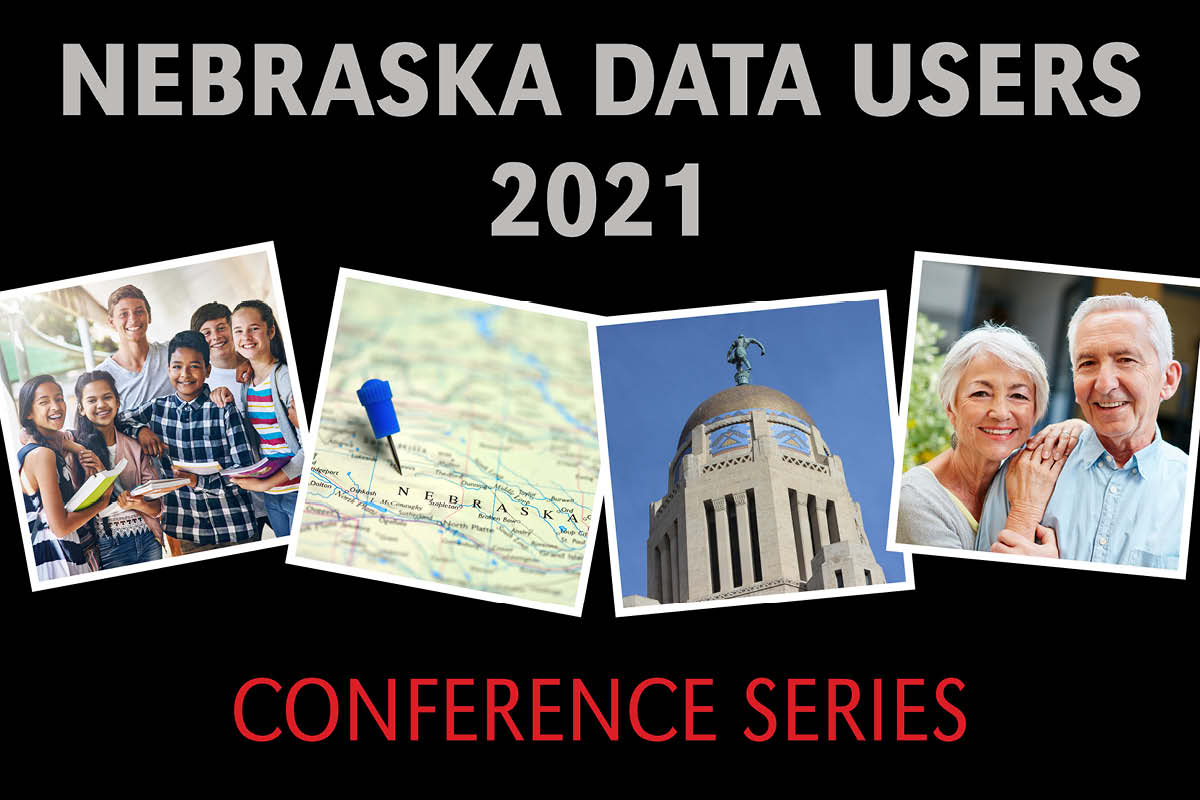 The Nebraska Data Users Conference has been a resource for demographic, economic, and community data training for over 30 years. The mission of the conference is to develop the capacity of Nebraska's public and non-profit agencies to find and apply data. The mission of this year's conference is no different; however, instead of the traditional one-day in-person event held in late August, the conference will be delivered virtually in a four-part series held on the last Thursday of alternating months beginning in April. This change allows for more timely delivery of information, provides greater flexibility for participants, and complies with current social distancing guidelines.
The conference is conducted by the University of Nebraska at Omaha Center for Public Affairs Research (CPAR). In 1989, CPAR was designated the Nebraska State Data Center lead agency and conducted the first annual Nebraska Data Users Conference in 1990. The conference content always highlights data releases and updates from the U.S. Census Bureau, but other data sources, best practices, and examples of real-world applications are also a staple. Presenters include CPAR staff; University faculty members; and national, state, and local experts.
Due to the uncertain data release schedule 2020 Census results may not be released prior to each date in the conference series. However, a wide range of other data releases, topics, and sources will be discussed as well as 2020 Census information that is available. Here are some highlights.
Exploring Nebraska Workforce Using the Census Bureau's Current Population Survey presented by Josie Schafer from CPAR. The Current Population Survey and other sources will be used to gain insight about working families and ways in which the pandemic has impacted these families. This and training on using the Census Bureau's data portal will be presented in April.
Understanding Vulnerable Populations. University faculty members and others will present their research on human mobility; women and the economy; and the aging population. These sessions examining vulnerable populations and the data available to explore them will be presented in June.
Redistricting: Examples and Experiences from Other States presented by Ben Williams from the National Conference of State Legislatures. The purpose of the census enumeration is to determine representation in Congress. That same data is used for redistricting of other legislative bodies, such as the Nebraska Unicameral. This session will give examples from other states and talk about the basics of the political process and technical details that will impact redistricting in Nebraska. This and a session on Nebraska state and local population trends will be presented in August.
2020 ACS Data and What it Tells Us About the Pandemic presented by David Drozd from CPAR. This data release will be our first official look at socio-economic data as influenced by the pandemic and is the only source for unemployment data for geographies smaller than counties. This and a session on the pros and cons of using maps for information sharing will be presented in October.
Register or view the entire schedule at
cpar.unomaha.edu/conference
. Registration is $40 to attend each live session which includes access to a recording of the session; or $30 for access to the recording only after each session. Contact CPAR at unocpar@unomaha.edu or 402.554.2133 with questions.