Cameron Makes Difference as 1-Check COVID App Developer
In this highlight from Omaha Athletics, Carly Cameron talks about her role in developing the 1-Check COVID app with her Scott Scholars cohort.
published: 2020/11/10
contact: Zach Kirby - Omaha Athletics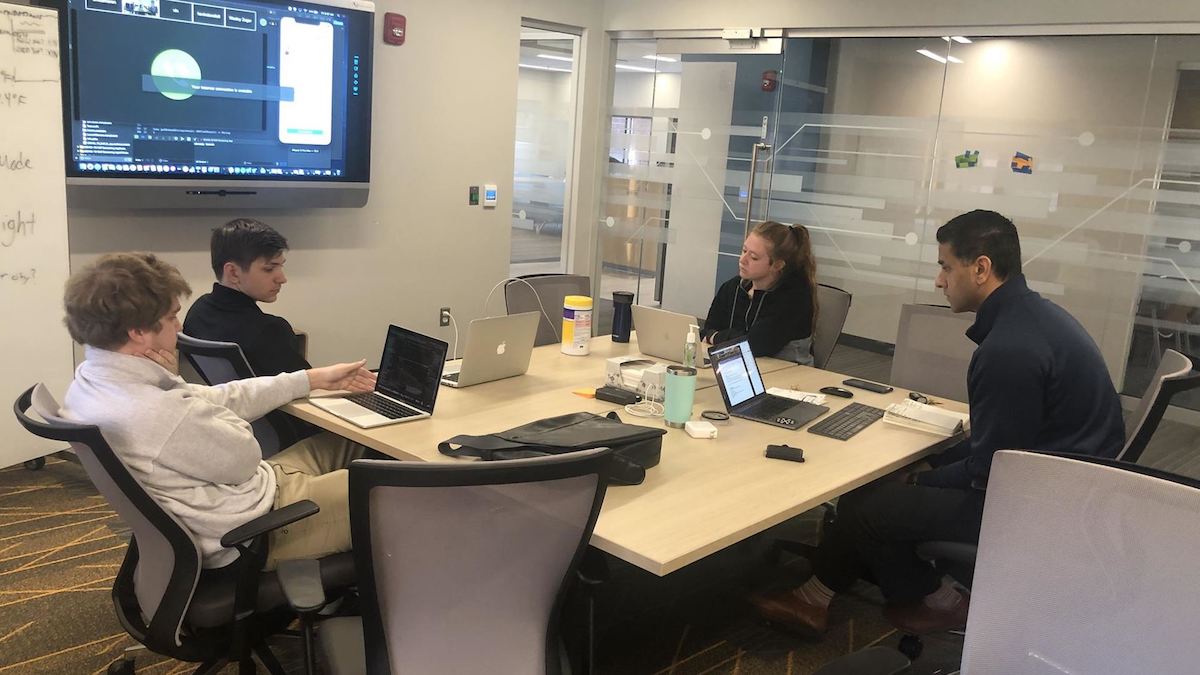 When the COVID-19 pandemic hit, current Omaha women's soccer player Carly Cameron was tasked with a monumental, real-world challenge to keep our schools safe.  
That challenge was developing a screening tool that can help students, faculty and staff re-enter the routine of work and school safely. For 16 hours a day and three weeks straight, Cameron and two other recipients of the prestigious 
Scott Scholarship
 designed the 1-Check app.  
"The previous summer, the three of us were part of a different internship called AppJam," said Cameron. "We were able to create apps for UNMC and the UNO Food Pantry. We also got the opportunity to go to Cupertino [Calif.] in Apple's headquarters and present some of our ideas there. We already had some experience in app development so when the pandemic hit, Dr. [Jeffrey] Gold asked our program director Harnoor Singh if some students were available to help make an app to start screening for COVID-19. We got an email and said 'yes' right away."  
Singh, the Director of Student Development, has seen first-hand what Cameron is capable of through her previous experiences with AppJam as well as taking on real-world tasks.  
One day, we will all look back and say 'we knew Carly when.' She can do anything she sets her mind to.
- Harnoor Singh, Director of Student Development
"We knew what they were working on was going to save thousands of lives," said Singh. "This was a project that required them to work at an extraordinary pace. To me, it's an extraordinary feat, not only because of the end-product but also how they leveraged the critical skills of leadership, problem-solving, collaboration and conflict management. I can't think of a better way of taking on a real-world challenge than what Carly did this past spring."
During the three week stretch, Cameron and her colleagues worked hand-in-hand with various emergency doctors and clinical staff at UNMC. Because of the ever-changing information, the process was met with some challenges to overcome.  
 
"One of the biggest problems that we had was that everything changed every single day due to the information that was out from the CDC or UNMC and what symptoms they thought were showing COVID-19 signs", said Cameron. "We had to come up with a way to make it adaptable in regards to change during the logic screening. We created an over-the-air update system, and we can go in and change stuff on the back end so that the user doesn't have to go in and do a full app update. That was a major thing we had to think about."
When the work was done, the finished product was an app that enables users to answer questions related to symptoms of COVID-19 and assess the level of risk. It was also just the second-ever screening app released internationally.  
 
"The first one was developed by a multi-billion-dollar company called Apple," said Singh. "Next in line was UNO's 1-Check COVID app designed by three Scott Scholars, one of whom is also a soccer player. Apple executives told us that nothing of this scale has ever been accomplished this quickly. This was a rare accomplishment."  
 
According to Singh, not only did Cameron and her team of Scott Scholars take on a monumental task of developing an app that would be used to save lives, but they also used communication and critical thinking under high-stress, real-world circumstances.  
 
Singh says he has no doubt that Cameron's humility and focus will lead her to a path of continued success.  
 
"It's rare when you have a combination of intellectual aptitude and social and emotional competency," said Singh. "Carly possesses that rare combination. That's why I'm fully confident that she will be one of those leaders that impact this world in a very positive way. There's not a shadow of doubt in my mind she will be at the pinnacle of any job or career she lands. There are folks at Apple already recruiting her once she graduates.  Carly can do anything she wants to do particularly because of her ability to empathize and how humble she is.  
 
"One day, we will all look back and say 'we knew Carly when.' She can do anything she sets her mind to."  
 
For more information on the 1-Check app, see the information below.  

1-Check has been approved by Apple and is also available on the web. An Android version will soon be available on the Google Play Console. 
This story was originally featured on the Omaha Athletics website. 
Media Contact
If you have a story idea, news tip or inquiry please contact:
Amanda Rucker, Communication Specialist, College of Information Science & Technology
arucker@unomaha.edu • 402.554.2070