Learning @ Home: Dr. Kate Cooper
College of Information Science and Technology professor Kate Cooper, Ph.D., discusses her transition to online teaching, tools she utilizes and her investment in student success.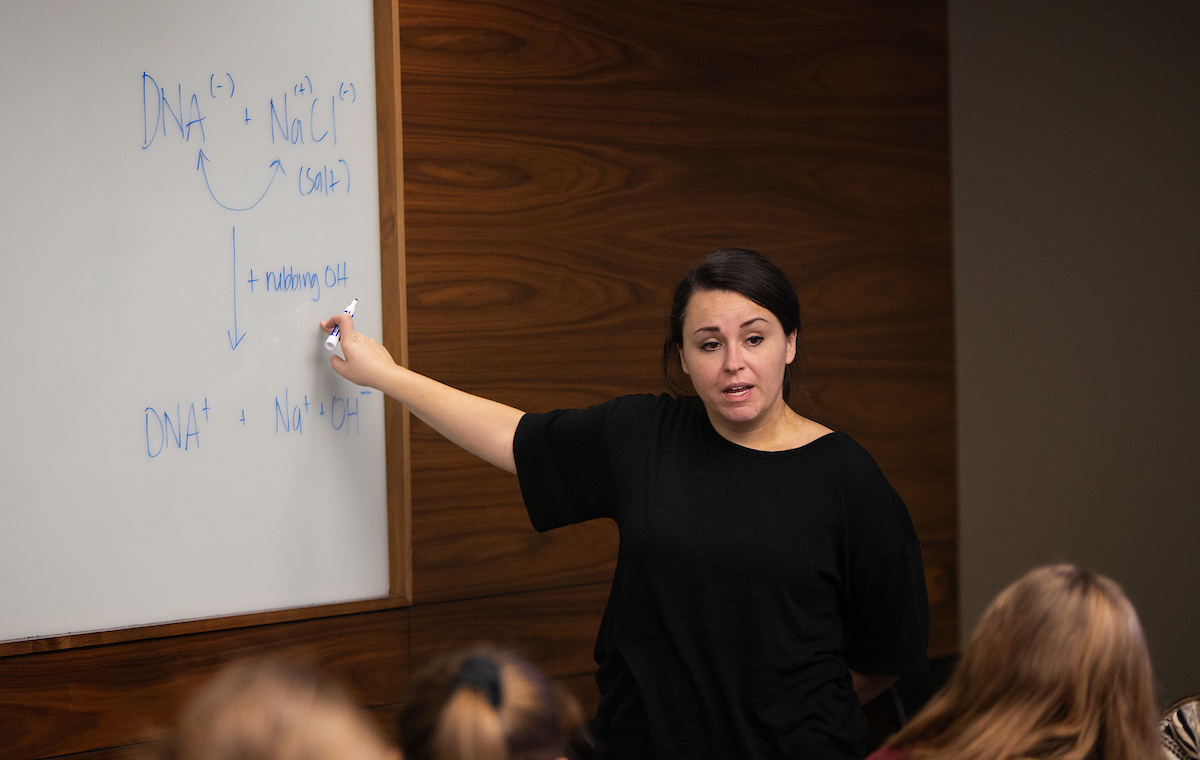 Dr. Kate Cooper leading a past CodeCrush session.
Listen to a short recording of this interview here.

As a bioinformatician, Dr. Kate Cooper says that for better or for worse, she saw the storm clouds brewing long before COVID-19 hit the United States.
"In the bioinformatics field, me especially because I have an interest in infectious disease, we've been keeping an eye on [COVID-19]," Cooper says. "Everything that I do is relevant to this virus from the genetics side... Because of the field we're in, we really knew to act early," She's speaking from her home office over a video call, how most of the College of Information Science and Technology (IS&T) is conducting business these days.
Over the last few weeks, the University of Nebraska at Omaha (UNO) has been working hard to ramp up remote learning. Along with the rest of campus, the bioinformatics program made sure their students had reliable internet at home, devices to do their work on, and most importantly – that they knew they had the university's support.
Hunkered down in her basement office, Cooper has made sure her black headphones are plugged in, just in case one of her three young sons walks in unannounced and interrupts her call.
Cooper knows that life is unpredictable at the moment. She points out that she has nontraditional students in her class, students with health issues, students that have kids, and she's built-in flexibility into her class.
"Being on IS&T's Diversity and Inclusion Committee helped me really look at this issue from an accessibility side," Cooper serves as the committee's current chair and credits UNO for giving her a toolbox to truly be inclusive. As a founding member of the committee, she's been helping solve accessibility issues at the college for years and stresses that she wants her students to take care of themselves. That has meant some quick thinking on her part to make sure her lessons are easily accessible remotely.
Cooper's students can attend classes asynchronously, which means they don't have to log on to class at the same time as their peers, but they can also join in on a live discussion during regular class hours if they want.
"For students who might need to pick up extra hours at work, this is important because [they don't have to work around our class]," she says. Cooper has clear expectations laid out for each week so that students can work ahead. She jokes that they "never have to interact with me again if they don't want to," but she is also hosting remote lectures where students can also work on the assignments.
"The exercises will only take the same amount of time it would have taken in the class. [I'm making sure the classes are] not adding burden to them," Cooper says. "I want to make the best use of their time."
This is Cooper's first time teaching remotely and admits there's a learning curve to launching an online pedagogy. She says she might have her kids with her during the live lecture time, it's all a learning experience.
Due to an earlier need to order various supplies for a separate grant initiative, Cooper found herself with a seamless ability to roll her materials online. She showcases her Yeti microphone – a purchase that caused her husband to wonder if he was now married to a YouTube star. She says the investment in new tools will help her students, and she was able to test the equipment for quality and effectiveness before the transition to remote learning happened.
From virtual panels to remote learning workshops, Cooper is playing an important part in ramping up IS&T's remote learning opportunities for younger students.
Just two weeks ago, Cooper fielded questions from students across the state on what life is like as an IS&T alumni. It's a panel she sits on frequently, part of CodeCrush, a series of events IS&T puts on to help show students the diverse world of information technology. Due to COVID-19 concerns, IS&T made the call early to reformat CodeCrush and for the first time hosted events completely online.
In a Brady Bunch-style video grid, Cooper and six other students and alumni from IS&T discussed with the CodeCrushers what they could do with a degree in IT. They're really showing the power of technology: bringing people together through innovation. In the weeks to come IS&T will be rolling out even more remote activities for younger students - and Cooper will be leading one of the first workshops focused on bioinformatics.
She knows students are struggling right now.
"I'm reading the news, I still have moments of dread, and I'm a professional in this field - I know it's going to go away. [If I'm having those feelings,] I know students are as well," Cooper said.
"It's not just a student-teacher relationship anymore, we're all in this together."