Adithi Chakravarthy, Ph.D. Student, Receives Award for Innovative Research on Rare Eye Disease
Adithi Chakravarthy, currently a Ph.D. in Information Technology student, has received the Computer Vision for Health Technology award from the Radiant Wellness Conclave for her research in using artificial intelligence and machine learning to aid in identifying a rare eye disease, Toxoplasmosis.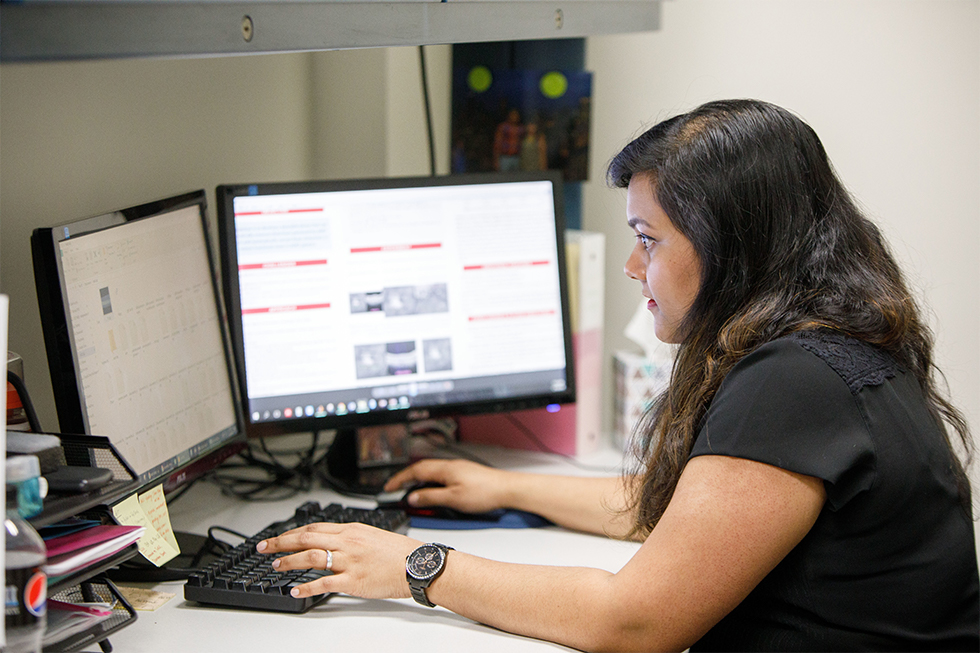 Adithi Chakravarthy studies in one of IS&T's labs.
Working under the supervision of Dr. Mahadevan Subramaniam and Dr. Parvathi Chundi, as well as members from Stanford University, Chakravarthy's research centers around how to aid more clinicians in detecting Toxoplasmosis. According to the Mayo Clinic, Toxoplasmosis is a disease which starts from an infection stemming from a common parasite. While healthy individuals can expect to just manage the infection, those with lowered immunity could see flu like symptoms or eventually blindness or even death.
"It's usually misdiagnosed as HIV or other genetic disorders. Since it's rare, a lot of clinicians don't have the expertise or technology to accurately diagnosis Toxoplasmosis," Chakravarthy said. "We're working on building automated Artificial Intelligence-based systems to detect this disease in retinal scans."

The backbone of this research is built off of a paper that Chakravarthy helped write on neuro-network based model which could detect Toxoplasmosis immediately. Chakravarthy's key research areas are Image Processing and Computer Vision.

"We hope that this scan can not only determine that the disease is Toxoplasmosis, but identify the regions of the eye where it is infected," Chakravarthy said. It is hoped that the scan will also be able to differentiate Toxoplasmosis between other retinal diseases and predict where the Toxoplasmosis could spread.
While Chakravarthy could not attend this year's Conclave to receive her award, her parents accepted the award on behalf of her.
The Radiant Wellness Conclave, established with the goal to discuss innovations in urban health, is held in Chennai, India and is mentored by a leading member of Indian Parliament Shashi Tharoor. In 2019, the Conclave established Technology Health Environment (THE) Awards, which celebrates innovative researchers and leaders in technology, health, and the environment. Chakravarthy was nominated this summer by two of her own mentors and managers of the Conclave event, who were familiar with her research with Toxoplasmosis.
"Earning the award in my fourth year of my Ph.D. is a great encouragement for me," Chakravarthy said. "Everyone here is doing important research, contributing to science in some way, and to be recognized is a great motivation."

You can see more about IS&T's Ph.D. in Information Technology program here.