Honoring the Fallen
IS&T built software system helps identify the remains of U.S. soldiers in a partnership with the DPAA.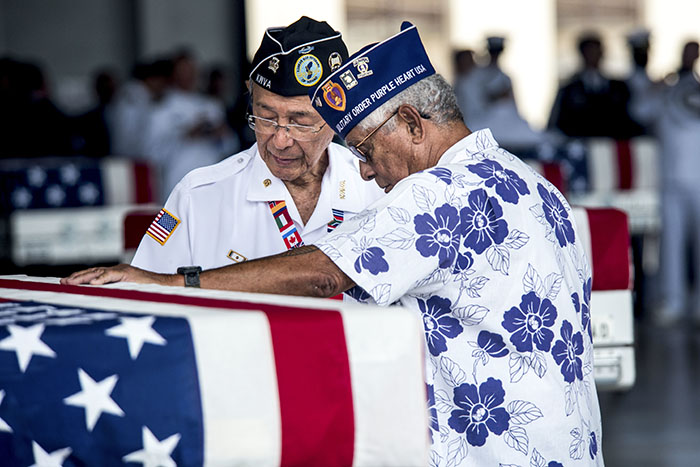 One look at numbers from the Korean War illustrates just how daunting the "Leave No Man Behind" credo can be.
There were 36,940 Americans who died during the war, which raged from 1950 to 1953. Astoundingly, 7,699 service members remain listed as unaccounted for — with approximately 5,300 of them still in North Korea.
This summer, that began to change with the transfer to the United States of 55 boxes containing the remains of soldiers presumed to be Americans.
Now begins an equally daunting task — identifying the remains.
There's nothing like this that exists.
- Franklin Damann
But that's being made much easier thanks to a UNO College of Information Science & Technology partnership with the Defense POW/MIA Accounting Agency (DPAA). That's welcome news to many families of the fallen soldiers who will find closure — and healing — by knowing the fate of a loved one and being able to bury them.
The DPAA and IS&T partnership began in December 2017. The entities worked together to build software applications that streamline the process of identifying skeletal remains of fallen soldiers. Led by Sachin Pawaskar, professor of practice at IS&T (pictured, left), the team developed the Commingled Remains Analytics Ecosystem — CoRA.
CoRA is a computational solution that provides techniques such as data analytics and visualization to aid in the process of separating and identifying the indistinguishable, commingled remains of fallen soldiers. Previously, that was done via a paper-based system with hand-written notes or with Excel sheets that compared and contrasted evidence collected from the fallen. Pawaskar and others took the process digital, transcribing data from old systems and databases while also recording new information collected.
Anthropologist identifying skeletal remains can seamlessly access data via CoRA's secure web application.
"CoRA allows us to be able to find connections among individual specimens more efficiently than ever before," says Franklin Damann, deputy laboratory director of the DPAA at Offutt Airbase.
The first release of the system came in May 2018. Since then, a roadmap has been created for CoRA to include not only a database for skeletal remains, but eventually for DNA and dental records.
Originally, the project focused on identifying the remains of soldiers from the USS Oklahoma, a ship sunk during the attack on Pearl Harbor. Now it's being used to identify the remains North Korea transferred to the United States.
As enhancements are made, others are likely to benefit from the system.
"We want to serve the broader community," Pawaskar says. "The DPAA is on the leading edge of this because of their mission, and it's our hope to extend CoRA to even more organizations that are working towards identifying remains."
Ultimately, CoRA could aid museums, universities and others in inventorying and cataloguing their skeletal collections. The team hopes to release the software more widely in early 2019 by piloting it with identified partners and enhancing the system.
"There's been a tremendous amount of support from the DPAA staff and UNO," Damann says. "We've realized the opportunity to push CoRA to the community for anyone to use. There's nothing like this that exists."

This piece was originally featured in the UNO Alumni Magazine. 
Media Contact
If you have a story idea, news tip or inquiry please contact:
Amanda Rucker, Communication Specialist, College of Information Science & Technology
arucker@unomaha.edu • 402.554.2070
Our Campus. Otherwise Known as Omaha.
The University of Nebraska does not discriminate based on race, color, ethnicity, national origin, sex, pregnancy, sexual orientation, gender identity, religion, disability, age, genetic information, veteran status, marital status, and/or political affiliation in its programs, activities, or employment. Learn more about Equity, Access and Diversity.
scroll to top of page