UNO College of Information Science and Technology Partners with the DPAA to Help Identify Remains of Fallen Soldiers
By applying computational techniques, IS&T's partnership with the DPAA will streamline the identification process and bring closure to families.
published: 2017/12/05
contact: Amanda Rucker - College of Information Science and Technology
email: arucker@unomaha.edu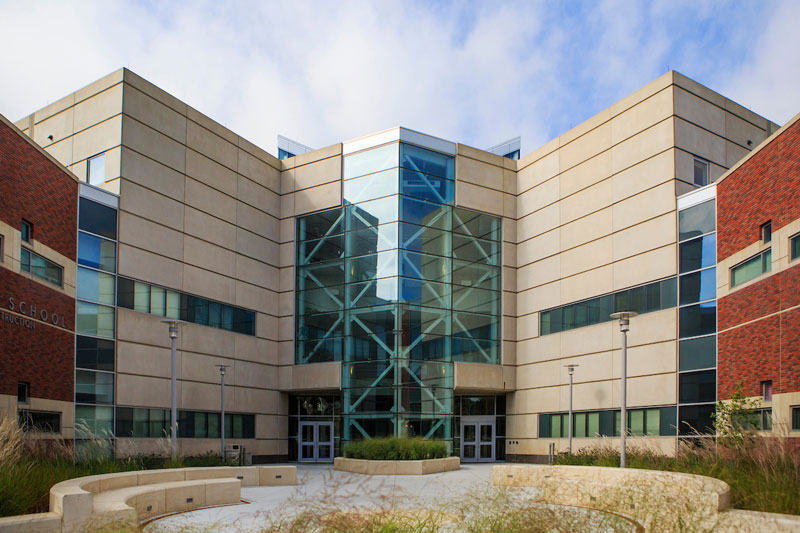 The University of Nebraska at Omaha (UNO) today announced a partnership with the United States Department of Defense to help streamline the process, and increase the accuracy of, identifying the skeletal remains of fallen soldiers.
The partnership brings together faculty from UNO's College of Information Science and Technology (IS&T) and the Defense POW/MIA Accounting Agency (DPAA). A formal agreement to launch the project was finalized with a visit by the new director of the DPAA, Kelly McKeague, to Offutt Air Force Base to meet IS&T officials including IS&T Dean Hesham Ali, Ph.D., and Sachin Pawaskar, Ph.D., a senior research technology fellow at IS&T, on Tuesday, Dec. 5.
"We're incredibly honored to be working with the Defense POW/MIA Accounting Agency and to help bring closure to the families of the fallen soldiers," Ali said. "We are able to develop solutions based on advanced bioinformatics algorithms, which will augment DPAA's established process of identifying skeletal remains.  It is our hope that this work will represent a new and innovative tool in forensic anthropology and help the broader scientific community with potential use in similar cases on a global scale."
The partnership, led by Pawaskar and his team, will involve developing a Commingled Remains Analytics (CoRA) Ecosystem, which pulls together existing data that currently exists in multiple locations into a new framework that allows for a more strategic, case-by-case analysis of previously unidentified remains.
"Through this collaborative effort, it is our hope that this work will help bring a unified approach towards the framework and methods we use to analyze forensic anthropology data," Dr. Pawaskar said. "Through providing a more robust reporting and analytics capabilities, together we can help identify more of our fallen heroes."
Researchers from UNO IS&T will provide computational techniques such as data analytics and visualization; graph theoretic algorithms; and clustering techniques, to aid in the process of distinguishing, separating and identifying remains of unaccounted for U.S. personnel that are currently grouped together and indistinguishable.
What is currently a paper-based system will move into a secure web application for data entry, allowing anthropologists to work more quickly, access more data seamlessly and standardize the work that they do when identifying skeletal remains.
The DPAA has made significant gains in increasing the number of remains they were able to correctly identify, from 72 in 2013 to 164 in 2016, and 183 in 2017. According to the DPAA, in World War II alone, more than 72,000 people are unaccountable. Out of that number, approximately 26,000 are assessed as "possibly-recoverable." IS&T will apply technical and scientific methodologies which will address the way these skeletal remains be identified.
Dr. Franklin Damann, Deputy Laboratory Director of the DPAA at Offutt Airbase, said in order to meet their goals, new solutions had to be developed. 
"It's been an amazing exercise of combining our skills in anthropology and IS&T's skills in data analytics," Dr. Damann said. "It forces us to look at what we're doing, how we're doing it, and how we can improve. It's fantastic to have the combined skillsets and innovative solutions of DPAA and UNO IS&T right here in Omaha, and we could not be more pleased with the results of this partnership."
IS&T and DPAA started an unofficial partnership in August 2016, with IS&T providing technical solutions for identifying the skeletal remains of fallen soldiers from the USS Oklahoma, a ship which was sunk during the attack on Pearl Harbor in 1941. After a year and a half of working together, IS&T and the DPAA have formed a strategic partnership to extend the work. 
About the University of Nebraska at Omaha
Located in one of America's best cities to live, work and learn, the University of Nebraska at Omaha (UNO) is Nebraska's premier metropolitan university. With more than 15,000 students enrolled in 200-plus programs of study, UNO is recognized nationally for its online education, graduate education, military friendliness and community engagement efforts. Founded in 1908, UNO has served learners of all backgrounds for more than 100 years and is dedicated to another century of excellence both in the classroom and in the community.
Become a fan of UNO on Facebook and follow UNO's Twitter updates. You can also keep up to date on important UNO News by following the UNO News Center Twitter account. 
 About UNO's College of Information Science and Technology
The College of Information Science and Technology (IS&T) at the University of Nebraska at Omaha represents the joint efforts of the University of Nebraska, the State of Nebraska, and private industry to address the growing global needs for knowledgeable professionals in Information Technology (IT). The College was established at UNO in 1996 to meet the growing demand for IT graduates in the Omaha metropolitan and surrounding area, and celebrated its 20th anniversary last year.
Media Contact
If you have a story idea, news tip or inquiry please contact:
Amanda Rucker, Communication Specialist, College of Information Science & Technology
arucker@unomaha.edu • 402.554.2070