Computer Science Education Program at UNO Awarded $320K to Expand Scholarships for Rural Nebraska and Omaha Public School Teachers
College of Information Science and Technology receives funds to expand and scale up scholarships designed to support a diverse group of computer science educators.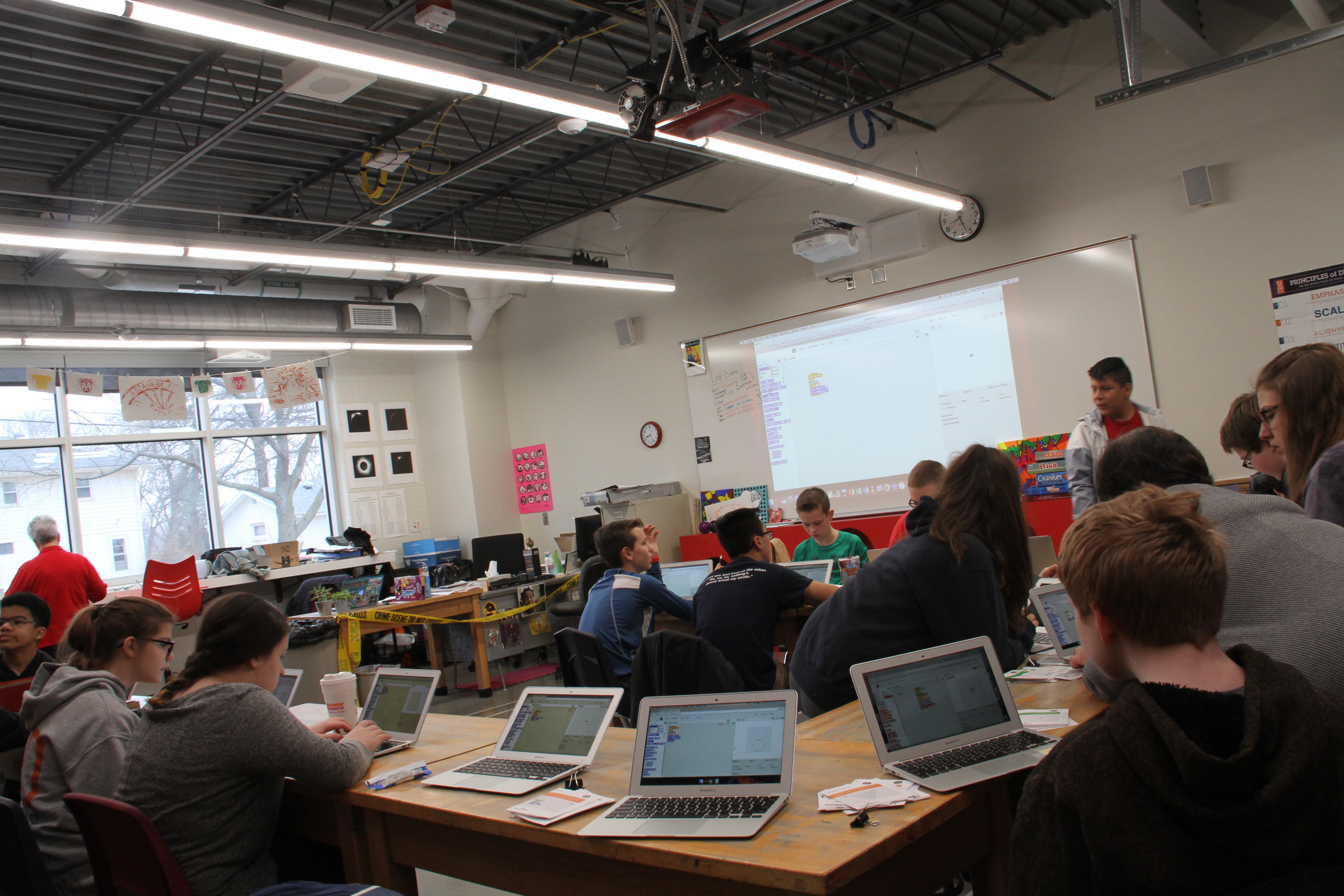 Middle school students participate in a past computer science program partially led by IS&T faculty.
The University of Nebraska at Omaha (UNO) College of Information Science and Technology (IS&T) has been awarded nearly $320,000 by a private foundation to support rural Nebraska and Omaha Public Schools (OPS) teachers earning their master's degree in Computer Science Teacher Education (CSTE).

The award will support tuition and applicable fees for up to 14 OPS and 12 rural Nebraska teachers obtaining a Master of Science in CSTE. The initial funding of $89,134 has been received, with the total amount of $322,551 to be divvied out over the next three years. The grant was submitted in collaboration with the University of Nebraska Foundation.
This grant is an expansion of the original scholarship award, which supported only OPS teachers, and ended this past summer. With the addition of rural Nebraska teachers, it is hoped to attract more teachers outside the Omaha metro area to fill the need of computer science (CS) educators and help support CS education across the state.

"We're honored to receive this award to help develop more passionate computer science teachers in the Midwest," Deepak Khazanchi, associate dean of the University of Nebraska at Omaha College of Information Science and Technology and co-principal investigator for the scholarship grant, said. "The need for talented computer science teachers is growing more prevalent as the information technology field continues to expand. The Computer Science Teacher Education program is the answer to this urgent call, and we're proud to have the program in our college."

CSTE, established in 2017, is designed for in-service teachers in science, technology, engineering, and mathematic (STEM) disciplines in the Midwest. Students may obtain their information technology (IT) supplemental teaching endorsement from the Nebraska Department of Education, a CSTE graduate certificate, or a master's degree in CSTE.

"By removing financial barriers for many rural and Omaha Public School teachers, we're able to bring more teachers into the program who will go on to impact their classrooms in an immediate way," said Brian Dorn, co-principal investigator for the grant, associate professor in Computer Science and the Union Pacific Community Chair of Computer Science Education. "We're truly meeting students' needs to better understand computational thinking and awareness of careers in technology. It will be exciting to expand this program's impact throughout the Midwest."

CSTE was developed with UNO College of Education in response to the demand for more CS proficient educators, and the increasing importance to introduce young students to computer science. According to Gallup, 93% of parents feel that opportunities to learn CS are a good use of school resources. What's more, the U.S. Bureau of Labor Statistics predicts that IT positions are expected to grow 13 percent through 2026, more than twice the average for all occupations, and that computing jobs are the #1 source of new wages in the United States.

By introducing more students to CS education, it is hoped to help diversify the IT landscape as well. It has been reported that women who try AP Computer Science in high school are 10 times more likely to major in it, while Black and Latinx students are seven times more likely. In 2017, while 157 students in Nebraska took the AP Computer Science exam, nearly double the number that took the exam in 2016, only 12 students were underrepresented minorities and only 15 identified as female, according to Code.org.
More information about the CSTE graduate program can be found at: cist.unomaha.edu/csed
Students interested in the program may email graduate advisor, Vanessa Hatfield-Reeker at vhatfield@unomaha.edu.
About UNO's College of Information Science and Technology
The College of Information Science and Technology (IS&T) at the University of Nebraska at Omaha represents the joint efforts of the University of Nebraska, the State of Nebraska, and private industry to address the growing global needs for knowledgeable professionals in Information Technology (IT). The College was established at UNO in 1996 to meet the growing demand for IT graduates in the Omaha metropolitan and surrounding area.
About the University of Nebraska at Omaha
Located in one of America's best cities to live, work and learn, the University of Nebraska at Omaha (UNO) is Nebraska's premier metropolitan university. With more than 15,000 students enrolled in 200-plus programs of study, UNO is recognized nationally for its online education, graduate education, military friendliness and community engagement efforts. Founded in 1908, UNO has served learners of all backgrounds for more than 100 years and is dedicated to another century of excellence both in the classroom and in the community.
Become a fan of UNO on Facebook and follow UNO's Twitter updates. You can also keep up to date on important UNO News by following the UNO News CenterTwitter account.