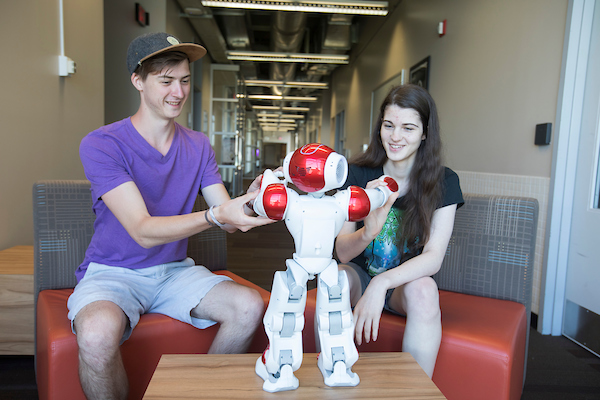 Applications due March 31st.
The University of Nebraska at Omaha College of Information Science and Technology's Summer High School Internship Program will give you an innovative, hands-on experience directly in our labs. You'll work alongside our faculty and students in areas such as robotics, bioinformatics, software engineering, cybersecurity, public health informatics, database-driven web development, IT innovation, open community participation research lab, music informatics, iOS/Android app development, gaming lab, and others. The program this summer is partially supported by a grant from the Bill and Ruth Scott Foundation.

You will learn the fun and excitement of scientific research and development activities as well as explore potential careers in IT. Our internship will give you the opportunity to learn new concepts, tools and skills, work on real research and help solve development problems.

Program Period/Dates:  June 4st – July 27th, 2018 (8 weeks). Final presentations will be held on the 27th and attendance is required.

Learn More. 
Why intern at IS&T?
Exposure to computer science and IT careers can lead to some of the best-paying jobs in the world. But, many students don't even know that IT is a possibility for them. The demand is high, too: with over a million jobs projected by 2020. By seeking out programs like our internship, you'll be on your way to a rewarding career.
1% of high school students enroll in A.P. Computer Science classes
5% of high schools offer an A.P. Computer Science class
Students who take A.P. Computer Science are 8 times more likely to major in Computer Science
100% of IS&T students looking for work find a job in IT immediately upon graduating
The median salary of IS&T students in the year after they graduate is $50k
80% of graduating IS&T seniors say that their major is directly related to their current career
Media Contact
If you have a story idea, news tip or inquiry please contact:
Amanda Rucker, Communication Specialist, College of Information Science & Technology
arucker@unomaha.edu • 402.554.2070