Computer Science Education Week 2017
IS&T celebrates Computer Science Education Week every year! Check out our annual Computer Science Quiz Bowl and other events we have for UNO and the greater Omaha community.
date: 12/04/17 - 12/08/17
time: 12:00 AM - 4:00 PM
location: Peter Kiewit Institute • maps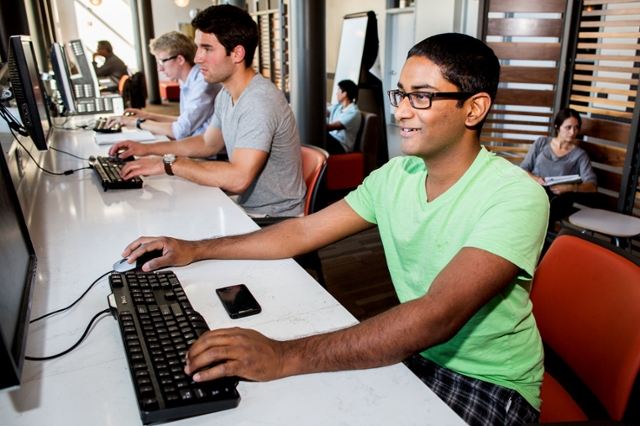 2017 Schedule
When & Where
Event
December 4
11:30am-12:00pm
PKI 279
Graduate Student Excellence Awards
(Lunch will be served at 11:30am and the award ceremony will begin around 11:45am)
December 4
12:00pm-2:00pm
PKI 279
Graduate Internship Presentations
December 5
12:00pm-1:15pm
PKI 158
Undergraduate CS Capstone Presentations (Part 1)
12:00-12:25 Crowd Simulation: crowd behavior in large venues
12:25-12:50 iFarm Health: tracking farmer health
12:50-1:15 TMS Inventory Tracker: track equipment rentals for events
December 7
12:00pm-1:40pm
PKI 279
Undergraduate CS Capstone Presentations (Part 2)
12:00-12:25 Night Out: event coordinator for evenings out
12:25-12:50 Tome: mapping science lessons to NGSS
12:50-1:15 NYRA Referee Scheduling Assistant: automate referee schedules
1:15-1:40 Methodist Workflow Application: customizable workflows
December 8
10:00am-4:00pm
PKI 158 and PKI 260
High School Computer Science Bowl
10:00-12:00 Quiz Bowl
12:00-1:00 Lunch
1:00-4:00 Programming Contest
4:00-5:00 Awards Ceremony
December 8
3:30pm-4:30pm
PKI 250
Undergraduate Internship Presentations
All events take place at UNO's Pacific Street location at the Peter Kiewit Institute Building, 1110 S. 67th St. All events are free and open to the campus community and public. For more information, call Peg Nunamaker at 402.554.2423.
Media Contact
If you have a story idea, news tip or inquiry please contact:
Amanda Rucker, Communication Specialist, College of Information Science & Technology
arucker@unomaha.edu • 402.554.2070