Challenging Projects and Welcoming Atmosphere: An Internship at Mastercard
MIS undergraduate student Kate Larsen spent her summer at Mastercard in St. Louis. Check out everything she learned, and how you could earn an internship like her's next year!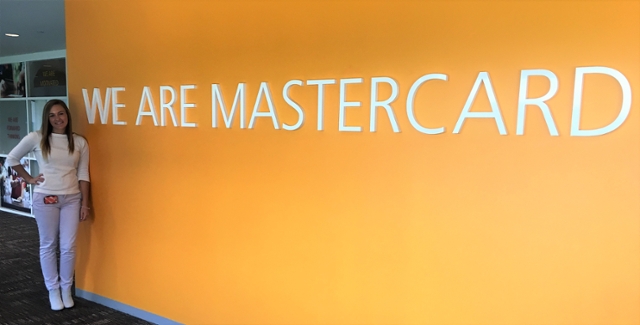 While I say my last goodbyes and pack up the hotel room I've lived in this summer, I'm thinking about how much I've experienced and learned in a short 10 weeks.
A quick recap, I interned as a Business Analyst Intern in the Enterprise Data Solutions department at Mastercard's St. Louis office. Coming from Omaha, Nebraska I decided on living in the hotel nearby Mastercard's campus, which was also known as the "intern housing".
I remember the excitement I felt when pulling into the hotel's parking lot the Saturday before the internship started. I also remember some of the expectations I had. I knew I would have the opportunity to network with many professionals, learn about Mastercard as a whole, and determine where I want my career path to start. While I've done all of that, I've also had opportunities that I didn't expect.
I worked with people across the globe
I knew Mastercard was a global company, but I didn't think coming into the summer as an intern I would get the opportunity to work with people in different offices. I ended up working very closely with coworkers in New York and India. This allowed me to see how a company can truly be running 24/7. For example on one of my projects, I would push my code at the end of the day. My coworker in India would then pull it a few hours later and work on it while I was sleeping, while I would then pull his updates in the morning after his work day. Even though I learned that it was sometimes difficult to set up meetings, it was an eye-opening experience.
I easily reached out to other employees to learn about their roles
While I did know I would get the opportunity to network with others, I didn't realize how easy it would be to reach out to other employees. I thought it would be hard to get in contact with employees in other departments and leaders, but what I saw was that many were excited to meet with me and it was normal to set up a meeting invite with someone you wanted to connect with, even if they were higher up than you.
I also got the opportunity to connect with others in the St. Louis community. I attended one of the Venture Cafe events and found that everyone was so easy to chat with. It reminded of home. One thing I realized this summer is that the St. Louis area is very similar to Omaha from the friendliness to the lively startup community.
I had challenging projects
I remember the first day during orientation we were told that we'd be challenged and given complex projects. They were right. Now that the internship has ended, I'm confident with what I'm taking out of it. I'm bringing back knowledge on automation, data analytics, and stronger soft skills.
Because I was located in the Operations and Technology headquarters, while working through my projects I noticed that almost everyone I talked to had some kind of technology background and I was excited to see that. I was motivated by the innovative atmosphere and passionate people.
- Kate Larsen
I did more than just work
While I enjoyed the work and networking I did, I loved everything I did outside of work as well. Coming into the summer, I didn't expect to have gotten as close to the other interns as I did. Because of that, we did something almost every weekend: Nashville, the Escape Room, a tube trip down the Ozarks, a Cardinals game, skydiving, and many more I could list out.
While it may be cliche, my summer has been priceless. I grew professionally, found new interests, and made some great friends a long the way. I recommend checking out Mastercard's future opportunities, you won't regret it.
Media Contact
If you have a story idea, news tip or inquiry please contact:
Amanda Rucker, Communication Specialist, College of Information Science & Technology
arucker@unomaha.edu • 402.554.2070
Our Campus. Otherwise Known as Omaha.
The University of Nebraska does not discriminate based on race, color, ethnicity, national origin, sex, pregnancy, sexual orientation, gender identity, religion, disability, age, genetic information, veteran status, marital status, and/or political affiliation in its programs, activities, or employment. Learn more about Equity, Access and Diversity.
scroll to top of page