CodeCrush Summit Focuses on Diversity in IT, Inviting More Girls and Minorities Into Information Technology
For the second year in a row, the University of Nebraska at Omaha (UNO) College of Information Science and Technology will be hosting the CodeCrush Summit. An expansion on IS&T's popular CodeCrush Immersion Program, the summit will draw nearly 150 attendees to their new location, KANEKO.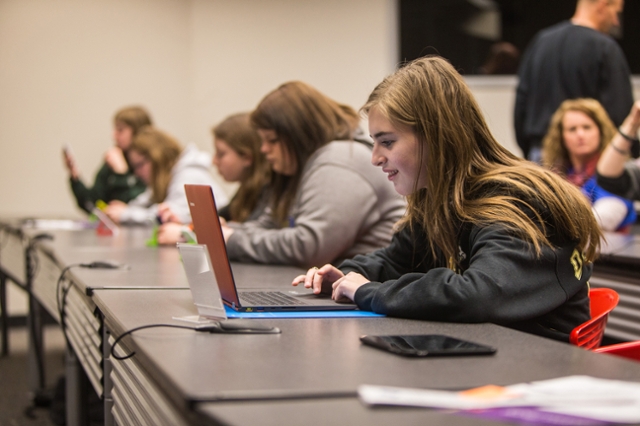 This year, the Summit will be welcoming Erica Joy Baker, formerly a senior engineer at Slack and moving into her role as director of engineering at Kickstarter, and Laura Gomez, formerly of Twitter and now founder of Apitca. 
Baker will kick off the Summit on July 25 at 6:30 PM. Gomez will continue the next day, July 26, at 12:30 p.m. 
In 2016, IS&T was awarded a three-year $200,000 challenge by the Peter Kiewit Foundation. This support has helped IS&T's CodeCrush program to expand from once a year to twice a year plus a culminating Summer Summit. 
The second annual CodeCrush Summit will bring together previous participants, current high school students and educators, as well as a wide range of community members to celebrate diversity in IT.
"This community brings together people from all walks of life and celebrates all of our differences."
- Deepak Khazachi
"CodeCrush has built a community where no matter who you are, everyone is encouraged to take a closer look at IT," Deepak Khazanchi, associate dean of academic affairs of the UNO College of IS&T said. "This community brings together people from all walks of life and celebrates all of our differences. We're excited for where this movement is going, and encourage even more individuals to join."
The financial support provided for the CodeCrush Summit through grants, community registrations, and corporate sponsorships allows high school students and educators to attend for free.
"A diverse IT workforce is necessary for innovation to be achieved, and we make it a priority to make sure all feel welcome in our company and actively recruit individuals with a variety of backgrounds," David Hopp, chief opperating officer of Agape Red, said. "Through supporting programs like CodeCrush, we can help more students find their futures in IT, and help more innovation happen."

 
2017 CodeCrush Summit sponsors:
Primary Sponsor
Peter Kiewit Foundation
Platinum Sponsors
Agape Red
KANEKO
Silver Sponsors
Nebraska Association for the Gifted
Hudl
CodeCrush is a signature program of UNO' College of IS&T seeking to double the number of women enrolled in IT programs and help fill the IT workforce deficit in Omaha and the State of Nebraska. 
For questions about the Women in IT Initiative and CodeCrush, or how to support these programs, please contact Amanda Rucker, communications specialist for the College of IS&T, at 402.554.2070.
About UNO's College of Information Science and Technology
The College of Information Science and Technology (IS&T) at the University of Nebraska at Omaha represents the joint efforts of the University of Nebraska, the State of Nebraska, and private industry to address the growing global needs for knowledgeable professionals in Information Technology (IT). The College was established at UNO in 1996 to meet the growing demand for IT graduates in the Omaha metropolitan and surrounding area, and is celebrating its 20th anniversary this year.
Media Contact
If you have a story idea, news tip or inquiry please contact:
Amanda Rucker, Communication Specialist, College of Information Science & Technology
arucker@unomaha.edu • 402.554.2070
Our Campus. Otherwise Known as Omaha.
The University of Nebraska does not discriminate based on race, color, ethnicity, national origin, sex, pregnancy, sexual orientation, gender identity, religion, disability, age, genetic information, veteran status, marital status, and/or political affiliation in its programs, activities, or employment. Learn more about Equity, Access and Diversity.
scroll to top of page