CodeCrush Summit Welcomes Keynote Speakers from Geeks Life and Intel Corporation
As part of a continued effort to close the gender gap and meet the workforce deficit in information technology, the University of Nebraska at Omaha (UNO) College of Information Science & Technology (IS&T) will hold its first CodeCrush Summit July 26 - 27.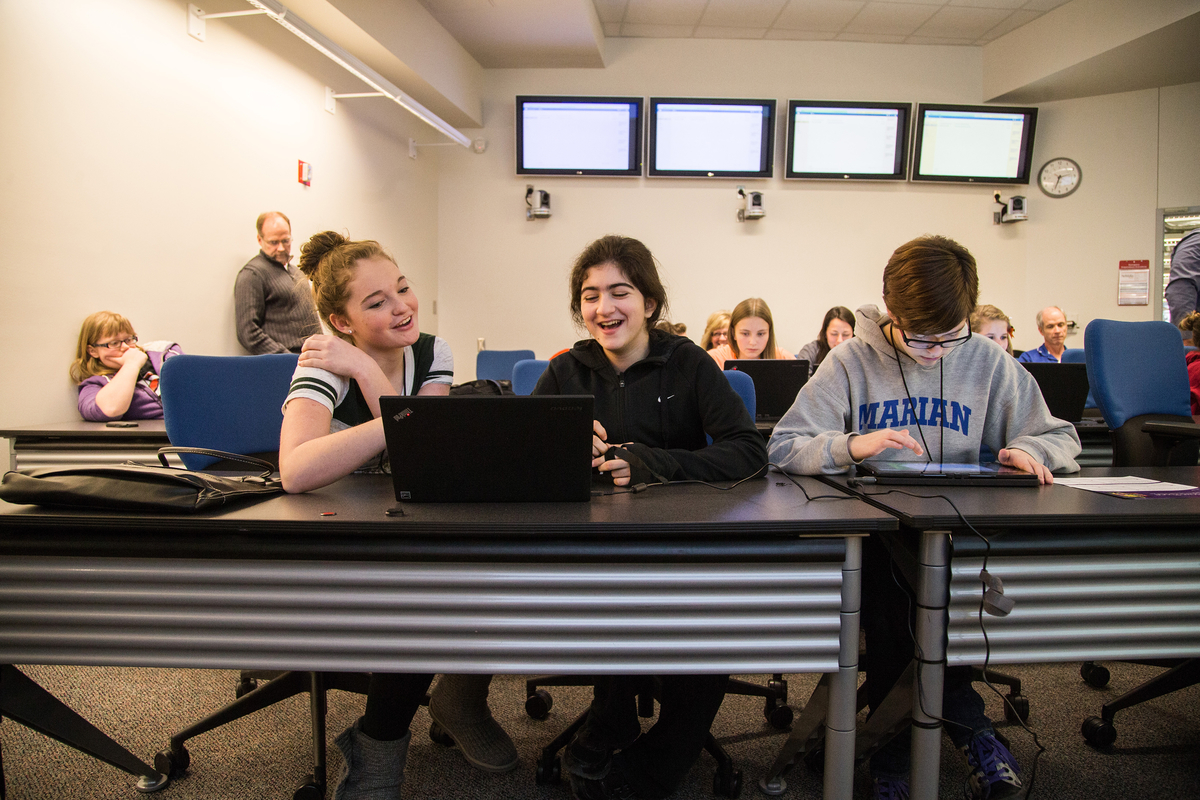 A new expansion of IS&T's popular CodeCrush Immersion Program, the summit will draw nearly 150 attendees to the Scott Conference Center (6450 Pine Street).
Keynote speaker Luria Petrucci, of tech entertainment site Geeks Life, will speak on July 26 at 6:30 p.m.
Keynote speaker Mauri Whalen, who leads Intel Corporation's efforts in open source software development, will kick off the next day, July 27, at 9:15 a.m.
The new summit follows three years of significant growth for CodeCrush's competitive immersion experience. In 2014, 72 girls submitted applications. Last spring, that number had increased to more than 200.
With a limited number of spots available for 8th and 9th grade girls and teachers, IS&T saw a need to connect the CodeCrush community with the greater IT workforce and expand the program.
Through the support of a three-year $200,000 matching grant challenge from the Peter Kiewit Foundation, IS&T is now able to offer the immersion program twice a year and add an annual summer summit.
The inaugural CodeCrush Summit will bring together previous participants, current high school students and educators, as well as a wide range of community members to celebrate diversity in IT.
"CodeCrush is creating a movement where all individuals feel supported and encouraged to join the IT workforce," Hesham Ali, dean of the UNO College of IS&T. "The Summit offers an opportunity to bring together local IT heroes, national speakers, high school students and educators – giving us the perfect platform to support and promote a more inclusive IT ecosystem."
"It's an honor to be a part of a program that is working hard to challenge the IT workforce to be a more inventive and effective industry," said Tom Sivo, chief technology officer for Interpublic Group of Companies. "The CodeCrush impact goes beyond just one teacher and student, and we're thrilled to help expand that reach even further with the Summit."
The financial support provided for the CodeCrush Summit through grants, community registrations, and sponsorships allows high school students and educators to attend for free.
"We're extremely excited to support the expansion of CodeCrush and encourage a more diverse community to pursue IT," Nancee Berger, chief operating officer of West Corporation said. "Through supporting programs like CodeCrush, West can provide more opportunities for girls to discover their career aspirations in IT, and ensure that we're building the most diverse and innovative workforce possible."
CodeCrush is an inspiring example of what Omaha can do to build the educational ecosystem in iSTEM fields and impact the future of the global IT landscape. We're honored to be a part of the program, and thrilled to see that the Omaha community is rallying together with their support.
- Wendy Boyer, senior program officer at the Peter Kiewit Foundation
2016 CodeCrush Summit sponsors:
Primary Sponsor
Peter Kiewit Foundation
Platinum Sponsors
Interpublic Group
West Corporation
Women Investing in Nebraska
NASA Space Grant
Gold Sponsors
Farm Credit Services of America
The Greater Omaha Chamber
Silver Sponsors
Nebraska Association for the Gifted
CRi
Gallup
AIM
CodeCrush is a program led by the University of Nebraska Foundation's Women in IT Initiative, a community-driven task force seeking to double the number of women enrolled in UNO IS&T programs and help fill the IT workforce deficit in Omaha. The Women in IT Initiative has raised over $600,000 to fund a multitude of activities designed to introduce young women to IT as well as scholarships for women pursuing IT-related degrees at IS&T.
For questions about the Women in IT Initiative and CodeCrush, or how to support these programs, please contact Amanda Rucker, communications specialist for the College of IS&T, at 402.554.2070.
About the University of Nebraska at Omaha

Located in one of America's best cities to live, work and learn, the University of Nebraska at Omaha (UNO) is Nebraska's premier metropolitan university. With more than 15,000 students enrolled in 200-plus programs of study, UNO is recognized nationally for its online education, graduate education, military friendliness and community engagement efforts. Founded in 1908, UNO has served learners of all backgrounds for more than 100 years and is dedicated to another century of excellence both in the classroom and in the community.
Become a fan of UNO on Facebook: www.facebook.com/unomaha and follow UNO's Twitter updates at http://twitter.com/unomaha.
About UNO's College of Information Science and Technology
The College of Information Science and Technology (IS&T) at the University of Nebraska at Omaha represents the joint efforts of the University of Nebraska, the State of Nebraska, and private industry to address the growing global needs for knowledgeable professionals in Information Technology (IT). The College was established at UNO in 1996 to meet the growing demand for IT graduates in the Omaha metropolitan and surrounding area.
Media Contact
If you have a story idea, news tip or inquiry please contact:
Amanda Rucker, Communication Specialist, College of Information Science & Technology
arucker@unomaha.edu • 402.554.2070