Mauve Wins UNO Business Plan Competition, Launches the Next Day
contact: Chelsea Bailey - Director of Marketing, College of Business Administration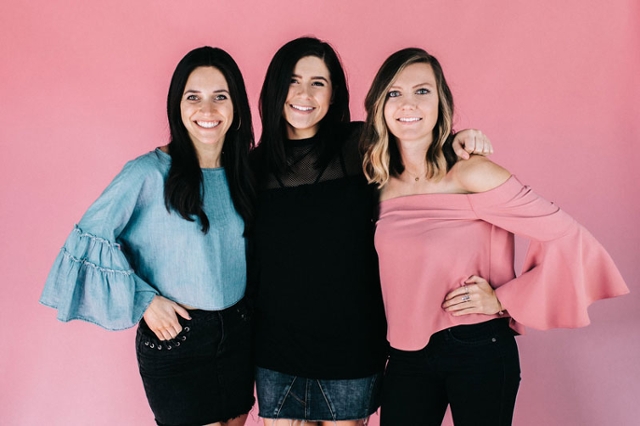 Moxie. Mission. Momentum.
Mauve has it. So much so that it's hard to believe this new business is barely a month old.
An online boutique, Mauve is tailor-made for women in their late teens and early twenties, selling fashion-forward clothing and accessories — along with confidence, at no extra charge.
The founders are avid boutique shoppers and University of Nebraska at Omaha Mavericks.
"We thought boutiques in the area weren't displaying strong, confident women," said co-founder Kat Slump.
So they set out to create a brand built on empowerment. Four weeks and over 4,000 Instagram followers later, what started as a spring-break brainchild is now a budding business.
Slump, along with Alissa McMahon and Keegan Mahoney, who has her degree in Management Information Systems, pitched Mauve during the Maverick Business Plan Competition on April 27. Their well-packaged business plan and proof it was working won them first place and $3,000 — money they'll use to restock inventory and establish an LLC.
On April 28, Mauve was officially open for business. Three days later, Slump said, they were close to breaking even. What's more, Mauve will be part of one of the largest women's apparel and accessory trade shows, WWDMAGIC, in Las Vegas this summer.
Pop-up shops around town and a grand opening party are also in the works, Slump said. "We want to continue to push the bar."
Slump, chief of product, is graduated in May with a degree in IT Innovation. McMahon, chief of fashion, starts her senior year at the UNO College of Business Administration this fall. Mahoney, chief of operations, is a 2016 UNO alumna and works at Flywheel as a project manager. See the rest of the story here. 
Media Contact
If you have a story idea, news tip or inquiry please contact:
Amanda Rucker, Communication Specialist, College of Information Science & Technology
arucker@unomaha.edu • 402.554.2070