IS&T Celebrates IT Innovation Through 5th Annual IT Innovation Cup
As part of an effort to encourage high school students to think about future technology possibilities and to creatively solve problems in innovative ways, the University of Nebraska at Omaha College of Information Science and Technology today announces the finalists for the inaugural IT Innovation Cup.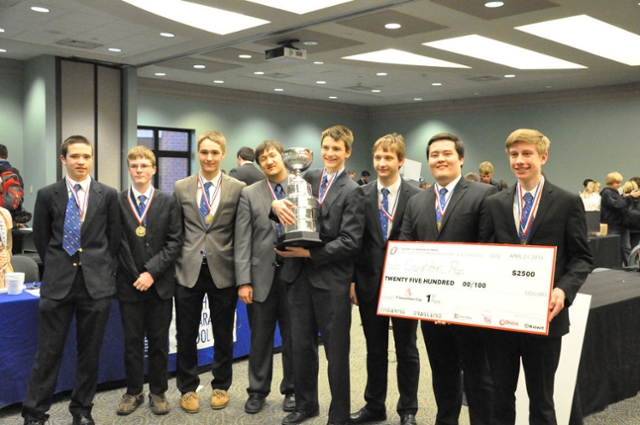 Omaha – Presented by First Data, the IT Innovation Cup is an annual, seven-month long competition between Omaha area high schools which involves educational workshops, open house receptions and ongoing student competition which will culminate with the IT Innovation Cup award. On April 18 at Scott Conference Center, 6450 Pine St. IS&T will honor the seven high school team finalists and present the IT Innovation Cup winning team with the IT Innovation Cup (a traveling trophy) for their school and cash prize of $2,500 ($1,000 for second place, $500 for third place). All participating students will receive free tuition to one Techademy summer workshop and a IS&T t-shirt. 
"Over the past five years, we've seen an inspiring amount of innovative IT solutions come straight from Omaha's own high school students," said Dr. Hesham Ali, dean of the College of Information Science and Technology (IS&T). "We're very excited to help nurture and inspire innovation in our city through programs like the IT Innovation Cup.  Our community is creative, innovative, and talented. To see these young students take a technical, often sophisticated, idea and make it a reality, is exactly why we continue our work in middle and high schools." 
At the final presentation on April 18, the public is invited to attend and vote on their favorite innovative solution from 3:00 – 5:00 p.m. at Scott Conference Center. A reception will start at 5:30 p.m. with an awards program to follow at 6:30 p.m., winners being announced around 7:10 p.m. Media is invited to the event.
The IT Innovation Cup aims to engage Nebraska high school students in a competition that focuses on creativity, innovation and technology. Area high schools are invited to compete with teams of up to 10 students. Finalists will be chosen on their ability to solve the current year's problem requirements in the most innovative way, which also best uses information technology.
For the 2016-2017 school year, the challenge area is "Geo-Spatial Augmented Reality Technology." The increasing sophistication of geo-location technology and trends toward massive online social communities has led to the rise in popularity of goo-spatial augmented reality mobile games such as Ingress and Pokemon Go.  These platforms are highly successful at building online communities and mobilizing large groups of individuals to participate in challenges that they would not otherwise be involved in. The Challenge presented to our IT Innovation Cup teams: use augmented reality and/or wearable technology with geo-spatial elements to solve a meaningful problem or provide value to society
The 2016-2017 IT Innovation Cup is sponsored by First Data and Northrup Grumman. This year's event will feature keynote speaker Brad Masterson, vice president of application development for North American financial services at First Data.
Following high school teams are finalists for the 2016-2017 IT Innovation Cup:
Creighton Preparatory High School
Gross Catholic High School
Millard West High School
Omaha North High School
Omaha South High School
V. J. and Angela Skutt Catholic High School
Westside High School
For questions about the IT Innovation Cup, please contact Amanda Rucker, communications specialist for the College of IS&T, at 402.554.2070.
About UNO's College of Information Science and Technology
The College of Information Science and Technology (IS&T) at the University of Nebraska at Omaha represents the joint efforts of the University of Nebraska, the State of Nebraska, and private industry to address the growing global needs for knowledgeable professionals in Information Technology (IT). The College was established at UNO in 1996 to meet the growing demand for IT graduates in the Omaha metropolitan and surrounding area, and is celebrating its 20th anniversary this year.
###
Media Contact
If you have a story idea, news tip or inquiry please contact:
Amanda Rucker, Communication Specialist, College of Information Science & Technology
arucker@unomaha.edu • 402.554.2070