A More Secure Name: Information Assurance Makes the Switch to Cybersecurity
The University of Nebraska at Omaha's (UNO) College of Information Science and Technology's (IS&T) is changing the name of one of its most popular degrees, Information Assurance (IASC), to Cybersecurity (CYBR).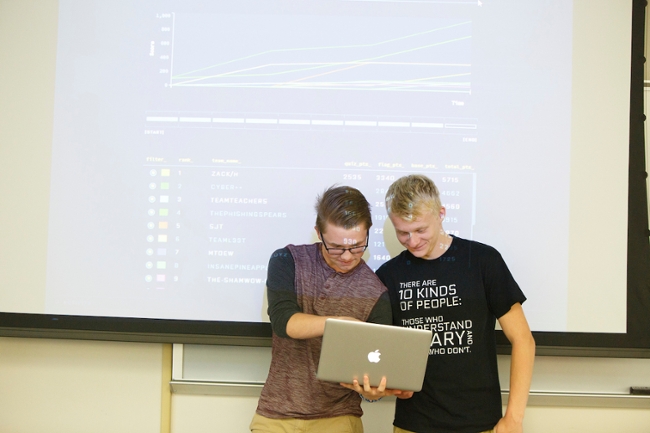 Housed in the School of Interdisciplinary Informatics (Si2), the new name more accurately reflects the increasingly technical nature of the program and better articulates the program specifics to prospective students.  As IS&T adds increasingly specialized courses, such as the "Internet of Things" and "Security of Embedded System" classes, it became important that the name of the program better reflect its innovative content.
Program Directors Dr. Abhishek Parakh and William Mahoney hope that the new name will make the program more visible to students interested in the ever-evolving world of computer security.
As the Cybersecurity program expands at an increasing rate, we are confident that the new program name will allow us to continue this upward trend
- Dr. William Mahoney
"With approximately 180 undergraduates and 45 graduate students, we've seen our program expand thanks to the innovative courses and research we're able to conduct." Mahoney added.
The change from IASC to CYBR will not affect enrollment procedures. Classes are currently listed as CYBR. 


About UNO's College of Information Science and Technology
The College of Information Science and Technology (IS&T) at the University of Nebraska at Omaha represents the joint efforts of the University of Nebraska, the State of Nebraska, and private industry to address the growing global needs for knowledgeable professionals in Information Technology (IT). The College was established at UNO in 1996 to meet the growing demand for IT graduates in the Omaha metropolitan and surrounding area, and is celebrating its 20th anniversary this year.
Media Contact
If you have a story idea, news tip or inquiry please contact:
Amanda Rucker, Communication Specialist, College of Information Science & Technology
arucker@unomaha.edu • 402.554.2070