Stellar Student: Kailey Snyder
For doctoral student Kailey Snyder, making big change in the world is on her to-do list, and she has the drive—and the support system in place—to make it happen.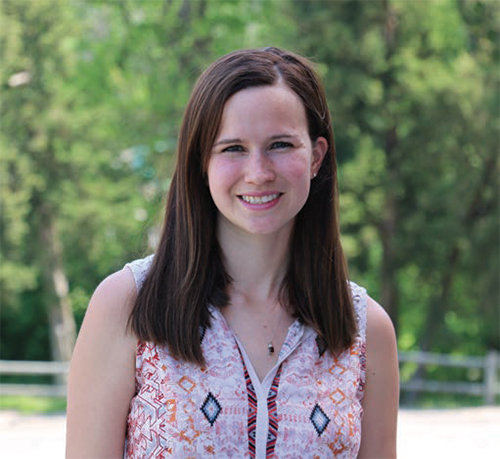 Growing up, Kailey's passion for health and wellness was instilled early as she watched her mother complete medical school and residency to become a pediatrician. Kailey recognized that her childhood family dynamic was unique.
"I was one of the only people in my group of friends whose mother worked. I was surrounded by a traditional, stay-at-home-mom culture, but my mother was the breadwinner."
Kailey, doctoral student in H&K's Exercise Science program and new mother, is excited that her baby daughter, Isla, will grow up with a similar experience, "I love that my mom was very independent. My memory is of her doing something very important. I hope Isla sees me in the same way."
When Kailey finished high school, it was expected she attend college, and she had big plans—go away to college; get into the workforce as quickly as possible; and change the world. She graduated from University of Iowa in three years and began working as a health coach. She enjoyed her job, but she wasn't creating the large-scale changes she longed for.
"It was great helping one person lower their blood pressure by teaching them healthy habits, or seeing one of my company's health outcomes improve, but I wanted to make a bigger impact."
In 2013, Kailey's husband Chris was accepted to medical school and they moved back to Omaha. While looking at UNO graduate programs, she connected with assistant professor Dr. Danae Dinkel and accepted a graduate assistant (GA) position.
"My husband has always supported my dreams. Even though we were living on my income, he was completely supportive of me going back to school and living on a GA salary."
"Although I had a traditional academic path, teaching helps me understand the barriers that affect non-traditional students."
Kailey completed her Master of Science in Physical Activity with a Health Promotion Concentration in 2016 and is one year into her doctoral program. She credits Dr. Dinkel's support as the reason she's continued on at UNO.
"Dr. Dinkel is a fantastic advisor and mentor. She gives 100%. She has shown me you can be both researcher and mother."
Under the guidance of Dr. Dinkel, Kailey has administered two needs assessment to over 800 Omaha mothers, determining their perceptions of social support and causes of stress as well as evaluating their experiences with physical activity while breastfeeding. Both assessments will be used to guide the development of her dissertation, which will focus on the prenatal health and activity levels of moms-to-be and how it affects infant developmental milestones and outcomes.
After data is gathered from the needs assessments, Kailey hopes to develop an online mental health and physical education support program for pregnant women called Mental and Physical Support (MAPS) for Moms.
"Only 20% of pregnant women are getting the recommended 150 minutes a week of activity. I hope to prove that support and interventions can inspire increased activity in pregnant women and lead to positive health outcomes such as easier birth experiences."
Kailey has worked as a teaching assistant and part-time instructor within H&K and pays it forward by creating a support system for her own students.
"Although I had a traditional academic path, teaching helps me understand the barriers that affect non-traditional students. Recently, a student felt she had to miss a test because her child care fell through. I worked with my student so she could take her test. The culture of support for students is continuously improving at UNO, and I'm proud to be part of that culture."