MBA Blog Archive
Meet the amazing students, faculty, staff, and alumni of the UNO MBA program.
Meet UNO CBA Professor of Finance Dr. Jeff Bredthauer
April 2021
Dr. Jeff Bredthuer is an Associate Professor of Finance at the University of Nebraska-Omaha. His research interests include empirical asset pricing, corporate finance, behavioral finance, personal investing, and pedagogy, while his teaching interests include corporate finance, investments, financial risk management and financial markets, for both undergraduate and graduate level. In this blog, he shares personal insights about himself as well as his experience teaching students and what people can do to build a solid financial foundation today and tomorrow.
Tell us about your academic and work background?
I decided to pursue my MBA in 2005, graduated in 2007, and then went to the University of Nebraska-Lincoln to get my PhD from 2007 to 2011. I stayed in Lincoln for a year, and then I came to UNO. As for work, I spent 35 years in industry with IBM and Catholic Health Initiatives in the state of Nebraska. I did IT consulting and security, business consulting, and lots of different things, so I have worked a lot.
How long have you been a professor at UNO?
This is my 8th year here, and I got tenure a couple years ago.
What is your teaching style in the classroom?
Well, one of the big things I do in all of the courses I teach in the MBA program, but also for the undergraduates, is that I incorporate a session somewhere between 20 and 45 minutes at the beginning of every class where we talk about markets and the economy. I infuse a discussion about the Wall Street Journal, so I have them do a reading, or several readings, from WSJ and then I make a quiz by asking them questions from the article. I then use that as a segue to launch into a bigger discussion about what is going on in the markets and in the economy. I basically try to keep it fresh. I try not to talk about old stuff or things that really do not have a whole lot of applicability to the here and now, which I think gives students a tie-in between finance and the world at large.
On financial education, financial literacy, and personal finance, how can people build a strong financial background?
I think it is essential because there are so many people that really need assistance in that space and that is where I want to focus my efforts. So, that is not only in empirical, classical, discipline-based research, it is also in pedagogy. Thinking about how we can better teach these concepts and skills to our students is where I would say my passion lies, because people need to know what to do to reduce cost, live within their means, and then save for retirement in order to build a solid financial background. The things I have done in the build-up to tenure are based upon classical asset pricing, which is a fancy way of saying investment research. Now I am working to diverge a little and focus on financial literacy and planning.
Can you talk a little bit about your area of research?
I have got a paper that we are working on right now with a colleague. It is a paper designed around helping enlisted folks in the military understand how to complement what they will end up with for retirement savings. There is a pretty large demographic in the military that comes from (maybe) stressed financial backgrounds. During active duty they spend all their time focusing on being fully mission-ready for whatever it entails, in terms of national security and securing this country, and they do not necessarily put their efforts on thinking about what they are going to do when they are done with their career. Should they stay in for 20 years, they are in their 40s when they come out, and having 50% of their retiring salary is not enough cash flow to sustain them until their lives are over. So, they really need some help thinking about what else they need to do to augment that pension with retirement savings and thinking about being smart with their finances to set themselves up for success. Part of that idea will be an online calculator that will allow these people to go on and actually put in their inputs for their personal financial situation and figure out what is the smartest, best way for them to save for the future. This is just an example of my work, and I like that it ties-in with the fact that we are a leader in this space, working with vets and military.
What do you think MBA students are interested in right now in terms of finance?
I think it is mostly just learning about how the markets and the economy interplay, where they interface, and then what effect that has on our economy, their personal economy and what that means for them in terms of their future.
What do you enjoy about teaching MBA students in particular?
Ok, that is a good question. I like teaching MBA students, particularly here because I have seen that they are a different group of students. The students have got a great deal of experience, and they are much more mature in the way they interface with the professor. I enjoy that they ask good questions and make decisions with the aim to expand their horizons. But what I think keeps it fresh, entertaining, and relevant, is the insertion of the dialogue about the economy and what is going on. I think that is what resonates with the students because they have some experience and a better appreciation for understanding the economy and markets.
If you were not in academia, what would you be doing?
Before I thought about being in academia, which I think is particularly good in the business environment, I did a lot of different things. I am a CFII, or certified flight instructor two, which means I am able to teach people to fly. In addition, I am certified to charter large sailing vessels in the ocean, this is just the fun stuff.
What are your hobbies?
I am a Scuba instructor, and I love to hunt and fish.
Closing comments?
I would say, you have to work hard and also have fun. Life is all about an equilibrium of things and you should not leave it unbalanced.
UNO CBA Professor of Economics Dr. Art Diamond publishes "Opennes to Creative Destruction"
June 2019
UNO CBA Professor of Economics Dr. Art Diamond has long believed that innovation is "the key to human betterment." Diamond asserts that entrepreneurial capitalism, or as he terms it innovative dynamism, enables the greatest innovation to facilitate improvements in the human condition. His belief in this concept inspired his upcoming book Openness to Creative Destruction: Sustaining Innovative Dynamism to be published by Oxford University Press in June 2019.
The book explores "how life has improved through innovation, how innovation has occurred through the efforts of inventors and innovative entrepreneurs, how workers benefit from a system of innovative dynamism, and how policies can be crafted to encourage the innovative entrepreneur to bring us more innovations."
The piece has been 15 years in the making for Diamond, who sought to "describe how the system worked and to persuade others that the system should be praised and defended." Driven by passion for the subject, he followed a pluralistic method of seeking evidence from econometric studies, case studies, histories, psychological experiments, biographies, and anywhere else relevant arguments could be found.
Read more about Dr. Diamond's book on the CBA website.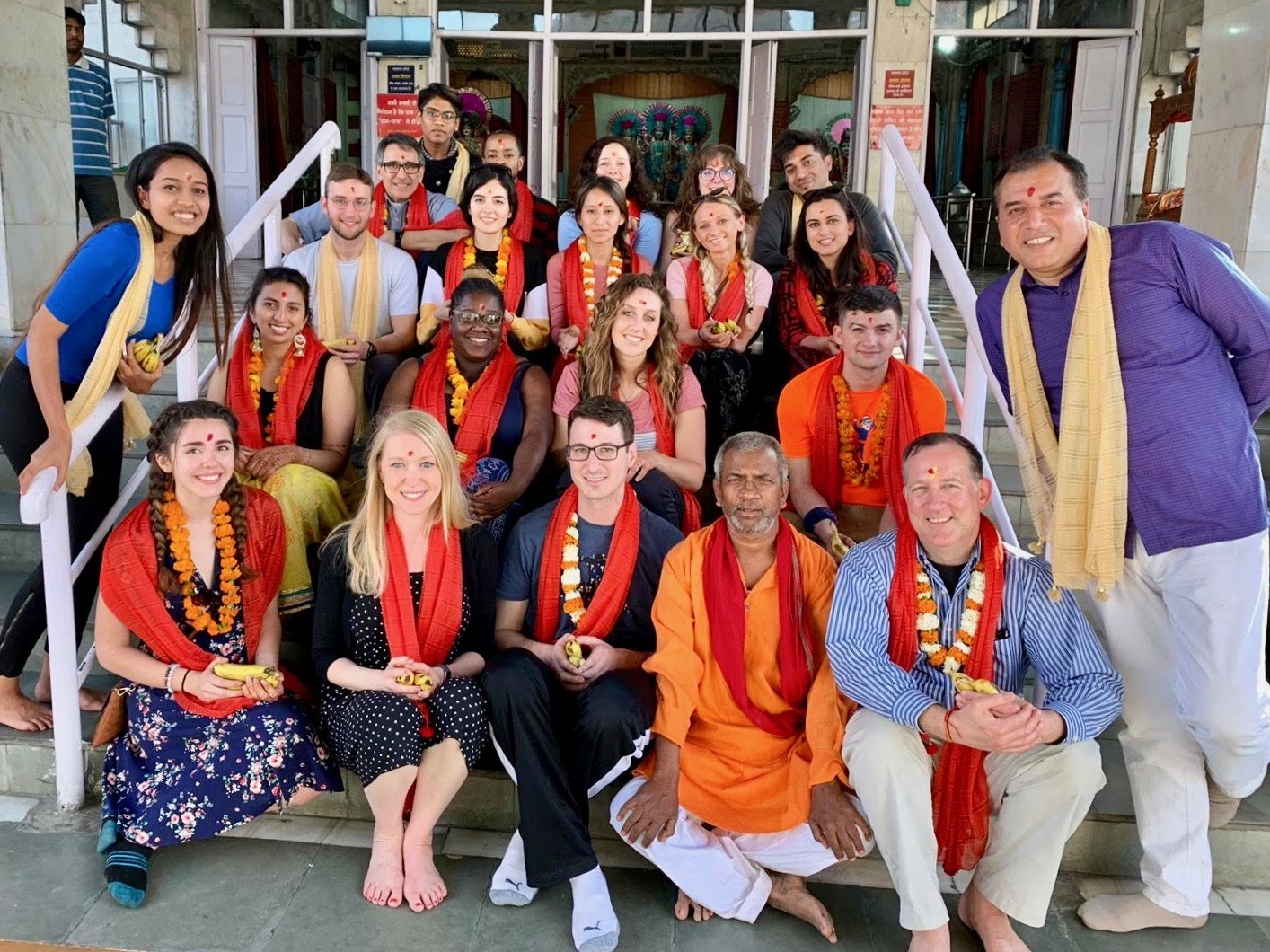 CBA Study Abroad: Business & Social Action in India
Kristi Lynch, MBA Director
March 2019
I had the great fortune of joining Dr. Patrick McNamara on the CBA study abroad trip: Business and Social Action in India. It was an incredible, life-changing experience! I had not traveled to India before, and to be quite honest, I was a bit anxious and unsure of what to expect. It took very little time for those fears to subside as we landed in Delhi on March 15th (after appx. 24 hours of travel) and began our adventure.
We were hosted by the amazing students, faculty and staff at IMT, Ghaziabad, which is a top ten graduate university located near the Delhi metro area. They had a full schedule prepared for us each day, which immersed us in many aspects of Indian culture, including school, business, non-profits, government, religion, historical sights, and of course, the people.
Some of the highlights included a visit on Monday to a rural village, where we got to see men, women and children working in the fields making bricks and processing sugar cane. In the village, we also visited a primary school, where the kids recited poetry and danced for us.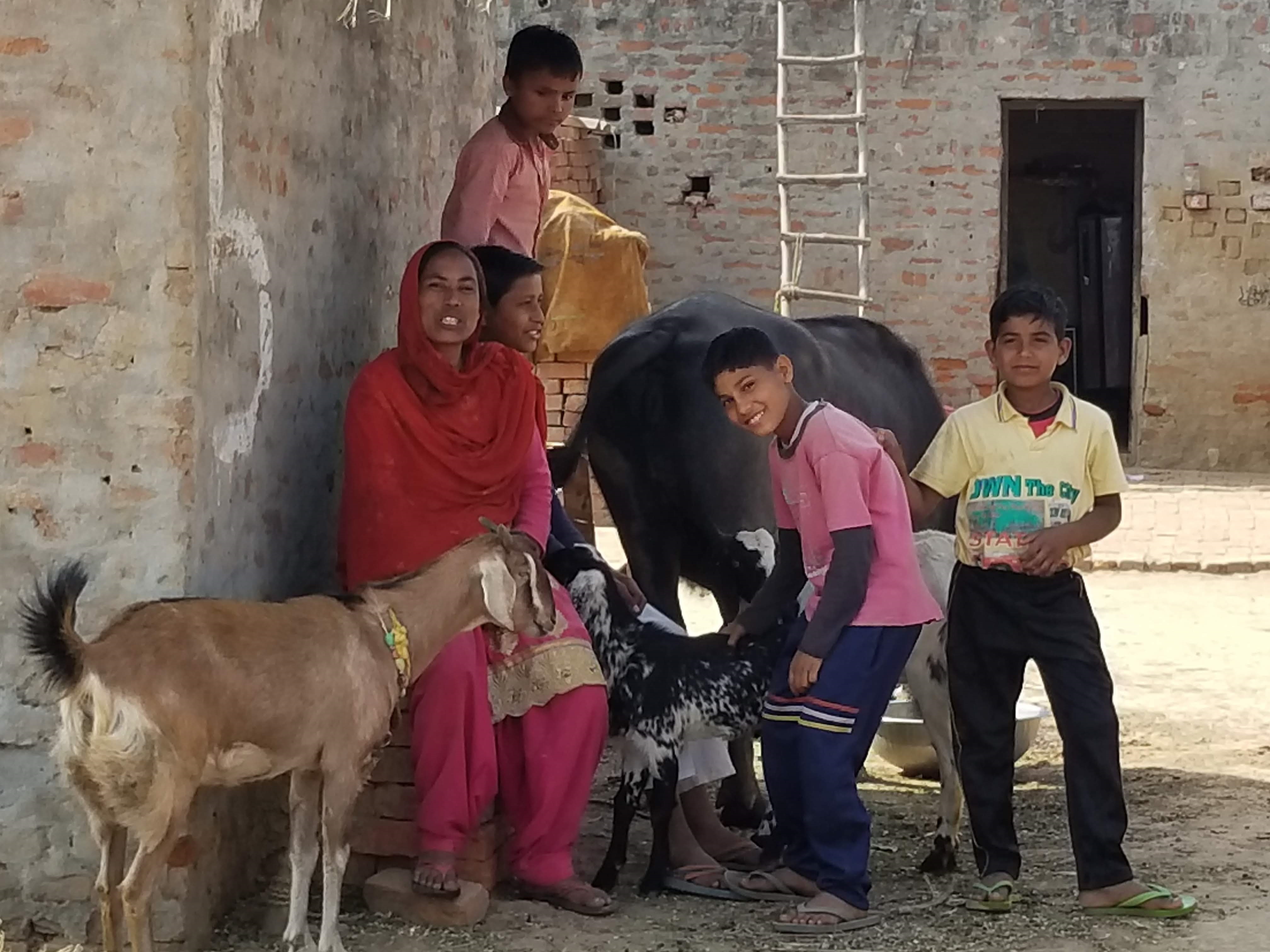 On Wednesday we visited an environmental NGO called Toxics Link. They do a great deal of research on waste and waste management in order toinfluence policy and social change.
The most impressive sights included Akshardham temple and the Taj Mahal. The architecture and beauty of both sites were outstanding.
I came away from the trip with a new appreciation for the country of India and its people. Despite their struggles, they are a strong, welcoming, ever-changing culture. We met many people who care very deeply about their country and are doing very good things to advance the economy, education and the environment. I hope to visit again and would love the opportunity to travel to different areas of India to experience the diversity and rich culture that makes each region so unique. ♥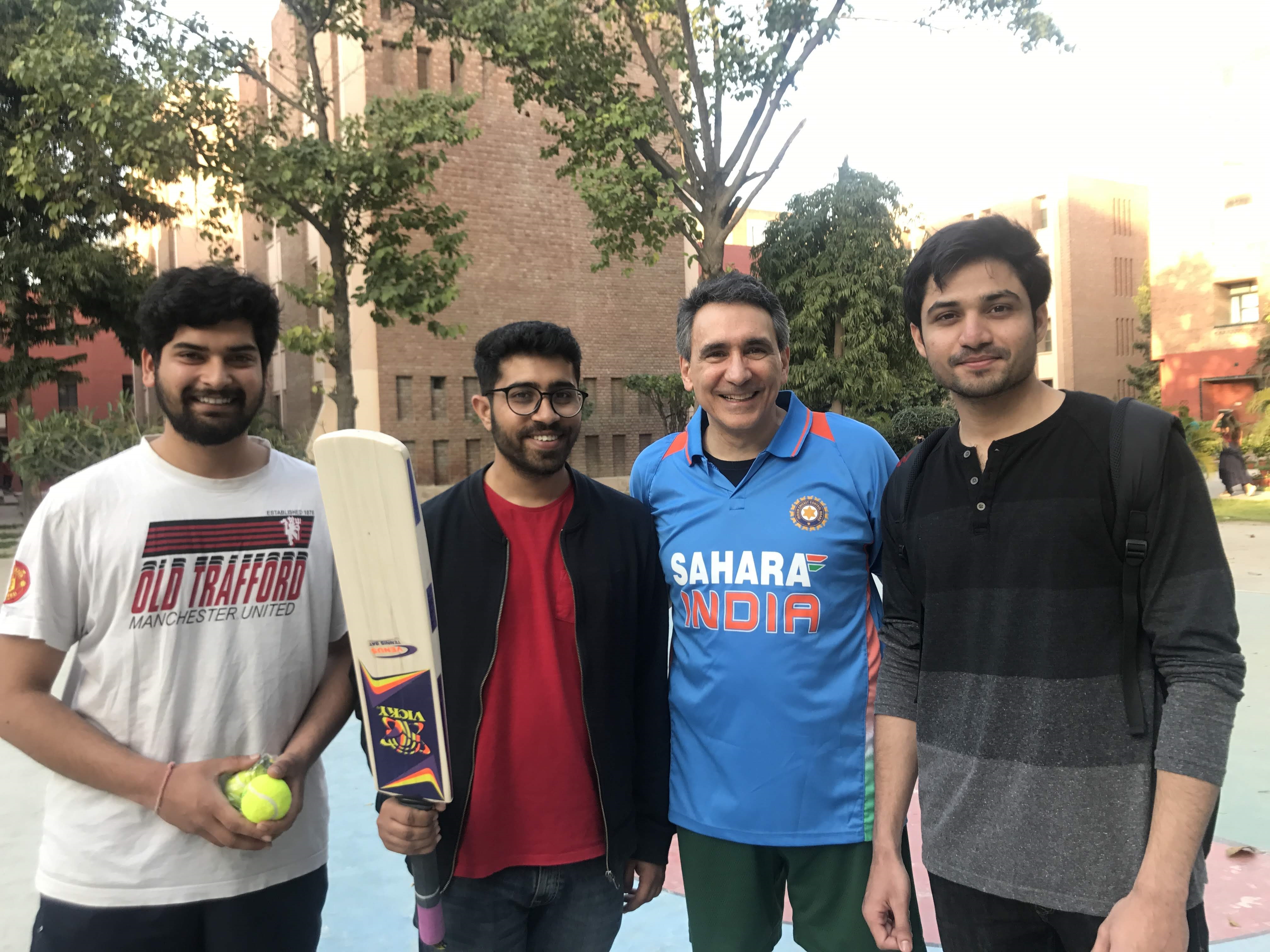 UNO MBA student Mike Fecci enjoyed a game of cricket with MBA students from IMT, Ghaziabad
CBA Short Term Study Abroad:
Burgundy School of Business: Creative Mindset and Entrepreneurial Leadership
Andrea Rahn, MBA Student
February 2019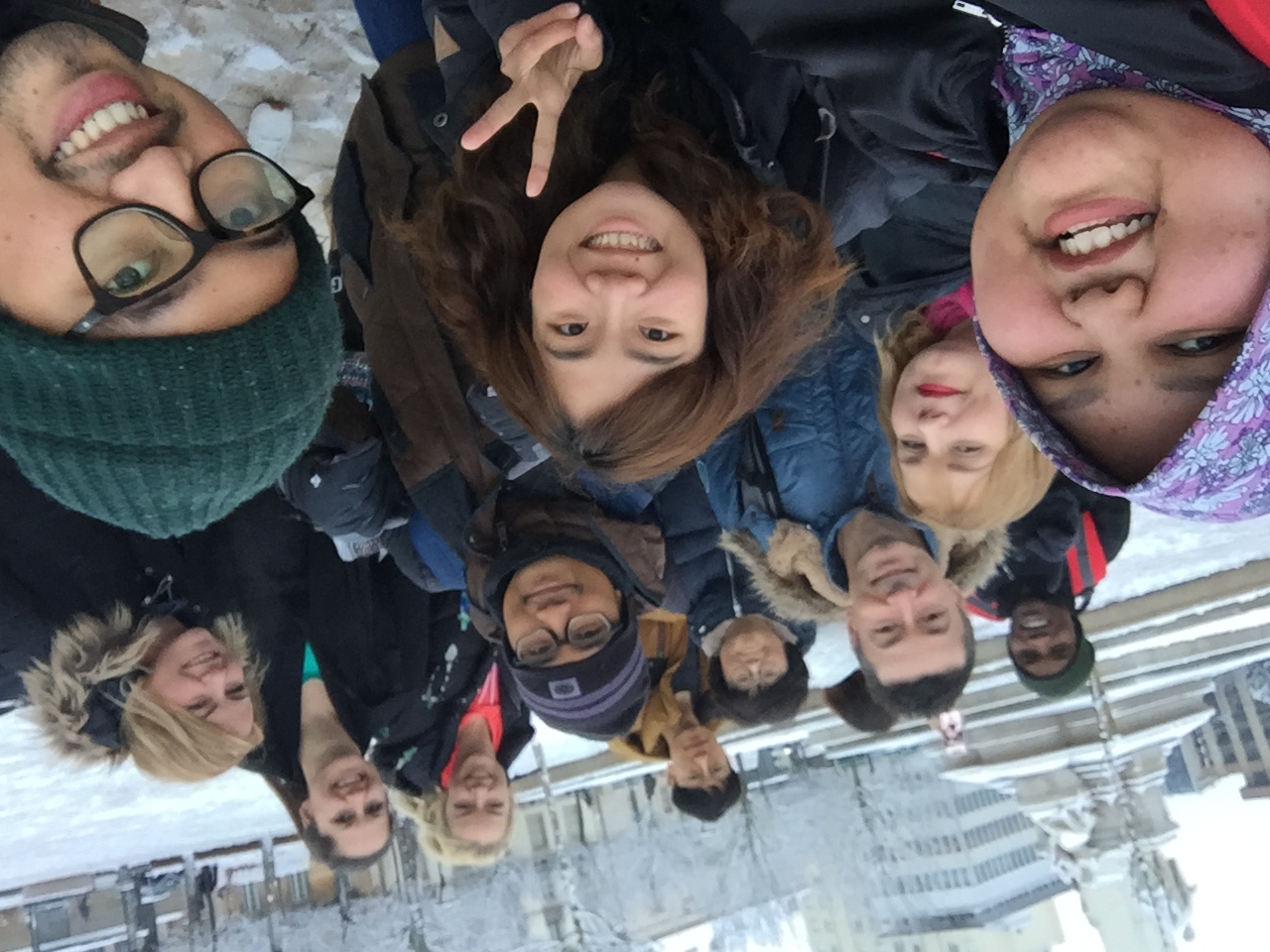 One of the benefits of the UNO MBA program is the opportunity for students to complete a short-term study abroad experience. Due to UNO's partnership with international programs, students have traveled to China, India, Austria, and France.
Here is one student's story: During her first fall semester, Andrea Rahn learned about an opportunity for a winter study abroad program in the weekly MBA newsletter. After consulting with her husband, she jumped on it immediately, knowing it would provide her with a unique perspective of the importance of networking, connections, inclusion, diversity, and intercultural communication. A few weeks later, she found out that she was accepted into the program, and in January she was off to Dijon, France for a week-long program at the Burgundy School of Business: Creative Mindset and Entrepreneurial Leadership.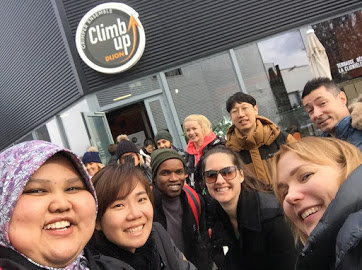 When asked what the experience was like, Andrea said, "she found the program very flexible, the professors and students were great, and she had all the amenities she needed to make her stay very comfortable." Interestingly, Andrea always had entrepreneurial aspirations and when she found out that most of her classes were entrepreneurship-focused, she was excited because she knew they were going to improve her personal development in the creation of distinctive business ideas. In addition, most of her professors were entrepreneurs, and one of them who owned a Yoga studio started each class with a meditation session, which she found very fun and relaxing.Throughout the week, Andrea was involved in a leadership training called "The King's Play" which is a tool of personal development that allows individuals and groups to develop their internal and external leadership skills, in order to 'lead' their life and other people in a most fulfilling way. This play was based on a systemic theory and the belief that in any system (e.g., a team, family, or organization) each individual influence on the entire system. This influence is possible since there is a connection between all individuals. In other words what we see in other people merely reflects a part of ourselves and the connection to learn and grow. The second aspect of the program focused on creative mindsets where students utilized brainstorming, divergent and convergent thinking.
When asked about some of the benefits of the program, Andrea smiled and said, "she benefited a lot from the program because she was exposed to 40 students from different countries and culture, which indeed strengthened her intercultural communication skills."
Currently, Andrea works full time as a Category Support Analyst, with a focus on finance and marketing. She says the international experience and the leadership development training helps her deal with difficult clients, which makes her job and conversations more efficient.