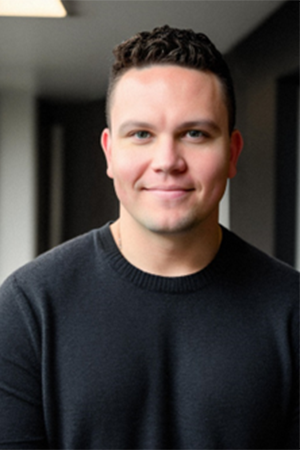 Erik Garcia, PhD
Assistant Professor
402.554.7521
---
email:
office:
area of focus:
Psychology and Neuroscience
Additional Information
Teaching
Intro Neuro I and II
Neuropharmacology
Education
Postdoctoral Fellowship, University of Texas Medical Branch at Galveston, Center for Addiction Research, 2017-2021, Neuropharmacology of Substance Use Disorders
M.S., Ph.D., Kansas State University, 2011-2017, Experimental Psychology Behavioral Neuroscience
B.S., Colorado State University, 2010, Psychology
Research
Dr. Erik Garcia is a behavioral neuroscientist and neuropharmacologist. His research is at the intersection of psychology, neuroscience, and neuropharmacology. Most broadly, he aims to understand individual-level predictors that govern the transition to compulsive drug use and identify the traits that contribute to the development of substance use disorders. He employs preclinical models and the principles of operant and Pavlovian conditioning to model human substance use to reveal the neurobiological mechanisms that drive the development of substance use. His latest research focuses on opioid use disorder and novel medication development within a behavioral economic framework to rapidly characterize therapeutic candidates. Dr. Garcia aims to bridge the gap between preclinical discoveries and meaningful clinical outcomes in the effort to aid people in their path toward substance use recovery. Most importantly, I am a firm believer and advocate for diversity, inclusion, and mentoring scientists. Please contact me about opportunities to work and contribute to the lab.
Publications
†Wold, E. A., †Garcia, E. J., †Wild, C. T., Miszkiel, J. M., Soto, C. A., Chen, J., Pazdrak, K., Fox, R. G., Anastasio, N. C., Cunningham, K. A., & Zhou, J. Discovery of 4-phenylpiperidine-2-carboxamide analogues as serotonin 5-HT2C receptor positive allosteric modulators with enhanced drug-like properties. Journal of Medicinal Chemistry,1021/acs.jmedchem.9b01953. PMID: 32567857
Garcia, E. J. & Cain, M. E. (2020). Environmental enrichment and a selective metabotropic glutamate receptor2/3 (mGluR2/3) agonist suppress amphetamine self-administration: Characterizing baseline differences. Pharmacology, Biochemistry, and Behavior, org/10.1016/j.pbb.2020.172907. PMID 32179027
Arndt, D. L., Wukitsch, T. J., Garcia, E. J., & Cain, M. E. (2019). Histone deacetylase inhibition differentially attenuates cue-induced reinstatement: An interaction of environment and acH3K9 expression in the dorsal striatum. Behavioral Neuroscience, doi: 10.1037/bne0000333. PMID 31343201
Garcia, E. J., Arndt, D. L., & Cain, M. E. (2019). Dynamic interactions of ceftriaxone and environmental variables suppress amphetamine seeking. Brain Research, org/10.1016/j.brainres.2019.01.044. PMID 30716289
Garcia, E. J., Haddon, T., Saucier, D. A., & Cain, M. E. (2017). Differential housing and novelty response: Protection and risk from locomotor sensitization. Pharmacology, Biochemistry, and Behavior, 154, 20-30. 1016/j.pbb.2017.01.004. PMID 28108176
Garcia, E. J., Jorgensen, E., Sprick, L., & Cain, M. E. (2017). Voluntary ethanol consumption changes ultrasonic vocalizations but not novelty response. Behavioural Brain Research, 320, 186-194. 10.1016/j.bbr.2016. 12.004. PMID 27956212
Garcia, E. J., & Cain, M. E. (2016). Novelty response and 50 kHz ultrasonic vocalizations: Differential prediction of locomotor and affective response to amphetamine in Sprague-Dawley rats. Psychopharmacology, 233, 625-637. PMID 26564232
Garcia, E. J., McCowan, T. J., & Cain, M. E. (2015). Harmonic and frequency modulated ultrasonic vocalizations reveal differences in conditioned and unconditioned reward processing. Behavioural Brain Research, 287, 207-214. PMID 25827931
† Denotes equal contribution