U.S. Strategic Command Academic Alliance
U.S. Strategic Command Academic Alliance Conference and Workshop 2021
Register here - only

registered participants will be able to access all sessions through Zoom.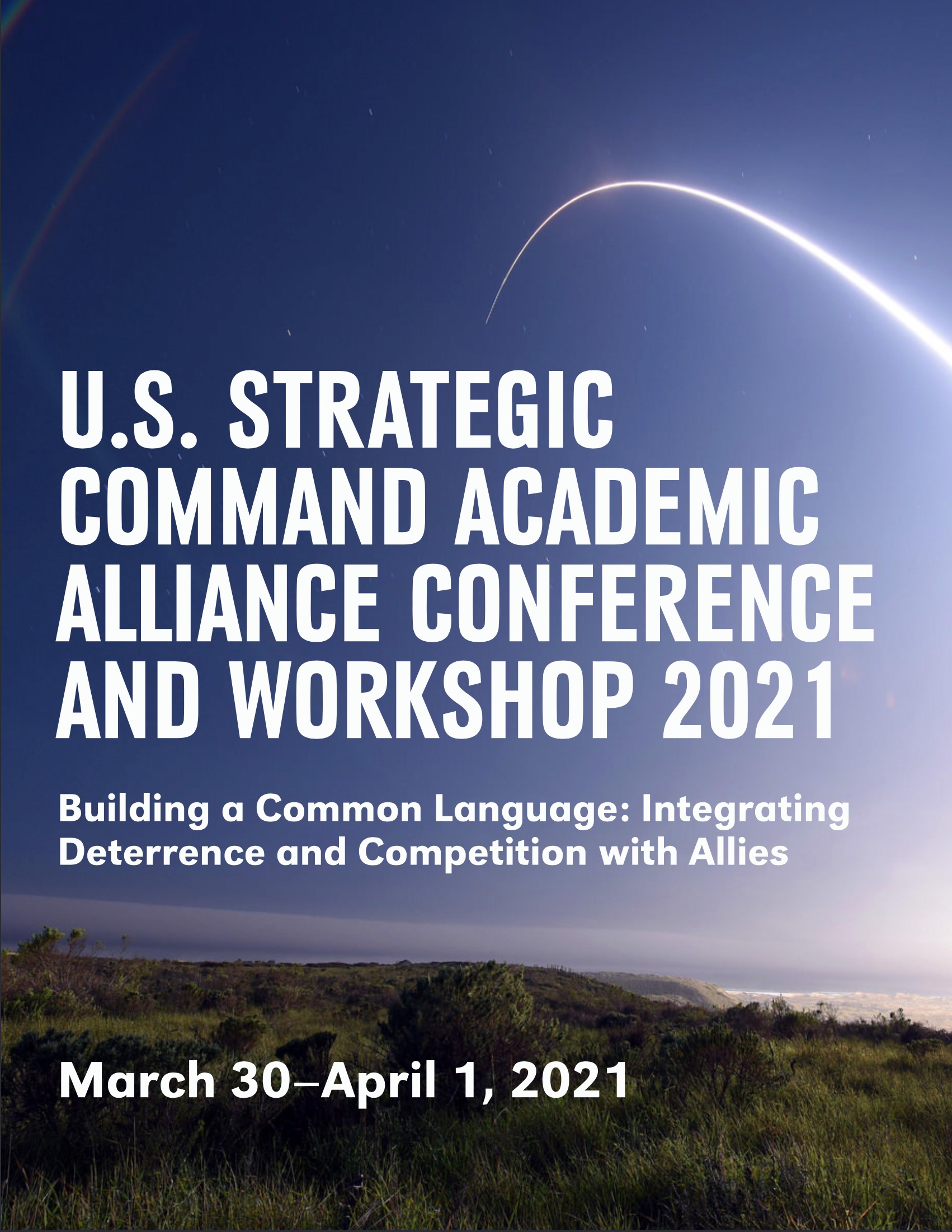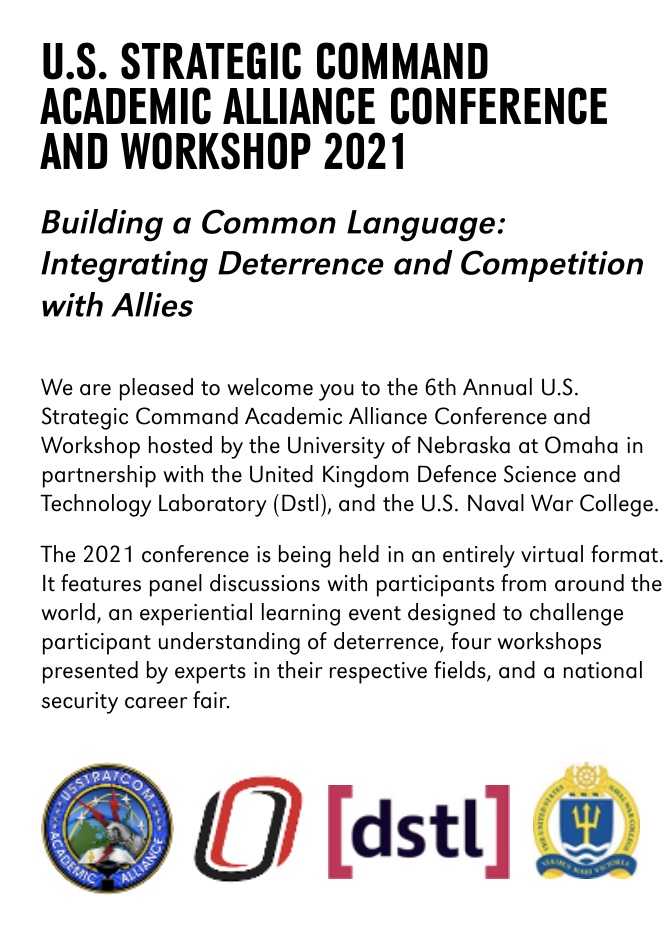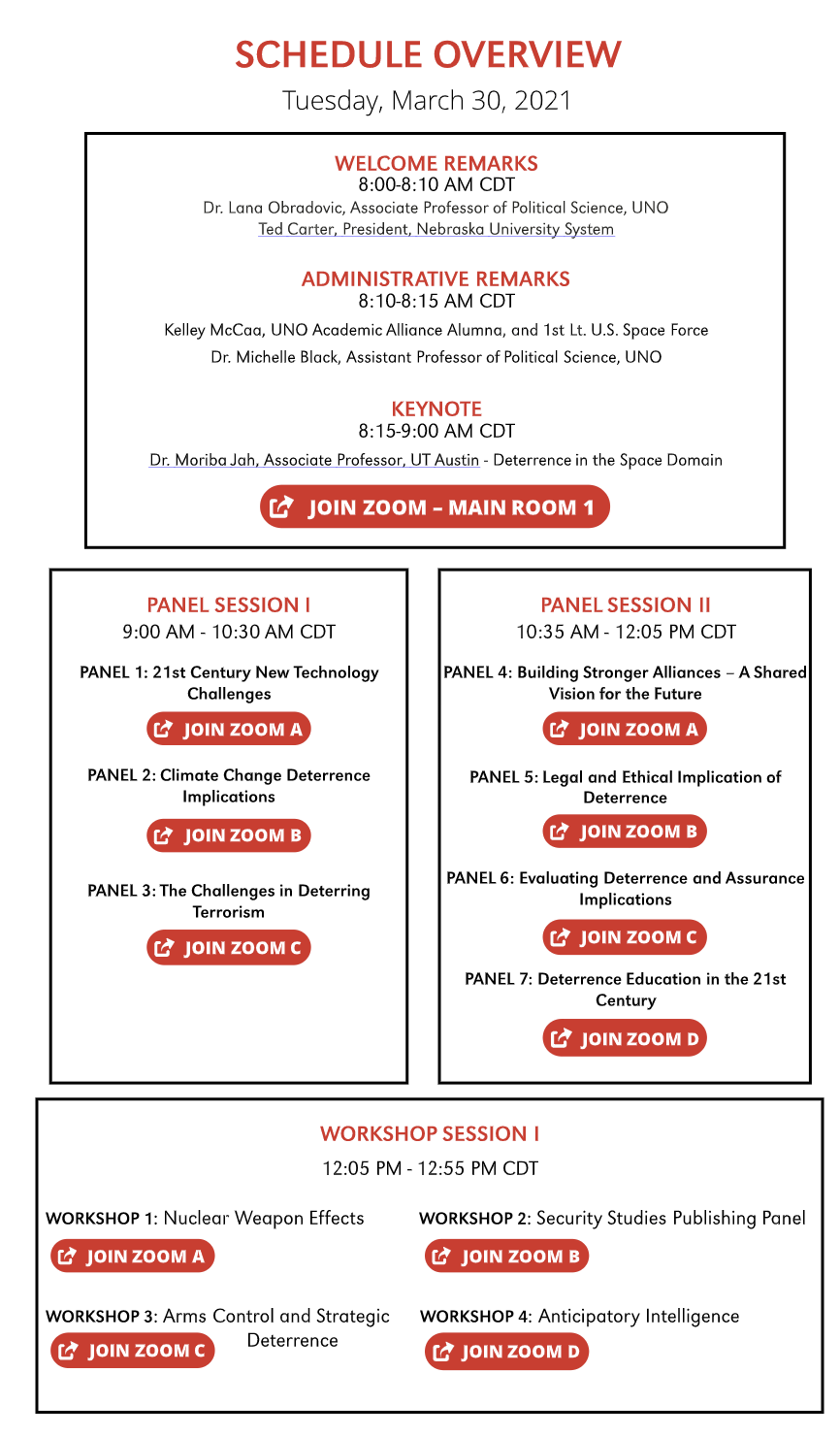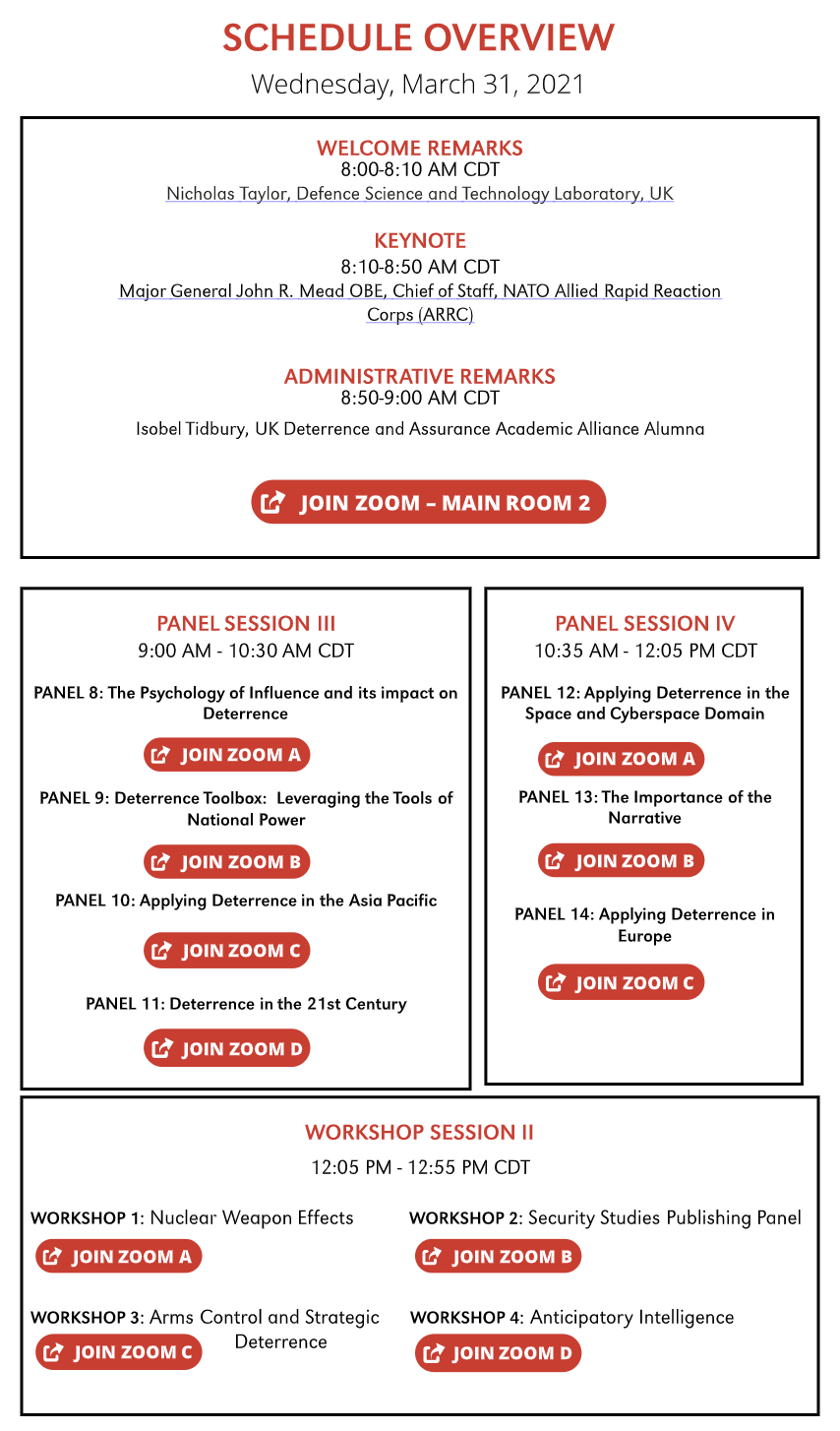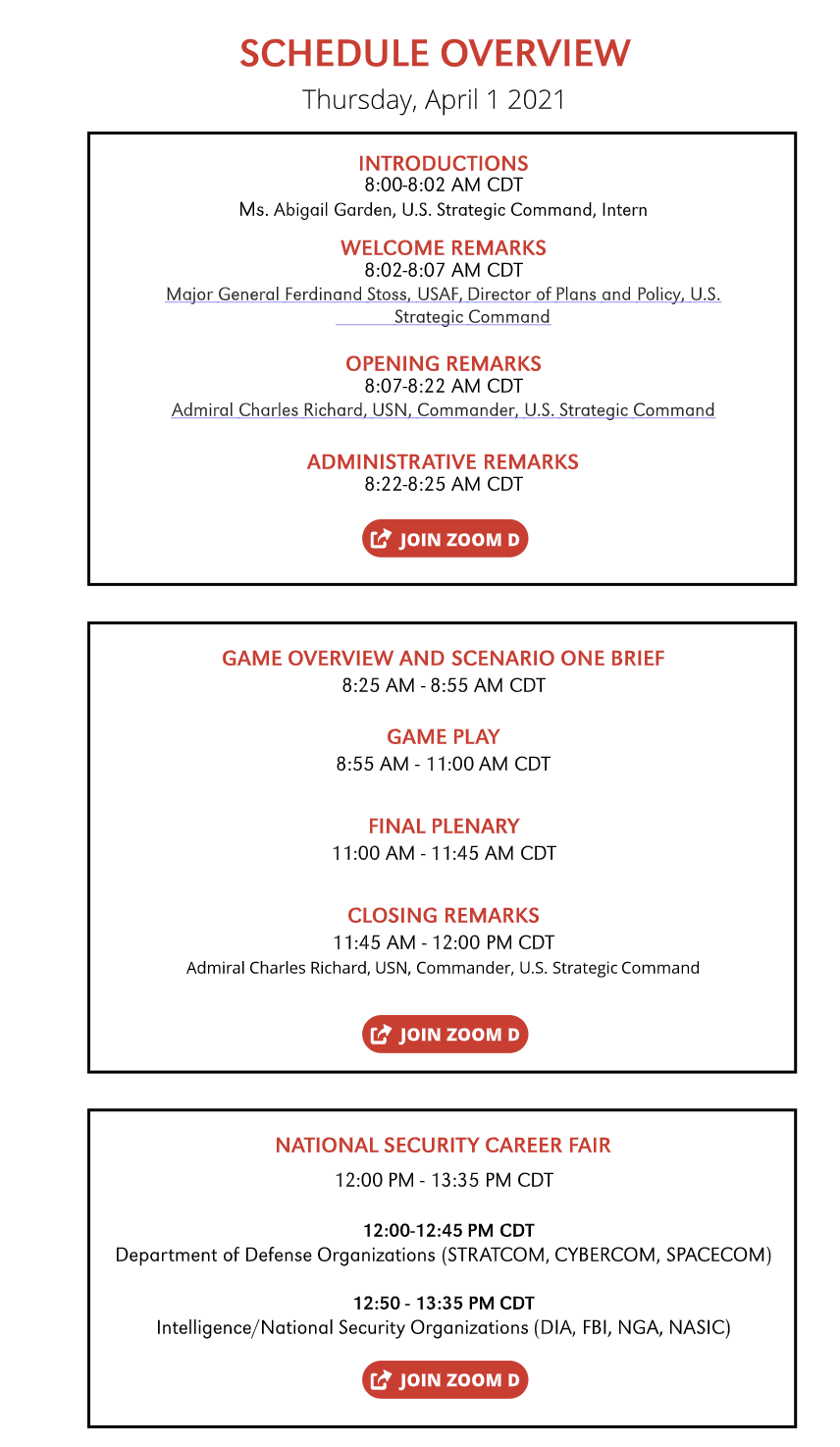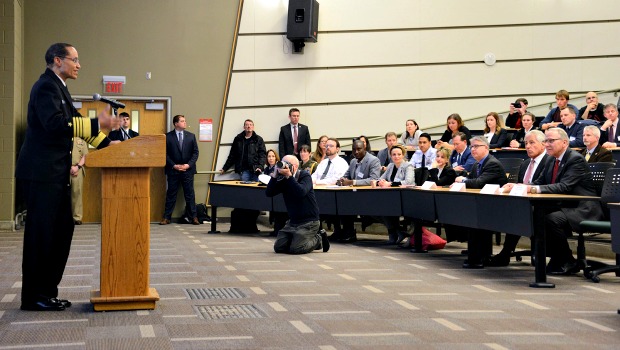 ---
Important Dates and Deadlines
| | |
| --- | --- |
| February 19, 2021 | Paper abstracts due |
| February 24, 2021 | Acceptance notifications and confirmation of panel members |
| March 5, 2021 | Presenter registration deadline |
| March 24, 2021 | Papers submitted |
| March 30 - April 1, 2021 | Deterrence & Assurance Workshop and Conference |
Call for Papers
In an effort to shape this year's abstract submissions, we outlined several tentative themes for the 2021 Academic Alliance Conference. We ask that your abstract submissions are related to one of the following themes:
Theme: 21st Century Multilateral Deterrence: Impact on Deterrence Dynamics
How does deterring multiple near peer adversaries impact deterrence dynamics?
How is it different than bilateral deterrence?
How do small nations, rogue nations, and non-state actors complicate multilateral deterrence?
Theme: Deterrence, Assurance, and Competition: How Do We Integrate Them into a Cohesive Strategy?
Deterrence, Assurance, and Competition may have competing objectives. Which should have primacy?
How do we work with Allies and Partners to better compete with adversaries?
Theme: Deterrence, Assurance, and Economic Interdependence
How does economic interdependence with our adversaries impact deterrence?
Does economic interdependence with adversaries impact alliance cohesion?
How does economic interdependence with our adversaries impact assurance?
Theme: The Next Deterrence Challenges – Looking Ahead
Are there Black Swans looming?
What regions may provide the next deterrence challenge?
Will the next deterrence challenge not be geographic in nature, but informational? (e.g., Big Data, Artificial Intelligence)
Theme: Building Stronger Alliances – A Shared Vision for the Future
During the Cold War the West had a shared narrative. What's the shared narrative for the 21st Century? Can we build one?
Theme: Social Media and Deterrence
How has social media changed the speed of communication?
How do nations use social media for strategic influence?
How can the U.S. and Allies harness social media for deterrence?
Social Media as an influence battle field – How do we compete?
Theme: Emergence of New Technology and its impact on Deterrence and Competition
How do advancements in technology change the strategic landscape?
Does this perpetuate the action reaction cycle?
What's the 21st Century version of the "Missile Gap"?
Theme: The Psychology of Influence and its impact on Deterrence
Deterrence is influence over a leader's decision-making. How vulnerable are people to influence?
What is the psychology of decision-making?
How do heuristics and personal experience impact decision-making?
How are bias for decision differ from deterrence to armed conflict?
Theme: The Challenges in Deterring Terrorism and Targeted Violence in the U.S.
How can we prevent foreign actors from exploiting U.S. travel, trade, financial, and immigration systems for illicit purposes?
Is it possible to deter or detect violent organization's planned use of weapons of mass destruction (WMD)?
How does the U.S. deter and impede illegal trade and travel across air, land, and maritime borders?
Is it possible to gain awareness of terrorist and violent trends in national and systemic cybersecurity and infrastructure risks?
Can we deter terrorists from exploiting the pandemic or other global health security threats?
For more research ideas, or if you would like to discuss any of these themes, three virtual opportunities are offered to engage with U.S. Strategic Command Academic Alliance and the UK Defence Science and Techology Laboratory in advance of the submission deadline. They are as follows:
December 16, 2020 / 9:00am (CST)
January 5, 2021 / 2:00pm (CST)
Paper Submissions
Submit your paper by March 24 (maximum 10,000 words including abstract, figures, references, and appendices; double-spaced, Times New Roman, font size 12).
You will have 12-15 minutes to present. To prepare, create an outline of your talk, with the main points you would like to emphasize. Condense your notes into a manageable amount of information. Remember that you have a limited amount of time.
Any PowerPoint slides you prepare should complement, rather than replace, your talk. Limit slides to key points and to findings that benefit from visual display. Ensure each slide is easy to read and font size is large enough for audience members sitting in the back of a typical meeting room to read.
For the best user experience, we recommend to follow the below:
A device that is connected to the internet, either by ethernet or WiFi (preferably a computer; tablets and mobile devices can be used if necessary)
A stable internet connection
Zoom software downloaded to your device of version 5.2.1 or higher
Please contact UNO's Program Chairs:Dr. Lana Obradovic, and Dr. Michelle Black with questions about potential submissions and participation.
A selection of the best papers from the conference will be invited to be published in a special issue of the Space and Defense Journal.
The Deterrence and Assurance Academic Alliance
Purpose
Develop an academic community of interest focused on research and analysis of deterrence, assurance, and associated strategic level national security themes in a rapidly changing, multi-domain global threat environment.
Goals
Advance deterrence and assurance thinking beyond Cold War era narratives.

Stimulate rigorous academic research into deterrence, assurance, and other concepts of strategic thought for the 21st Century.

Promote collaboration among academic and military Alliance members.

Encourage development of national security professionals to meet future research, analytic, and decision-making requirements.
---
Past U.S. Strategic Academic Alliance Conferences at UNO