Graduate Programs in Political Science
---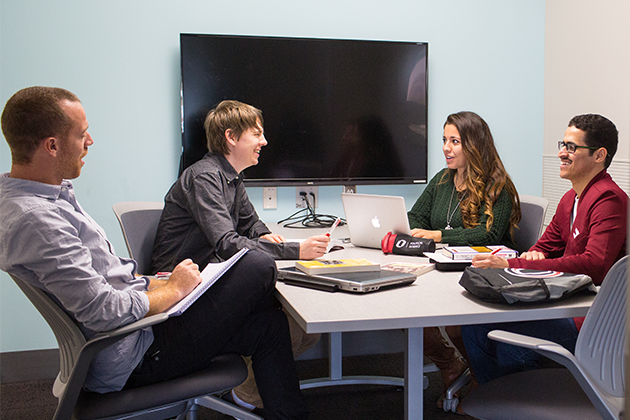 The Master's Degree in Political Science (MS PSCI) is a 30 credit hour program, which allows full-time students to complete it within two years. Some students enter the program with the intention of continuing on with their Ph.D., while others use the program to prepare themselves as practitioners in the fields of education, government, intelligence, law, journalism, non-profit, or lobbying.  We offer both a thesis and non-thesis option for the MS PSCI degree.Master of Science in Political Science
Our program offers the flexibility to incorporate interests in other disciplines such as communications, criminal justice, economics, geography, history, psychology, public administration, social work, sociology, and urban studies. We accept up to 12 units of credit toward your MS in Political Science from outside the department. In addition, we accept up to 10 units of graduate transfer credit.
Students have the option to incorporate the International Affairs Concentration, Intelligence and National Security Certificate, or the Certificate in Government into their Master's program.
Students also have opportunities to incorporate additional activities into their program including: Intelligence Scholars, Mock Trial, study abroad, internships, and conference presentations.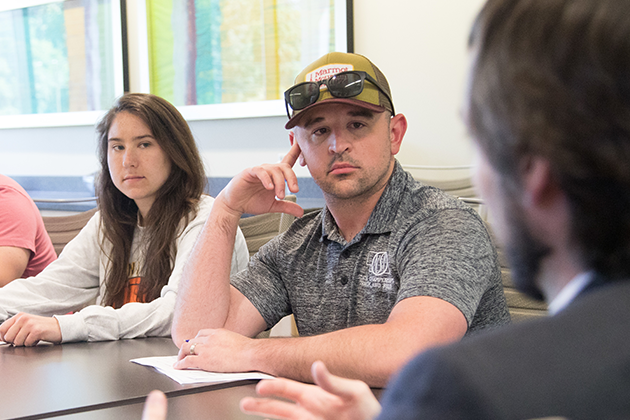 ---
Admission Requirements:
Bachelor's degree from an accredited university
15 undergraduate hours in political science (preferred)
GPA of 3.0 on a 4.0 scale
Two letters of recommendation
Two official copies of transcripts from all colleges and universities attended.
Academic writing sample, minimum 5 pages in length. If one does not exist, please contact the academic program coordinator.
If you are an international student from a non-exempt TOEFL country, a minimum internet-TOEFL score of 80 (with no sub-score below 15).
Application fee
*A GRE or other graduate standardized test scores are not a requirement, but are welcome to be submitted along with the other materials.
---
Course of Study:
30 credit hour program that offers a broad foundation in political science with the flexibility of interdisciplinary collaboration.
In addition to Research Methods, students can choose their required core seminars among the following: American Politics, US Foreign Policy and National Security, International Relations, Comparative Politics, Political Theory, Leadership, and Constitutional Law.
The 12 hours of required electives can be taken in any UNO department with approval of one's advisor.
Non-Thesis Option - (30 credit hours)
Research Methods (3 credit hours)
4 out of the 6 core seminars (12 credit hours)
4 electives (12 credit hours)
Capstone project (3 credit hours) of either a directed research in political science or a political science-related internship
Students can apply for the Thesis Option after the successful completion of 15 credit hours.
Thesis Option - (30 credit hours)
Research Methods (3 credit hours)
3 out of the 6 core seminars (9 credit hours)
4 electives (12 credit hours)
Thesis (6 credit hours)
Please contact the Academic Program Coordinator (kbroyhill@unomaha.edu) for more information about applying to the program.
---
Graduate Minor in Political Science
The Department of Political Science offers a graduate minor to students pursuing graduate degrees in other programs at UNO. The requirements for the minor are that the student completes a minimum of nine (9) graduate hours in political science seminars.
The courses to be taken for the minor are to be approved both by the student's adviser in the student's major subject and by the graduate program committee chair in Political Science.
---
International Affairs Concentration
Students who select to concentrate in international affairs will take seminars and electives focusing in international relations and comparative politics in addition to having their capstone project be internationally-related.  Students with current or prospective careers business, policy analysis, NGO management, security, education, and politics will all benefit from a broadly-defined curriculum focused on international affairs. 
---
Graduate Program Student Testimony Videos
We know that students have choices when it comes to where to earn a Political Science Master's Degree, especially when it comes to those doing so on-line. We put together these short videos which feature our own students to highlight the strengths of this program. In the top video, our students discuss the faculty here. I the next, they discuss the advising process. And in the final video, they speak to those students who are interested in earning a Master's Degree as a stepping stone to a Ph.D.
Master's Degree Student Testimony: Program faculty
Master's Degree Student Testimony: Advising
Master's Degree Student Testimony: Ph.D preparation
---
Graduate Assistantships
A limited number of Graduate Assistantships are available for full-time, on-campus graduate students.  For more information, please contact the Academic Program Coordinator at kbroyhill@unomaha.edu.
---