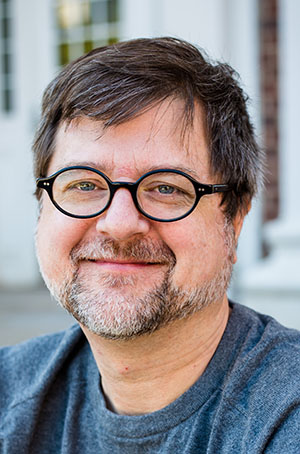 Dr. Robert Farquhar Darcy
---
email:
office:
ASH  189J
office phone:
note:
This profile is pulling in data from Digital Measures. Postings on personal websites or social media do not indicate that the individual is speaking on behalf of UNO.
General Information
Teaching Interests
Renaissance Literature / Shakespeare / Critical Theory / History of Ideas / History of Print
Education
Ph D, University of Wisconsin-Madison, Madison, English, 2003
BA, Yale University, New Haven, CT, English, 1993
Additional Information
Publications
Book
Darcy, Robert. Misanthropoetics: Social Flight and Literary Form in Early Modern England. Lincoln: University of Nebraska Press, 2021.
Articles and Book Chapters 
"Facial Recognition and Posthuman Technologies in Shakespeare's Sonnets." Multicultural Shakespeare, 24 (2021): 149-63.
 "Puppets, Sexlessness, and the Dumbfounding of Male Epistemology in Ben Jonson's Bartholomew Fair." SEL: Studies in English Literature 60.2 (2020): 365-86.
 "Teaching Shakespeare's Sonnet 73." SMART: Studies in Medieval and Renaissance Teaching, 26 (2019): 91-102.
 "False Muscle Memory in Marlowe and Nashe." Sexuality and Memory in Early Modern England: Literature and the Erotics of Recollection. Ed. John Garrison and Kyle Pivetti. New York: Routledge, 2016. 112-19.
 "The Anticipatory Premise of History in the Reception of Shakespeare's Sonnets." Renaissance Shakespeare: Shakespeare Renaissances: Proceedings of the Ninth World Shakespeare Congress. Ed. Martin Procházka et al. Newark: U of Delaware P, 2013. 51-59.
 "Marlowe and Marston's Cursus." Christopher Marlowe the Craftsman: Lives, Stage, and Page. Ed. Sarah K. Scott and M. L. Stapleton. Cornwall: Ashgate, 2010. 149-58.
 "Shakespeare's Empty Plot: The Epicenotaph in Timon of Athens." Renaissance Drama, n.s. 33 (2004): 159-79.
 "Freeing Daughters on Open Markets: The Incest Clause in The Merchant of Venice." Money and the Age of Shakespeare: Essays in New Economic Criticism. Ed. Linda Woodbridge. New York: Palgrave, 2003. 189-200.
 "'Under My Hands . . . a Double Duty': Printing and Pressing Marlowe's Hero and Leander." JEMCS: The Journal for Early Modern Cultural Studies, 2.2 (2002): 26-56.