Tom Ridge to Headline UNO Hagel Forum in Global Leadership
Tom Ridge, former U.S. Secretary of Homeland Security and former Governor of Pennsylvania, will discuss the role of U.S. leadership in a changing world with UNO alumnus Chuck Hagel, former U.S. Secretary of Defense and former U.S. Senator from Nebraska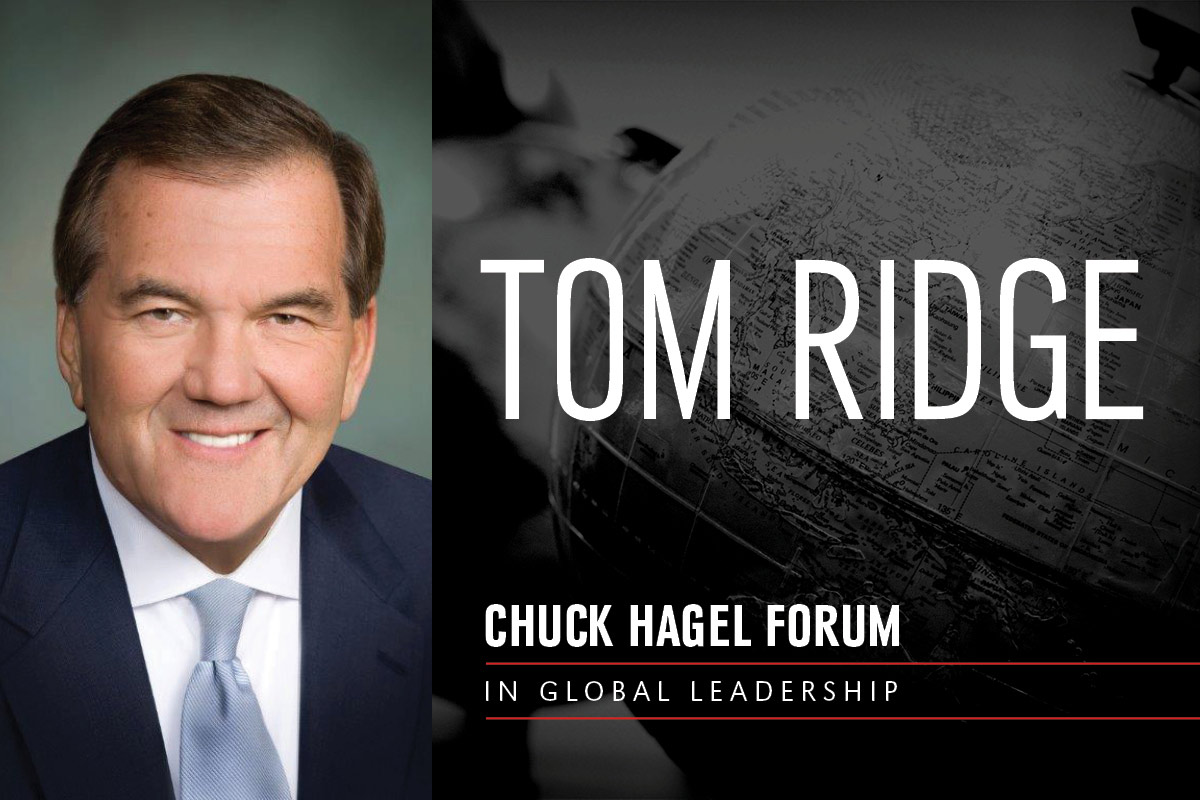 The University of Nebraska Omaha (UNO) and the Atlantic Council are welcoming the community to attend, on Monday, March 8, at 5 P.M. CST, the Hagel Forum in Global Leadership.
Tom Ridge, former U.S. Secretary of Homeland Security and former Governor of Pennsylvania, will discuss the role of U.S. leadership in a changing world with UNO alumnus Chuck Hagel, former U.S. Secretary of Defense and former U.S. Senator from Nebraska.
The 2021 event is the third installment of the Chuck Hagel Forum in Global Leadership series. The series debuted at UNO in 2019 with a discussion on pressing global issues between Hagel and then-former U.S. Vice President Joe Biden. The 2020 event featured former U.S. Secretary of State John Kerry, who spoke to issues on climate change and technological innovation.
This year's forum is hosted in partnership with the Atlantic Council, a nonpartisan organization that galvanizes U.S. leadership and engagement in the world, in partnership with allies and partners, to shape solutions to global challenges.
The event will feature opening remarks by Ridge followed by a discussion with Ridge and Hagel moderated by Michelle Black, Ph.D., an assistant professor of political science at UNO and a research fellow for the National Strategic Research Institute (NSRI).
This event series explores critical issues with global leaders in search of solutions to today's global challenges. The Chuck Hagel Forum in Global Leadership provides an opportunity to engage with Hagel and other global leaders, policymakers and thinkers.
This virtual event will premiere online at 5 P.M. CST, Monday, March 8, on the Chuck Hagel Forum in Global Leadership website and on Atlantic Council platforms.
---
About the Atlantic Council
The Atlantic Council promotes constructive leadership and engagement in international affairs based on the Atlantic Community's central role in meeting global challenges. The Council provides an essential forum for navigating the dramatic economic and political changes defining the twenty-first century by informing and galvanizing its uniquely influential network of global leaders. The Atlantic Council—through the papers it publishes, the ideas it generates, the future leaders it develops, and the communities it builds—shapes policy choices and strategies to create a more free, secure, and prosperous world.
About the University of Nebraska at Omaha
Located in one of America's best cities to live, work and learn, the University of Nebraska at Omaha (UNO) is Nebraska's premier metropolitan university. With more than 15,000 students enrolled in 200-plus programs of study, UNO is recognized nationally for its online education, graduate education, military friendliness and community engagement efforts. Founded in 1908, UNO has served learners of all backgrounds for more than 100 years and is dedicated to another century of excellence both in the classroom and in the community.
Follow UNO on Facebook, Twitter, Instagram, LinkedIn, and YouTube. 
Contact Us
If you have a story idea, news tip, or other question, please email the UNO News team at unonews@unomaha.edu.