Position Announcement: Alexander Coon Named South Panhandle NBDC Center Director
Coon will provide no-cost consulting services to businesses in Scottsbluff and the surrounding area.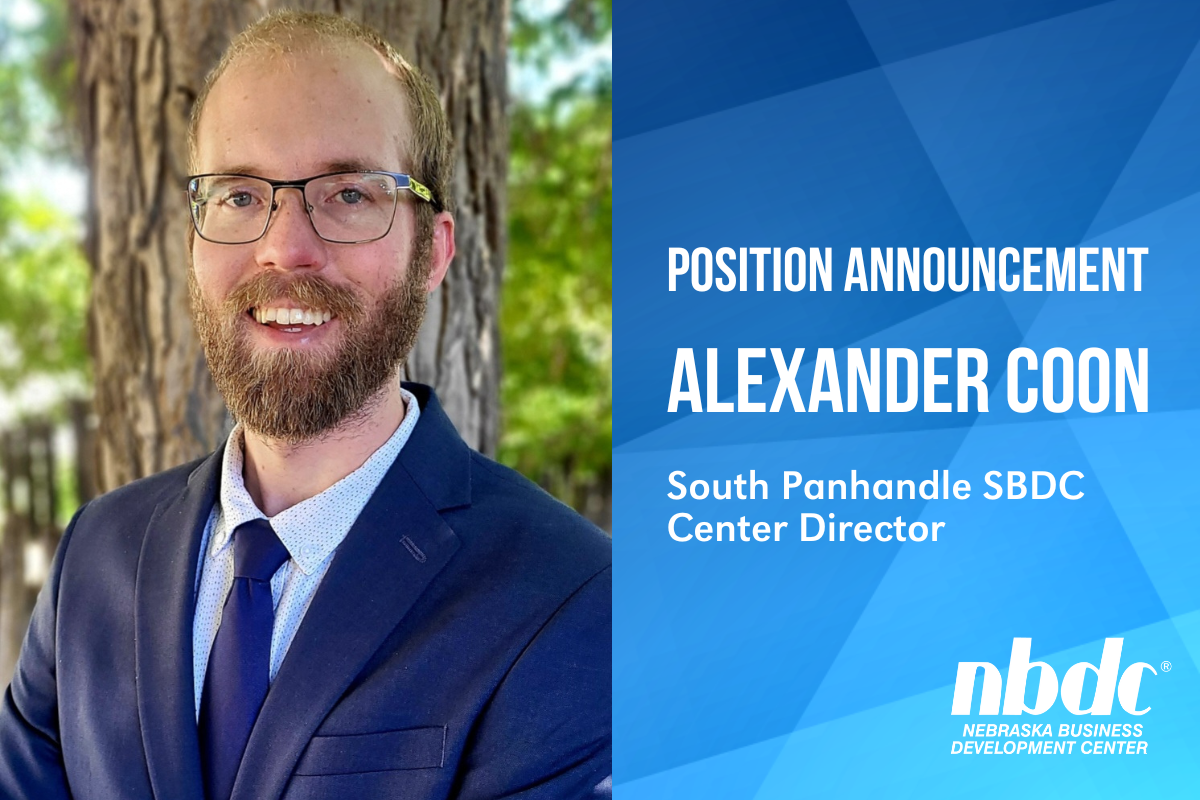 Alexander Coon Named South Panhandle NBDC Center Director
Scottsbluff, Nebraska – Scottsbluff, Neb. – Alexander Coon has been named the new Nebraska Business Development Center (NBDC) center director for the South Panhandle region. Based in Scottsbluff at the University of Nebraska Panhandle Research & Extension Center, Coon will provide no-cost business consulting services for Nebraska small business owners and entrepreneurs in Scottsbluff, Banner, Kimball, Morrill, Cheyenne, Garden, and Deul counties who are looking to start, grow, or transition their companies.
His role is part of NBDC's Small Business Development Center (SBDC) program which provides a range of no-cost, confidential services including business plan development, financial projections, market research, and more.
"I am looking forward to helping businesses in this area start, grow, and prosper," said Coon. "NBDC is an incredible service for Nebraska's entrepreneurs and business owners, and it is exciting to be part of its almost 50-year history of providing no-cost support."
The Small Business Development Center program is one of five NBDC programs that support Nebraska entrepreneurs in a variety of ways. In 2022, NBDC consultants served more than 2,000 Nebraska business owners, leading to an impact of $343.8 million to the state economy through job creation, business investments, sales increases, and government contract awards. NBDC is a center of the University of Nebraska at Omaha with offices located across the state.
Coon is a Western Nebraska native and earned his Master of Business Administration from Chadron State College. He brings with him a background in accounting and a track record of supporting community growth.
"Alex is the perfect person to support Scottsbluff-area entrepreneurs and business owners," said Tony Schultz, state director of NBDC's SBDC program. "He really understands the area, and with his expertise, business owners will be in great hands. We know that he will quickly become the go-to resource in the area for business questions big and small."
Business owners or entrepreneurs interested in NBDC's services can learn more at nbdc.unomaha.edu. Coon is accepting appointments and can be reached at 308.218.8382 or alexandercoon@unomaha.edu.