NBDC Names Curran New Executive Director
Dan Curran will be the third executive director in NBDC's nearly 50-year history of serving Nebraska business owners and entrepreneurs.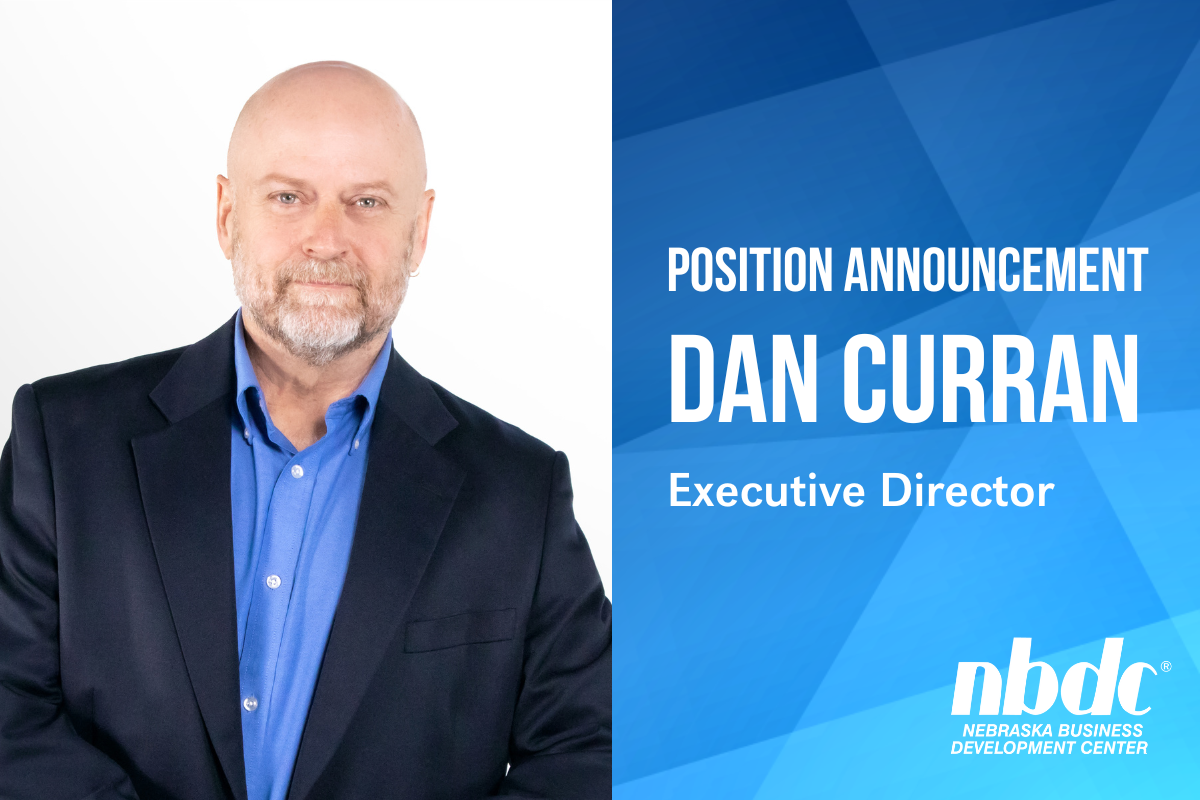 Omaha, Nebraska – The Nebraska Business Development Center (NBDC) has announced today that it has hired a new executive director – just the third in the center's nearly 50-year history.
Dan Curran, who most recently served as the executive director of Intern Nebraska—Powered by Aksarben, will take over as NBDC statewide director on Nov. 1, 2023.
"I'm looking forward to working with Nebraska's small business entrepreneurs and innovators. These companies form the core of Nebraska's economy and the talented NBDC staff provide critical programming to help them grow and flourish," Curran said.
Curran will be replacing Cathy Lang, who is retiring from NBDC at the end of 2023 after serving as its executive director since 2016.
"I am so very excited to have Dan lead NBDC. Dan knows Nebraska, its business owners and its entrepreneurs, and understands the value that NBDC brings to business development across our state. Dan's knowledge and experience will help support the mission of NBDC: to connect, collaborate, and consult," Lang said.
"An essential part of our mission as UNO's College of Business Administration is to advance prosperity in our region, and NBDC is a driver of economic opportunity in Nebraska. We needed to hire the right person to take the reins after Cathy's regenerative leadership at NBDC. Dan is that person. He has spent his entire career working to make Nebraska prosper, and I couldn't be more pleased that his next step will be with us here at the University of Nebraska, where we work to advance the entire state," said Michelle W. Trawick, John Becker Dean of the College of Business Administration at UNO.
The Nebraska Business Development Center has five programs supporting Nebraska business owners through no-cost, confidential consulting and resource referral services. In 2022, NBDC consultants served more than 2,000 clients, leading to an impact of $343.8 million to the Nebraska economy through job creation, business investments, sales increases, and government contract awards. NBDC is a center of the University of Nebraska at Omaha with offices located across the state. The services offered are available to any business owner or entrepreneur wanting to start, grow, or operate a business in Nebraska.
Dan Curran was named executive director of Intern Nebraska - Powered by Aksarben in May 2023. In that role he helped design and implement programming for the new intern program that will be launched in a partnership between the Aksarben Foundation and Nebraska Department of Economic Development.
Prior to this role, Dan worked for the Nebraska Department of Economic Development for over 29 years. For the last six years of his tenure, Dan served as deputy director of programs where he managed agency programs for domestic and international business recruitment, direct foreign investment, innovation, business retention and expansion, housing, community development, and marketing. He oversaw a staff of over 80 employees situated across Nebraska.
Dan and his wife, Angie, have been married for 29 years and have two sons, Ben and Alex.