NBDC Executive Director Catherine Lang Announces Retirement
Lang's career spans decades of public service to Nebraskans.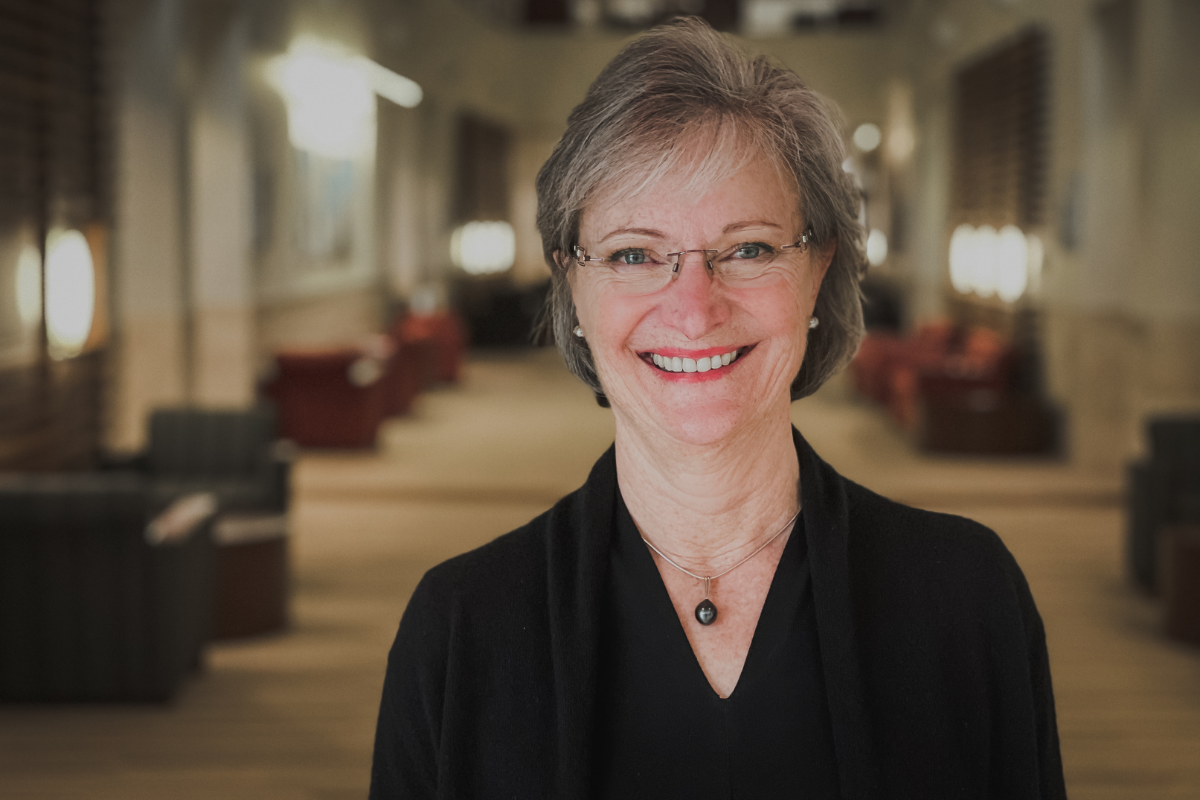 Omaha, Nebraska – Catherine Lang, executive director for the Nebraska Business Development Center (NBDC) at the University of Nebraska at Omaha (UNO), has announced her intention to retire in January 2024. Her career spans decades of public service to Nebraskans, leaving a legacy of leadership that will have an impact for years to come.
Lang joined NBDC in 2016, serving as the second director in the organization's more-than-40-year history. Since beginning, she has led a team dedicated to providing no-cost business consulting services to any Nebraska entrepreneur or business owner seeking to start, develop, or transition their organization. In 2022 alone, NBDC served more than 2,000 clients, leading to a $343.8 million impact on the Nebraska economy.
Additionally, Lang has been dedicated to growing and connecting Nebraska's economic development ecosystem. Under her leadership, NBDC formed two new programs to support this work:
SourceLink Nebraska connects entrepreneurs and business owners to governmental, educational, and non-profit resources that can increase chances of business success. The program has mapped more than 900 resources available across Nebraska and directly connects individuals to the right resource for their needs.
Serving as the "front door to the University of Nebraska" for businesses, NU Connections facilitates collaboration among the university's four campuses and connects industry to the wealth of resources available at the university for everything from research to technical support.
Concurrently, Lang has served in two special appointments for University of Nebraska President Ted Carter as Senior Advisor to the President of the University for Economic Development and President of the University Technology Development Corporation. Lang advises the university president and leads efforts to expand economic opportunity and prosperity in Nebraska through talent development, the deployment of innovative research and technology, community engagement, and place-making strategies.
"Cathy, a dear friend and colleague, has permanently impacted NBDC in ways that will elevate the lives of small business owners and our state's economy in the decades ahead," said Michelle Trawick, Ph.D., Dean of UNO's College of Business Administration. "She is a bold visionary and leader firmly dedicated to making our state and nation a better place for all. Though it will be difficult to replace her, I know she has ensured that NBDC is poised for its next leader."
"Catherine Lang's dedication and public service through her work at the Nebraska Business Development Center have transformed the University of Nebraska's relationship with employers across the state," said UNO Chancellor Joanne Li, Ph.D., CFA. "Her leadership has established a strong foundation for the work being done across the NU System to strengthen workforce and economic development efforts across Nebraska."
In December, Lang will be honored with the UNO Chancellor's Medal for her service and commitment to the university, Omaha, and Nebraska.
Prior to joining NBDC, Lang served in a number of governmental roles for nearly 33 years, including as the Property Tax Administrator for the state of Nebraska, Commissioner of Labor for the Nebraska Department of Labor, and Director of the Nebraska Department of Economic Development. She held the latter two positions simultaneously, making her the only Nebraskan to lead two state departments at one time. She is a double University of Nebraska graduate, earning her JD from the University of Nebraska–Lincoln (UNL) College of Law and her Bachelor of Fine Arts from UNL.
"It has been an honor to serve Nebraska's business and economic development communities over the course of my career, most recently at NBDC," said Lang. "This team is top-notch at helping business owners and entrepreneurs pursue their dreams. Their work of providing no-cost business support is leading to a more vibrant Nebraska, and I have enjoyed being part of this chapter of NBDC's rich history. This organization is a gift to the state, and I look forward to seeing what the future holds for it."
A search committee has been formed to find a new executive director for NBDC. Interested applicants may review the job description and apply at: https://unomaha.peopleadmin.com/postings/17719