Moraine Davis-Magnuson Ready to Assist Businesses as New West Central NBDC Center Director
As a the new West Central NBDC Center Director, Davis-Magnuson will help Nebraska small businesses start, grow, and develop.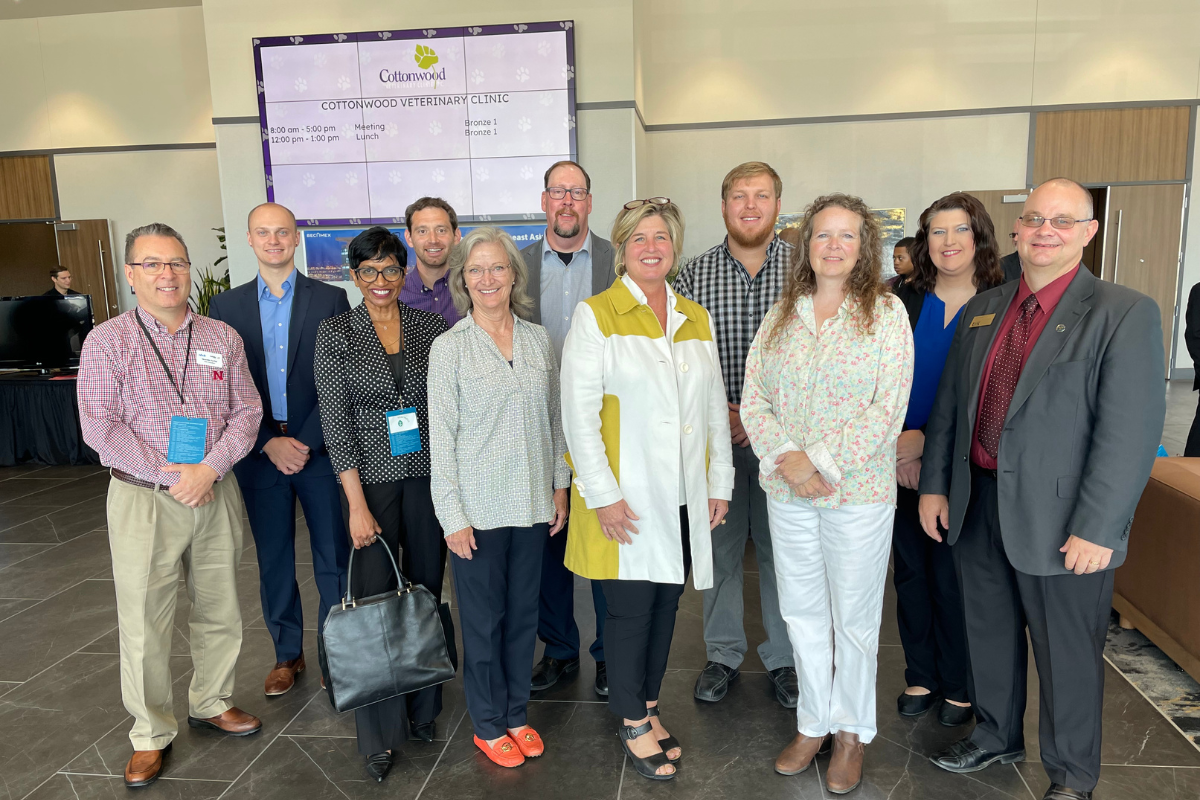 Davis-Magnuson (third from right), pictured with NBDC colleagues and UNO CBA Dean Michelle Trawick
North Platte, Nebraska – Moraine Davis-Magnuson has been named the new Nebraska Business Development Center (NBDC) center director for the West Central region. Based in North Platte, Davis-Magnusen will provide business consulting services for Nebraska small business owners and entrepreneurs who are looking to start, grow, or transition their companies.
Her role is part of NBDC's Small Business Development Center (SBDC) program which provides a range of no-cost services including business plan development, financial projections, market research, business succession support, and more.
The Small Business Development Center program is one of five NBDC programs that support Nebraska entrepreneurs in a variety of ways. In 2021, NBDC consultants served more than 1,800 clients, leading to an impact of $524.4 million to the Nebraska economy through job creation, business investments, sales increases, and government contract awards. NBDC is a center of the University of Nebraska at Omaha with offices located across the state.
Davis-Magnuson has been a resident of North Platte for more than 20 years and comes to NBDC with valuable experience including leading a non-profit organization, starting and owning a retail business, and providing grant writing and research services.
"Small businesses are the heart and soul of this part of Nebraska," said Davis-Magnuson. "I am looking forward to working with entrepreneurs and business owners to give them the tools they need to be successful."
"We are excited to welcome Moraine to the team," said Catherine Lang, executive director of NBDC. "Her familiarity with the region, her past experience, and her love of seeing Nebraska businesses thrive make her the perfect person for this role."
NBDC's services are provided at no-cost and consultants are available for in-person or virtual meetings. Davis-Magnuson will support the following counties: Arthur, Chase, Cherry, Dundy, Frontier, Furnas, Grant, Gosper, Hayes, Hitchcock, Hooker, Keith, Lincoln, Logan, McPherson, Perkins, Red Willow, and Thomas.
Business owners or entrepreneurs interested in NBDC's services can learn more at nbdc.unomaha.edu. Davis-Magnuson can be reached directly at mdavis-magnuson@unomaha.edu.