Distinguished Service Award Winners
The UNO Library Friends group hosted their annual Distinguished Service Awards event honoring library employees for exemplary service to UNO Libraries.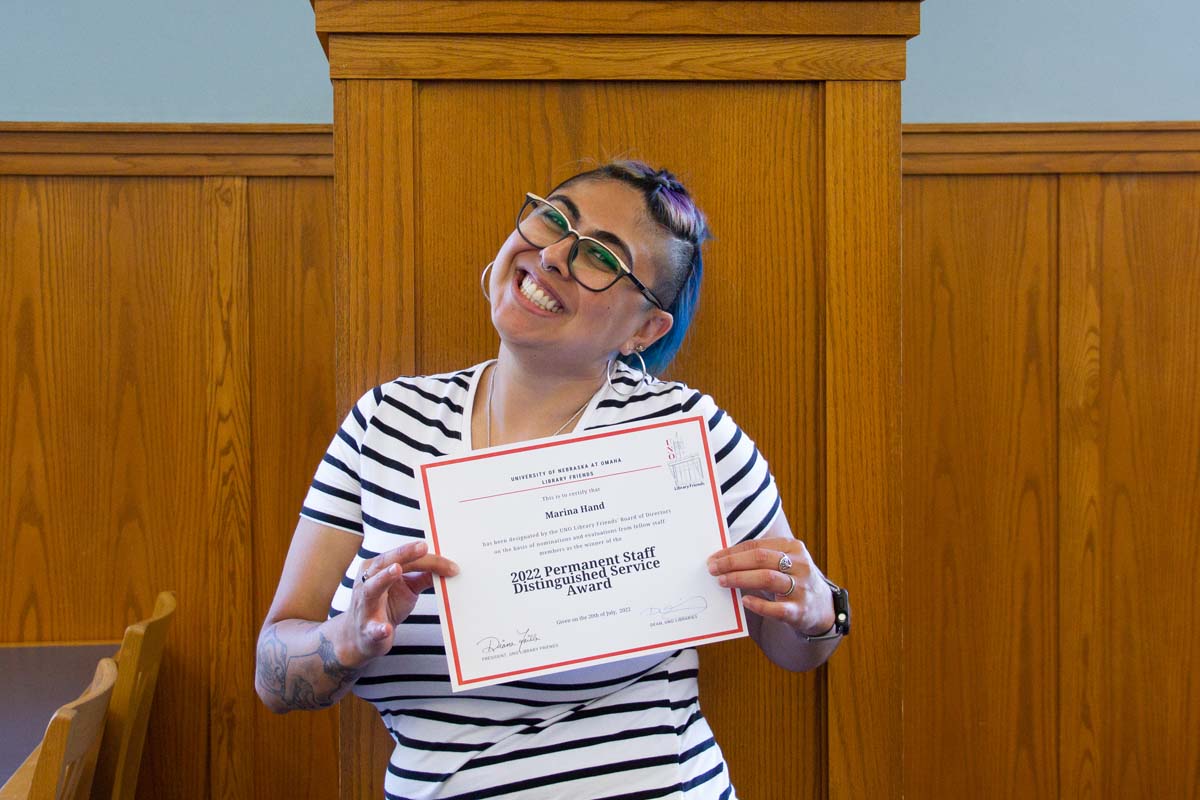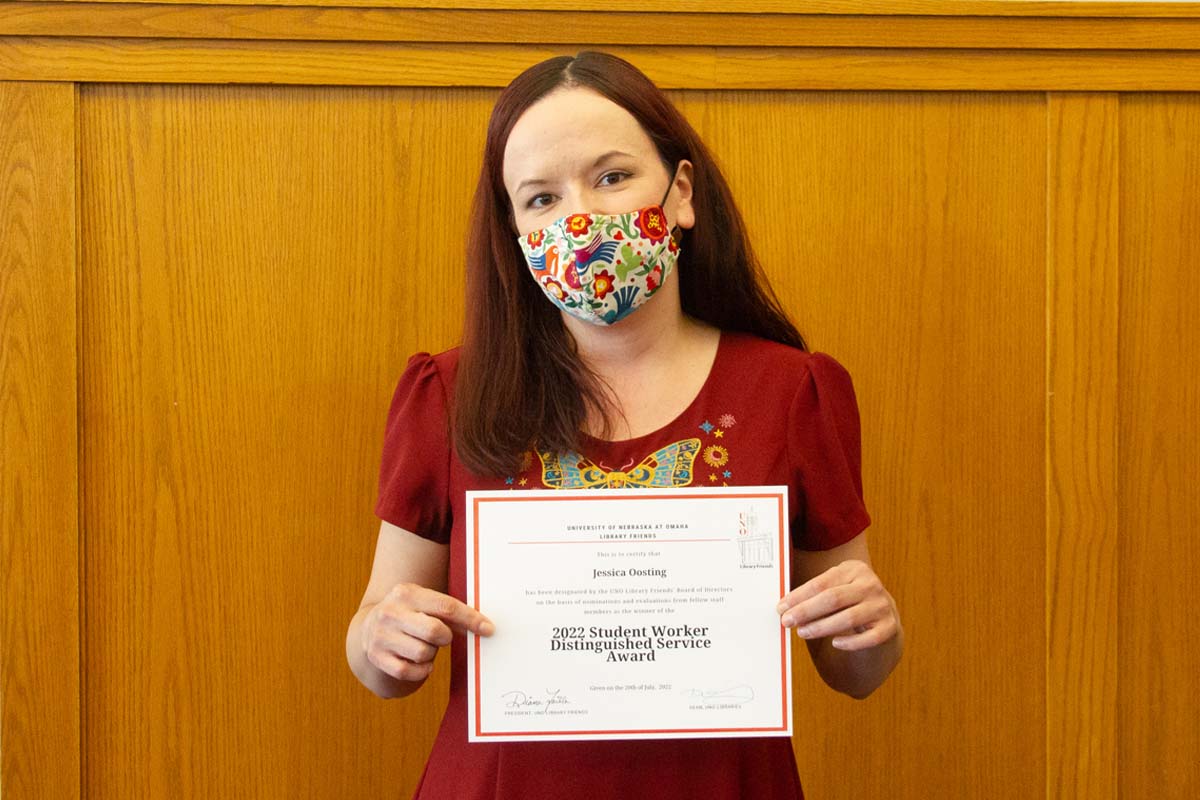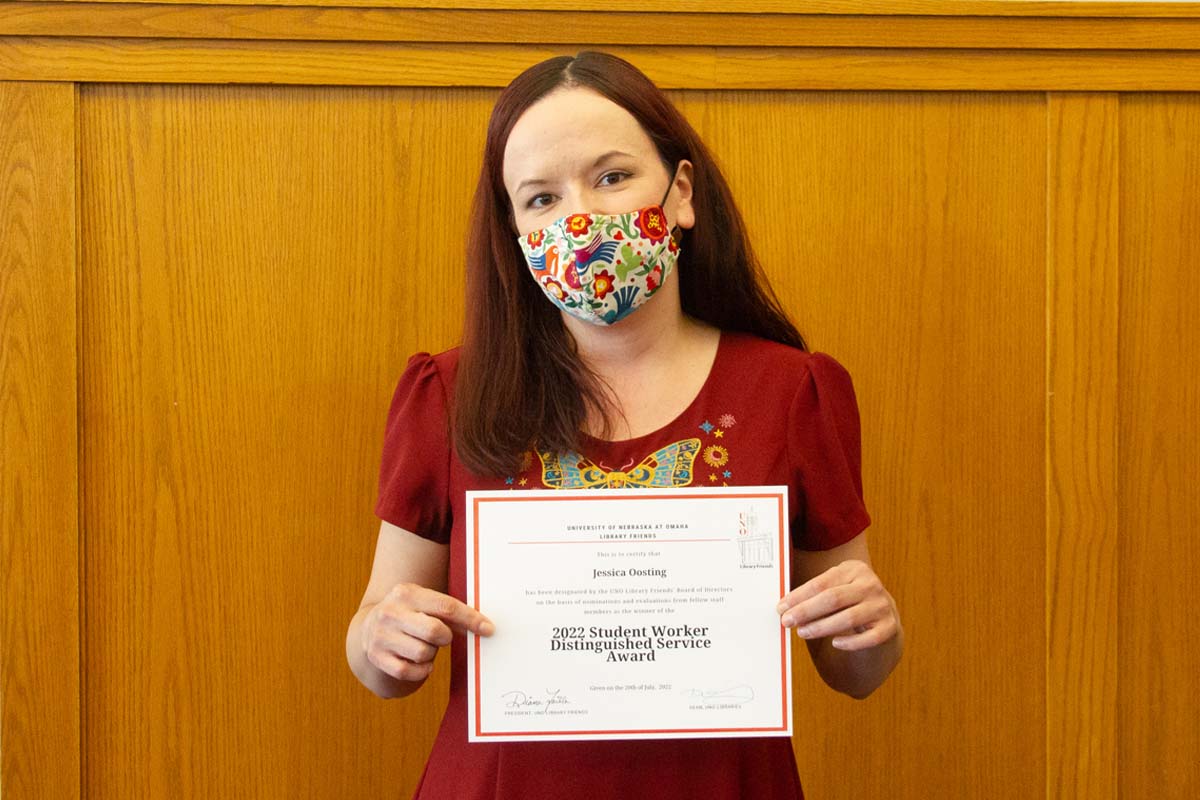 Each year the UNO Library Friends host an award ceremony, in which one full-time library employee and one student library employee are awarded for their exemplary dedication and service to UNO Libraries.
This year's library staff employee recipient was Marina Hand a Patron Services Associate. Marina's empathy, enthusiasm, drive, and positivity for both co-workers and anyone who enters the library makes her one of the 'go to' people in the library. Her characteristics and actions make her a model staffer, and a wonderful representation of UNO and the Criss Library.
Jessica Oosting was selected as this year's student library employee Distinguished Service Award recipient. Jessica is dependable, a hard worker, and has a great demeanor and sense of humor. She helps to make the workplace a pleasant and positive place to be.
Debora Heard was selected for an Outstanding Performance Award for her work with both the library and the Department of Black Studies during the Charting Our Path project.
In addition to the Distinguished Service Award, one student is also selected to receive the Criss Library Academic Student Scholarship (CLASS). The scholarship recognizes and rewards library student workers for their service to Criss Library and supports their pursuit of educational goals.
This year's CLASS scholarship recipient is Jocelyn Tena Vigil, a sophomore majoring in Business Administration. In her application form, she expressed the comfortability she finds working with other students while learning new things that have helped her improve and grow as a student and individual. Jocelyn feels working as a student assistant, she has developed her critical thinking skills, communication skills, computer skills, and organizational skills, which will help her become successful.
---
Are you interested in becoming a UNO Library Friend?
The UNO Library Friends is a non-profit organization whose primary purpose is to support UNO Libraries. Members recognize the vital role the library plays in learning, teaching, and research, and are committed to enriching the quality of UNO's library services and resources. Learn more about the UNO Library Friends.