Planes, Trains, and Waterways: Senator Hagel and Transportation in Nebraska Exhibit Opens
An exhibit, "Planes, Trains, and Waterways: Senator Hagel and Transportation in Nebraska", runs on the first floor of Criss Library.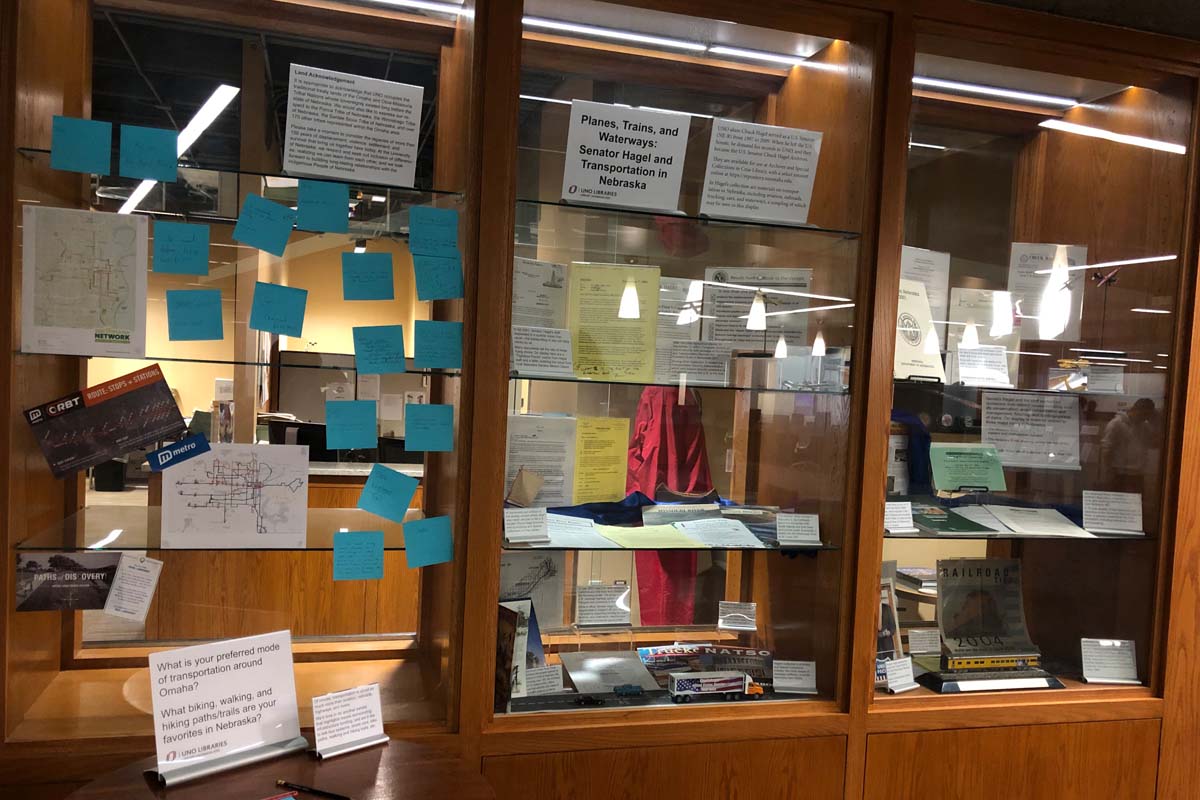 1st Floor Criss Library – UNO alum Chuck Hagel served as a U.S. Senator (NE-R) from 1997 to 2009 and as U.S. Secretary of Defense from 2013 to 2015. When he left the U.S. Senate, he donated his records to UNO. They became the U.S. Senator Chuck Hagel Archives. In his collection are materials about aviation, railroads, trucking, highways, and waterways in Nebraska, a small sample of which may be seen in this display.
Planes, Trains, and Waterways: Senator Hagel and Transportation in Nebraska begins with aviation, focusing on rural air service, airports in Omaha and Lincoln, and national legislation affecting air transportation in the state. The exhibit continues with a look at three major rivers in Nebraska: the Missouri, Niobrara, and Platte. Senator Hagel and his staff became involved in numerous water issues including wildlife conservation, water conservation and management, and funding/upkeep of dams. The exhibit concludes with railroads, highways, and trucking in Nebraska. I-80 receives particular attention here as Senator Hagel and staff had many opportunities to support I-80 through funding for maintenance, lane extensions, and related commercial opportunities.
Artifacts on display include a toy model semi-truck from Yellow used in one of Senator Hagel's campaigns, a toy model Union Pacific train on mounted tracks presented to Hagel, and ephemera from the Great Platte River Road Archway Monument (now called simply the Archway) crossing I-80 near Kearney, Nebraska.
Now Open for Research
The U.S. Senate Chuck Hagel Archives is available for use in person at Archives and Special Collections on the first floor of Criss Library. Newly available for research is the Legislative Files series, the largest and most content-rich set of material in the Hagel Archives. Hagel's legislative files cover almost every issue that arose in legislation or was prominent at the national level from 1997 to 2009. Significant events and topics include the Clinton impeachment proceedings in 1998-1999, a contested presidential election between George W. Bush and Al Gore in 2000, the terrorist attacks of September 11, 2001, U.S. involvement in wars in Iraq and Afghanistan, the economic downtown of 2007-2009, and disaster and drought assistance for Nebraska's rural areas.
For more information about all the records available for research, visit the finding aid for the Hagel Archives. Archives and Special Collections is open to researchers Monday-Friday 9 A.M. - 5 P.M. We recommend researchers contact archivists in advance of their visit to view materials.
This exhibit was curated by Lori Schwartz, Hagel and Technical Services Archivist.