UNO's MPA programs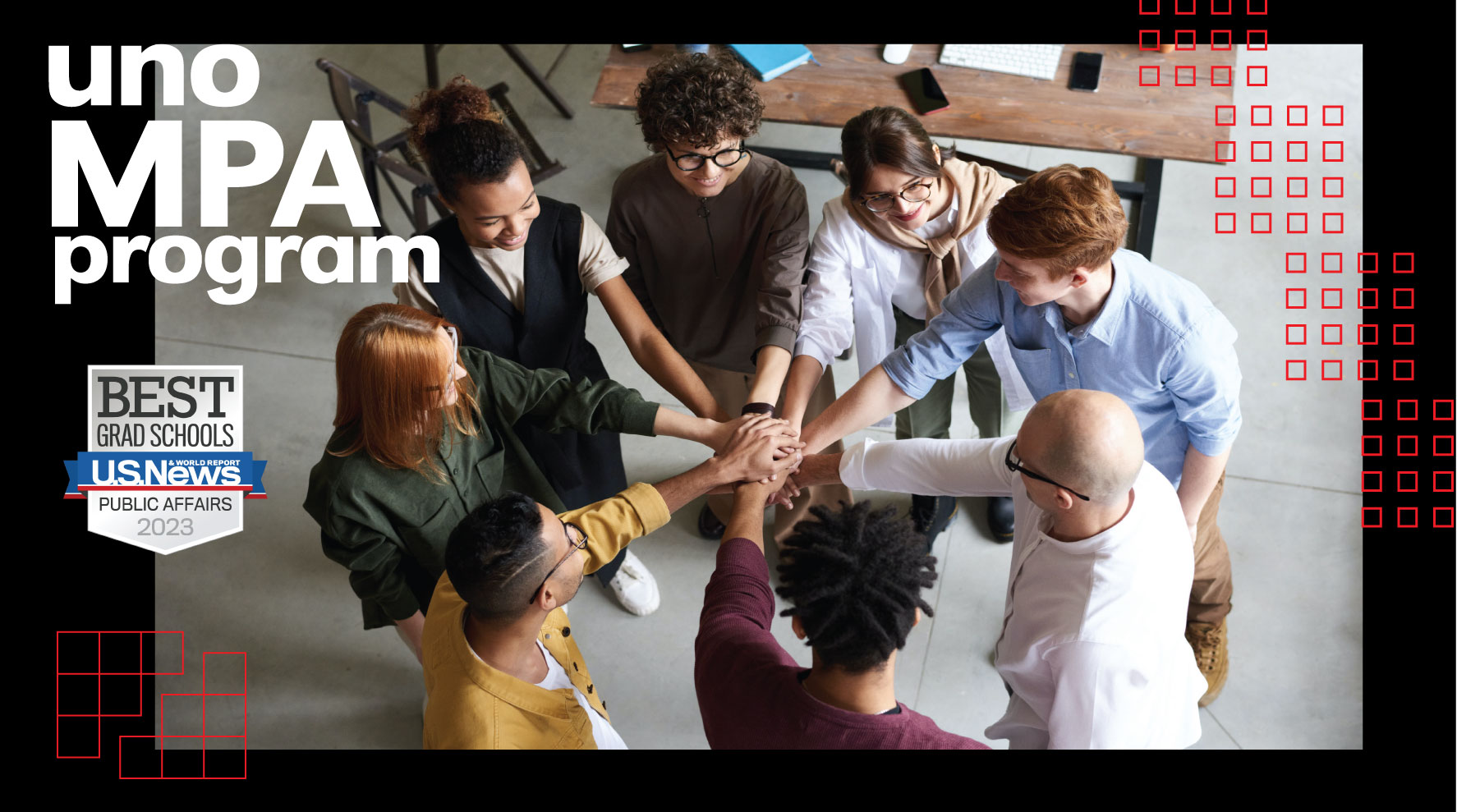 August, 2023 Capstone Presentations

OUR MPA PROGRAM is nationally recognized, in-person and online.

Our faculty and staff are ready to meet you, answer your questions and to help you move forward with your professional journey. Feel free to contact us with any question about our graduate programs and how they can propel your career forward.
For more information, please visit HERE or contact us at: unospa@unomaha.edu
Here are some comments from our graduates. We encourage you to start thinking about the endless possibilities you can have with an MPA.
I'm so appreciative of all the support that my instructors provided me during my time as a student at SPA. The years flew by and I gained so much. I am now in a dream role as a program manager at the Omaha Community Foundation, where I am able to benefit the Omaha community in such incredible ways. - Laura Contreras
The instructors treated me so well here for my MPA that I decided to come back to work on my PhD! -Dan Hayes
I loved the experience of getting top-notch education while pursuing my MPA. The courses were all applicable to what I am passionate about, being of service to my community and world. I was challenged and I appreciate Dr. Heckler, Dr. Maher, Dr. Ebdon, and many others along the way. I helped found, and was the executive director of The Connection Project, Inc., a small nonprofit behavioral health peer support center. I am currently on the board of directors for that organization. I am the prevention coordinator at Region 4 Behavioral Health System in Norfolk, Nebraska. - Tommy Newcombe
I hope to expand my work in arts and community development and how the arts are critical to a vibrant community. I learned so much from each instructor so I can't pick a favorite but I appreciate how willing they are to talk to me about 'real world' issues at my job. - Jennifer Dreibelbis
Favorite memories would be my classmates and discussions that we had. All the support of my professors and finishing my capstone! | Dr. Maher--My capstone advisor! Helped me navigate what I was doing my research on as well as having him for the budgeting class. I learned more about CAFR's than I ever thought possible and all the ratios used to measure fiscal health! Has a great self deprecating humor that I loved and related to, even if it meant I was the only one laughing online. | Dr. Harrold--Took him for Leadership in Nonprofits. I constantly think of him every time I hear nefarious dealings with nonprofits thinking that they would be great examples for class and evaluating ethics. | Dr. Lee--I tried to get Dr. Lee to tell our class that we were his favorite class all semester and he never relented. I'm pretty sure we were though. | Dr. Heckler--I loved Dr. Heckler's class on Urban Issues for Nonprofits. He always provided nuanced conversation and encouraged critical thinking skills to be developed. I also sought him out for industry advice when I was unsure of what to do and he gave great guidance! - Liz Potter
I am so proud to be an MPA graduate. For fun, my cohort once delivered surprise pizzas during Dr. Benenson's classes to celebrate her birthday! - Heike Langdon
I earned a degree at the age of 52! - Loren Blake