When Opportunity Knocks, We Need to Say Thank You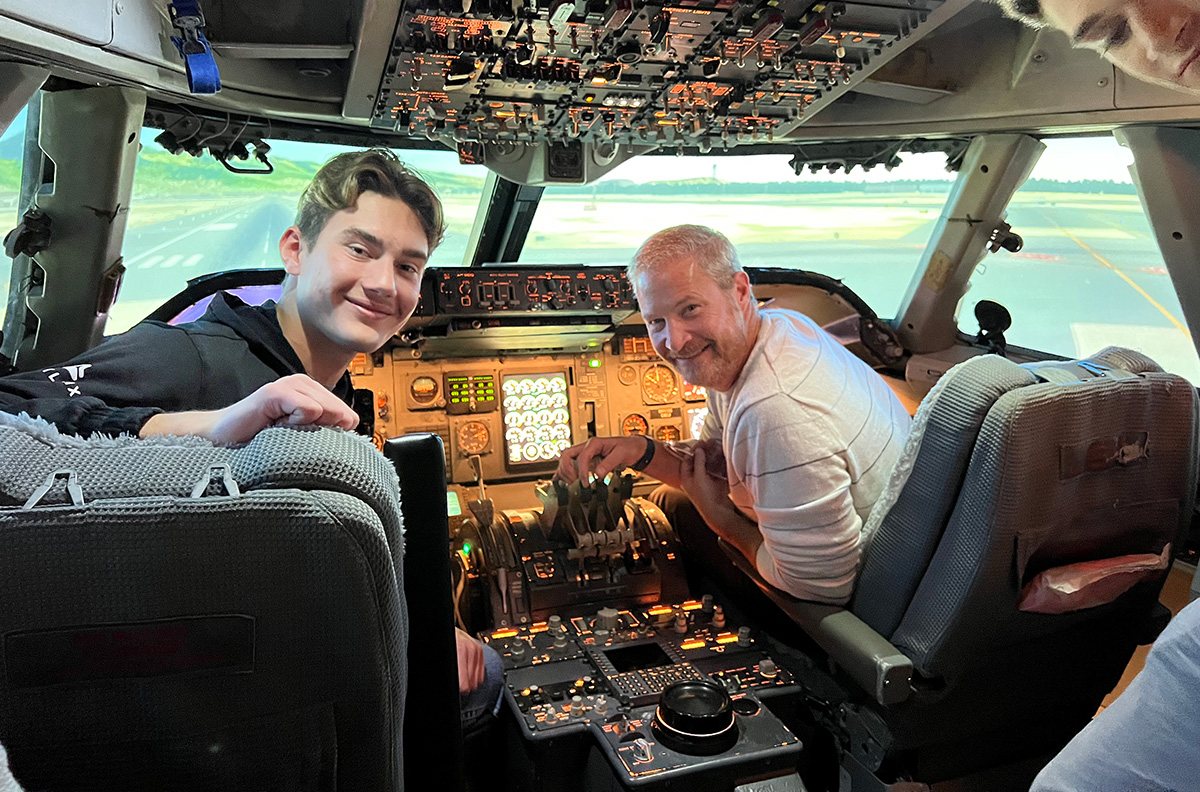 Opportunity, according to the Oxford English Dictionary, is "a set of circumstances that makes it possible to do something". On October 28, 2022, members of the University of Nebraska at Omaha Flight Team, The Flying Mavs, had a unique opportunity when 14 team members got to fly a Boeing 747-200 Level D Simulator. The device is run by CymSTAR, a contractor for the military that provides training to U.S. Air Force pilots who fly the Boeing E4B.

The E4B can be seen flying around the Omaha metropolitan area, especially now that the Offutt Air Force Base runway has reopened after an extensive reconstruction. While people may mistake the E4B for Air Force One, the livery or paint job is noticeably different, and so is the mission of the aircraft. But that did not matter to the 14 UNO students. They were flying a simulator more sophisticated than anything they had ever flown for an aircraft few pilots ever get the opportunity to fly.

CymSTAR staff members also had the opportunity to highlight the training they provide and share stories about their time in the U.S. Air Force as pilots, maintainers, or support crew for this amazing aircraft.

Every student was excited and, as aspiring aviation professionals, they all thought they would do well in the simulator. The basic stick and rudder skills are all the same as propellor-driven aircraft they train in as part of the UNO professional flight program. Notably, the E4B has four jet engines, which propel the massive aircraft to speeds several times faster than training aircraft. The E4B's flight deck is three stories above the ground and the aircraft's massive weight is carried on landing gear nearly the size of the single engine aircraft used in training. And let us not forget the E4B can refuel in the air. The differences are substantial, but the students were up to the challenge.

Four groups of students entered the simulator at the same time. One by one, they would take their turns. Each pilot took off from Offutt AFB in Bellevue, Nebraska, which was easy enough. They were then challenged to land the aircraft below minimums at night or to carry out a mid-air refueling.

One group of students got a special opportunity. This group of three students was joined by retired Lt. Col. Lowell Bailey (U.S. Air Force), who is known around the Aviation Institute, where he serves as a lecturer and flight training coordinator, as Skip.
It did not take long for Bailey to settle into familiar surroundings. He instinctively knew every button and every setting as he helped student David Wellnitz set up the plane for landing, which Wellnitz executed flawlessly. For the student, the E4B simulator session was likely a once in a lifetime opportunity. For Bailey, it was a homecoming. He was among old friends in an aircraft he had flown around the world, carrying numerous distinguished military and government officials including former Secretary of Defense Chuck Hagel, who is a proud graduate of the UNO Division of Continuing Studies. Now Bailey shares his knowledge and stories with students at the Aviation Institute, and those on Flight Team tend to hear even more stories while at dinner or sitting around waiting for a Cessna 150 to return from a navigation session.

The University of Nebraska at Omaha Aviation Institute is fortunate to have two faculty members who are distinguished veterans. In addition to Bailey, retired Cmdr. Eric Taylor (U.S. Navy) graduated from the Naval Academy and flew helicopters. Over the years, the Aviation Institute has had several retired military officers as faculty members, including Denny Acheson, Jim Crehan, Patrick O'Neil, and David Byers. Each of them, and others who have served as adjunct instructors, made significant positive impacts on our program and our students.

Veteran's Day is a day for us to honor and thank the people who have served in the military and protected our freedoms. It is also a time to thank veterans, like Bailey and Taylor, who are giving back and inspiring the next generation of aviation professionals. Their experience and expertise are invaluable. Their passion and commitment for our students is incredible. So, on this Veteran's Day, we want to thank all those who have served, but especially those who work tirelessly to give young people the opportunity to grow into the aviation professionals our country so desperately needs.