The Omaha Flying Mavs Soar into Regional Competition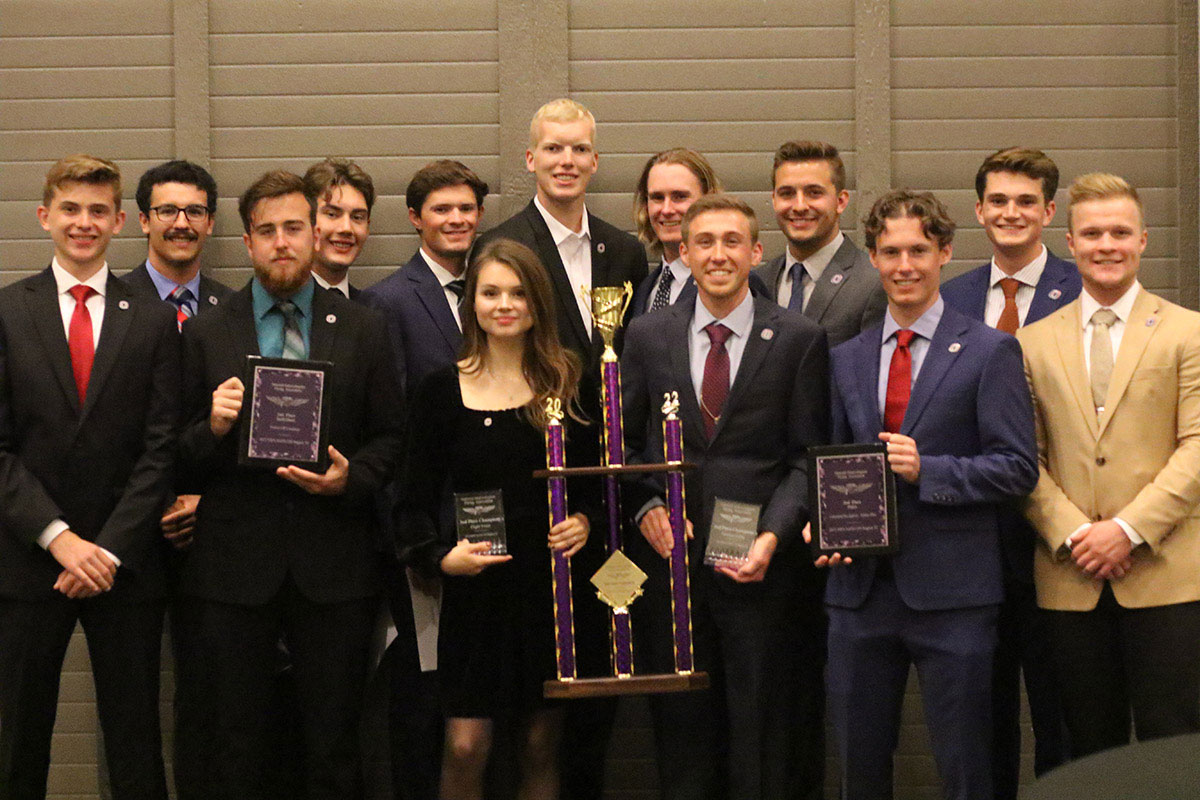 2022 Regional UNO Flight Team. From left to right: Kaleb Kroeger, Kenny Thomason, Tyler Haney, David Wellnitz, Jonathan Corey, Kennedy Sibbitt, Tomas Kathol, Tristan Weston, Hunter Pehrson, Garrett Ferguson, Cullen Leitner, Owen Brennan, and Tyler Craft.
The University of Nebraska at Omaha Flight Team, The Flying Mavs, earned their 14th consecutive bid to the National Intercollegiate Flying Association (NIFA) National Safety and Flight Evaluation Conference (SAFECON) by placing 2nd in the Region 6 SAFECON held October 17–22, 2022, in Salina, Kansas.
Six schools competed in the 2022 Region 6 SAFECON, including host school Kansas State University, St. Louis University – Parks College, University of Central Missouri, Minnesota State University Mankato, and the 2022 Region 6 winner, the University of North Dakota. The Flying Mavs came in 2nd place in both the Flight Events category and the Ground Events, behind North Dakota.
Coach Scott Vlasek said, "I was impressed with our team effort and score. North Dakota won the National SAFECON in 2019 and is one of the top teams nationally. Having them in our region makes us a better team, and we are striving to challenge them for the regional top spot."
Coach Skip Bailey added, "I'm extremely proud of how our team competed this week. Our veteran team members and our first-time competitors stepped up when it was their turn. I'm excited to keep working with them and to compete at the national level next May."
The UNO Flying Mavs took a clear 2nd place finish by beating Minnesota State University Mankato by 178 points earning 568 total points. Several Mavericks had outstanding performances at the competition, including:
Captain Owen Brennan
4th Place Aircraft Preflight Inspection
8th Place Computer Accuracy
Captain Hunter Pehrson
2nd Place Power-Off Landings
6th Place Aircraft Preflight Inspection
6th Place Message Drop Dropmaster
6th Place Simulated Comprehensive Aircraft Navigation
Tomas Kathol
4th Place Short Field Landings
6th Place Computer Accuracy
7th Place Aircraft Preflight Inspection
8th Place Power Off Landings
Kenny Thomason
4th Place Aircraft Recognition
Jonathan Corey
5th Place Message Drop Dropmaster
6th Place Aircraft Recognition
Tristan Weston
4th Place Ground Trainer
5th Place Power Off Landings
5th Place Simulated Comprehensive Aircraft Navigation
Kennedy Sibbitt
7th Place Message Drop Dropmaster
Tyler Craft
9th Place Short Field Landings
David Wellnitz
2nd Place Unlimited Navigation
8th Place Simulated Comprehensive Aircraft Navigation
Captain Garrett Ferguson
7th Place Unlimited Navigation Pilot
9th Place Simulated Comprehensive Aircraft Navigation
Additional Flying Mavs 2022 Regional Travel Team members included Tyler Haney, Kaleb Kroeger, and Cullen Leitner.

The 2023 National SAFECON will be hosted by the Experimental Aircraft Association (EAA) and will be held May 8-13 in Oshkosh, Wisconsin. Each year 28-30 teams from around the country will qualify to compete at the highest level in collegiate aviation.

Download a complete list of results.

For additional questions or comments, please get in touch with Scott Vlasek at svlasek@unomaha.edu, 402.554.3785 or Skip Bailey at lbaileyjr@unomaha.edu 402.554.6722.