CPACS Student Involvement Focuses on Addressing Community Issues
published: 2022/09/01
contact: Melanie Kiper - College of Public Affairs and Community Service
email: mkiper@unomaha.edu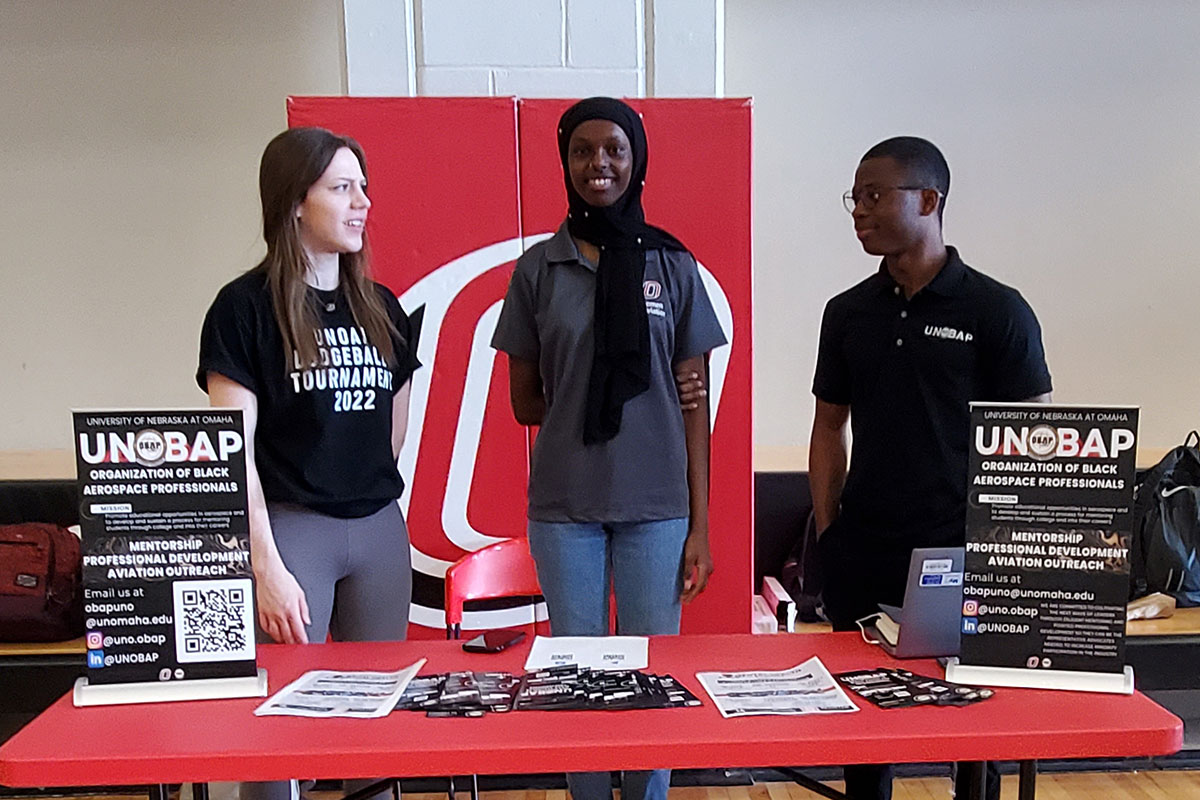 The fall semester always brings a new level of excitement to campus. Along with classes back in sessions and students back on campus, student organizations are once again fully active after a couple of years of hiatus. Participating in one or more organizations is a great way for a student to explore and develop news skills, add new experiences to a resume, and make life-long friends and career connections.
Some students in CPACS also find it a meaningful way to make a difference. It should come as no surprise that many CPACS student organization are created around the desire to address community issues. Afterall, CPACS was created to attack community problems and harness the intellectual power of the university to be part of the solution. Its students play an important role in that vision.
Aviation Institute
Several aviation-related student organization came together recently to sponsor a Mental Health Summit with the theme "From a Taboo Topic to a Comfortable Conversation." The goal of the summit is to change the way aviation students and others deal with mental health issues and associated stress. The summit features mental health experts and professionals, including NU President Carter with opening remarks from UNO Chancellor Li. The event is hosted by the Aviation Institute and sponsored by student organizations UNOBAP, Women in Aviation, and the Flying Mavericks.
The University of Nebraska at Omaha chapter of the Organization of Black Aerospace Professionals (UNOBAP) is a new organization. Theodore Johnson, doctoral student, and faculty advisor, along with fellow students, founded this group in October 2021 after seeing a need to raise awareness and increase diversity in the field of aviation. The members have been active organizing events and tours for its members in the last year, culminating in attendance at the OBAP National Conference which is a rare occurrence for a chapter in its first year of organization. UNOBAP Officers Emma Forsberg, Fatuma Aboullahi, and Precious Ayelomi recently staffed a booth at the Student Involvement Fair to recruit new members and educate others about the organization's mission.
School of Criminology and Criminal Justice
There are two student organizations in the School of Criminology and Criminal Justice focused on addressing social justice issues. The Association of Blacks and Browns in Criminal Justice work toward achieving equal justice for minorities within the criminal justice system and increasing minority representation in criminal justice career fields.
UNO Against the Trafficking of Humans' mission is to spread awareness about human trafficking, eliminate stereotypes, identify vulnerable groups, and train others on the signs of exploitation inherent to human trafficking. This student-led group was founded in 2019 shortly before the pandemic shutdown but has regrouped in the last several months with plans for speaker events, booths on campus, and service activities with local human trafficking partners. The group leadership are undergraduate students in the criminology and criminal justice programs, with mentorship and guidance from Morgan Goslar, SCCJ doctoral student and Maddie Uryasz, SCCJ graduate student, and faculty advisors, Terea Kulig, PhD., and Kim Retzlaff. All students are welcome to join.
Goodrich Scholarship Program
A new Goodrich student organization — created in the cusp of the pandemic shut-down and holding virtual meetings last year — is now ready for in-person activity. The Goodrich Transgressive Feminist Organization is a pilot program created by faculty advisors Stevie Seibert Desjarlais, Ph.D., and Carolina Hotchandani, Ph.D., along with two Goodrich students, to provide a safe space for students to discuss household or cultural barriers to their academic and professional success. Eh Mo Khaing, third year Goodricher and student representative for the group, explains that many non-American cultures do not openly discuss household issues or traumas out of respect for elders and valuing how others view you; and because of how women are viewed in different cultures. This can put a wall around a student. This group aims to lower that wall and to change the way people think about feminist issues. Upcoming passion projects for this group are having members volunteer at organizations serving sexual assault victims and increasing access to contraceptives for UNO students.
For more information about these and other student organizations in CPACS visit our academic program websites or the UNO Student Organization website.