CPACS Dean's Office Welcomes New Appointments
UNO's College of Public Affairs and Community Service welcomes two appointments starting August 1, 2022.
published: 2022/04/27
contact: Jennifer Knight - College of Public Affairs and Community Service
email: jenniferknight@unomaha.edu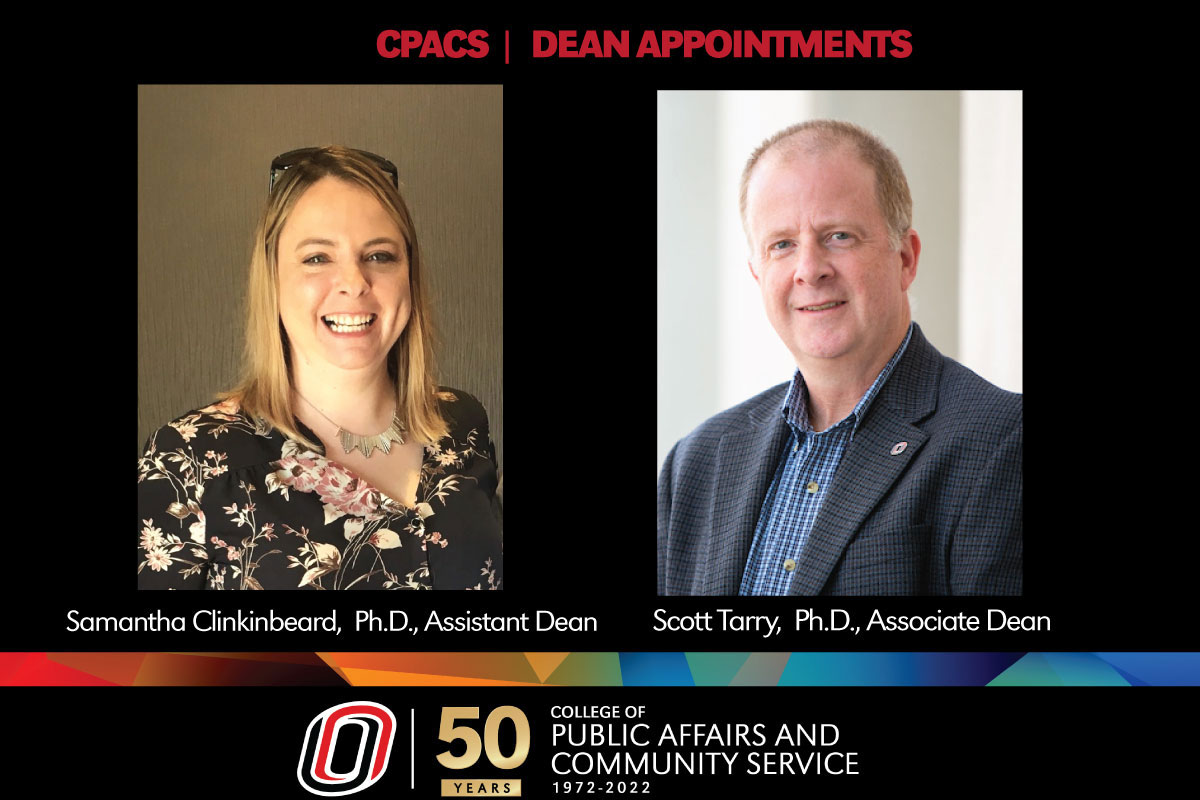 Scott Tarry, Ph.D., director of the Aviation Institute, will start as associate dean. And on a part-time basis, Samantha Clinkinbeard, Ph.D., professor, School of Criminology and Criminal Justice, will assume the role as assistant dean, while retaining her faculty appointment.
Both are replacing Associate Dean Theresa Barron-McKeagney, Ph.D., who is going on partial retirement, but will continue to teach at UNO within the Grace Abbott School of Social Work and the Goodrich Scholarship Program.
Scott Tarry
As director of the college's Aviation Institute, Tarry has been actively involved with the UNO campus since 2000, including being president of the UNO Faculty Senate; director of the NASA Nebraska Space Grant and EPSCoR programs; and currently serving as the chair of the National Council of Space Grant Directors. Because of his expertise, Tarry was appointed to the Nebraska Aeronautics Commission by Governor Ricketts in 2020 where he currently serves as the chair. He earned his Ph.D. from the University of Michigan, and outside of work Tarry likes gardening, cycling, and being a new grandparent.
"I am honored to follow Theresa Barron-McKeagney in this important role. She represents in so many ways what is good about our college and our campus. I hope I can find new ways to help our programs, our colleagues, and our students."
"I have also enjoyed being part of a great team in the Aviation Institute. I have collaborated with so many outstanding individuals over the years. Now I look forward to finding ways to support our faculty, staff, and students within CPACS," he said.


Samantha Clinkinbeard
Clinkinbeard has been at UNO in the School of Criminology and Criminal Justice for the last 15 years. She teaches both undergraduate and graduate classes – winning an outstanding Teacher Award in 2020. Recently, her research is focused on policing, with a particular emphasis on women's pathways and experiences. She has served as the undergraduate program coordinator in the SCCJ, spending time and effort on both the Omaha and Lincoln campuses. Clinkinbeard earned her Ph.D. from the University of Nevada, Reno, and enjoys camping and fishing with her family.
"One of my top goals is to raise the profile of our CPACS partners on the Lincoln campus and to expand our reach there. I look forward to learning more about all of our CPACS units. I imagine new opportunities to share with students at our partner campus down the road."
"I love the Maverick Spirit! At UNO, nobody can tell us who we are – we define our identity and we own it!" she said.