2022 CPACS Alumni Award Winners Announced
From excellence in the classroom to the community, these stellar alumni are being honored at this year's 2022 CPACS Alumni Awards Reception on March 10.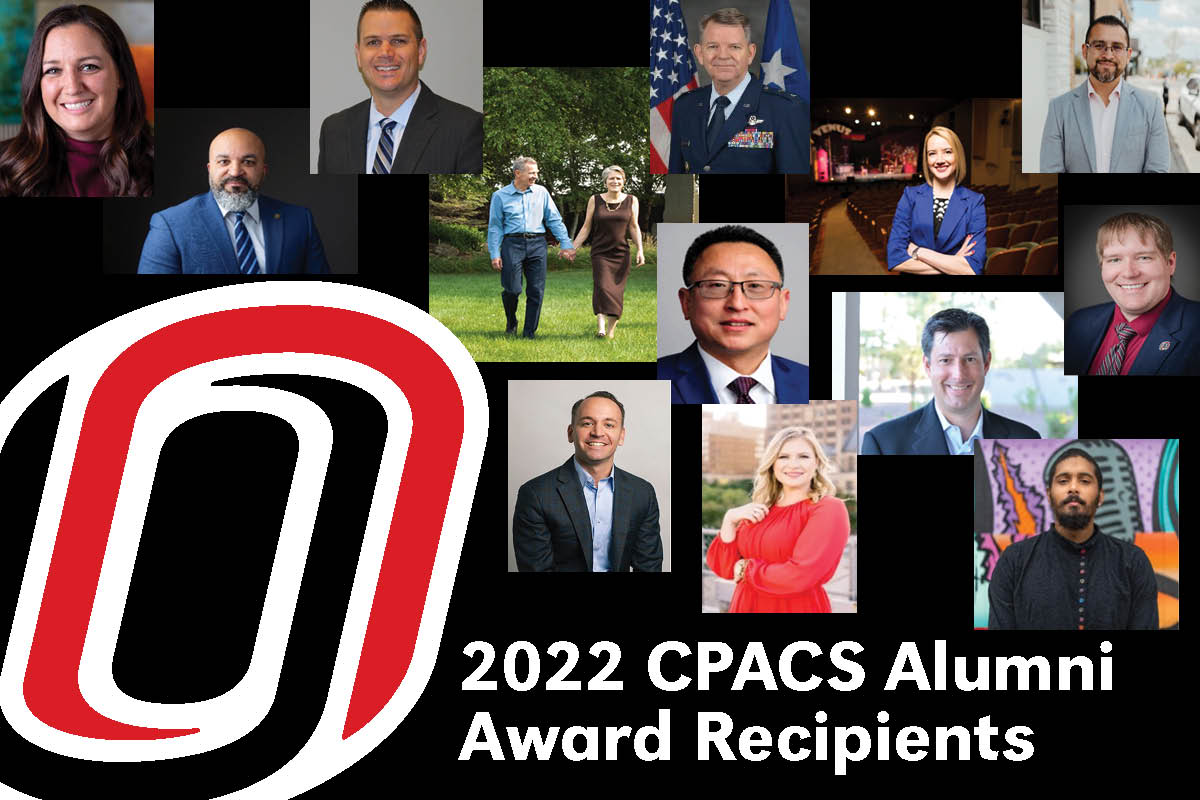 The 2022 CPACS Alumni Awards celebration is set for March 10 with an impressive lineup of alumni leaders.
Learn about each of our alumni award recipients, and the awards presented.
ABOUT THE CPACS ALUMNI AWARD FOR EXCELLENCE IN PUBLIC SERVICE
The university and community leaders established the College of Public Affairs and Community Service (CPACS) to ensure the university was responsive to the critical societal needs and concerns of our community and state. Critical to the mission of the new college was the provision of educational and training programs of the highest caliber that would prepare students for careers and leadership in the public service.
The individuals honored with the alumni award for excellence in public service demonstrate through both daily deeds and greater achievements, the finest attributes of public and community service: integrity, stewardship, volunteerism, leadership, and a commitment to social justice and human dignity. They are a credit to their professions, their families, and our college. We congratulate them for this and all their achievements.
Goodrich Scholarship Program | Roger Garcia
Roger Garcia was born in Los Angeles, and raised in Columbus, Nebraska. He holds a bachelor's degree in psychology and Latino/Latin American studies, a Master's in Public Administration, a Master's in Theological Studies, and is currently finishing a Doctorate in Ministry.
He has extensively engaged in civic and community activities, such as co-founding the Metro Young Latino Professionals Association (MYLPA) and serving on the boards for the Women's Center for Advancement, the Immigrant Legal Center, and the Child Saving Institute. For his active community involvement, Roger received the Ten Outstanding Young Omahans Award.
Roger has been working in the nonprofit and public sector for over 16 years, previously serving as executive director for El Centro de las Americas in Lincoln, Nebraska and also Nebraska State Director for the National Center for Families Learning. He currently serves as the Vice-President for Family and Community Engagement for the Nebraska Children and Families Foundation. Roger has also served his community through elected office, recently concluding two terms on the Metro Community College Board of Governors and now serving as the Douglas County Commissioner for District 1.
Department of Gerontology | Dr. Lakelyn Hogan-Eichenberger
Lakelyn Hogan-Eichenberger serves as gerontologist and caregiver advocate at the global headquarters of Home Instead®. She began her career at the local Home Instead franchise in Omaha working one-on-one with seniors and CAREGivers. Today at the global headquarters, Lakelyn works to educate professionals in aging, families and communities regarding the unique challenges older adults face, and the resources available to help them thrive.
She earned a Ph.D. in Gerontology from UNO. Lakelyn is a proud Maverick! She speaks at national and international conferences on the topic of caregiving and aging, and serves as a resource to major media including Dr. Phil and Dr. Oz.
Lakelyn values giving back to her community – currently serving as a board member of the National Alliance for Caregiving, board chair for the Dreamweaver Foundation and chair of The Alzheimer's Association Dementia Care Provider Roundtable.
Lakelyn has a passion for helping others, especially aging adults and their families. She is thankful to the UNO Department of Gerontology for helping her to develop into the professional she is today. Gerontology has truly changed her life and she hopes more students will consider a rewarding career in the field of gerontology.
Division of Continuing Studies | Major General James R. Stevenson, Jr.
Maj. Gen. James R. Stevenson, Jr. serves as the Mobilization Assistant to the Commander, United States Strategic Command at Offutt Air Force Base, Neb. He is the principal advisor to the Commander on Reserve Component matters related to the Command's diverse missions, including strategic deterrence; cyberspace operations; integrated missile defense; intelligence, surveillance, and reconnaissance; and global strike.
He received his commission through Officer Training School in 1989 after graduating from the University of Nebraska, Omaha. He earned his pilot wings in 1990, flew actively until 1997, and joined the Nebraska Air National Guard. General Stevenson previously served as Deputy Director of Operations for Joint Electromagnetic Spectrum Operations and the Mobilization Assistant to the Director of Operations, United States Strategic Command.
General Stevenson has received numerous awards including but not limited to; Legion of Merit Meritorious Service Medal with three oak leaf clusters, Air Medal National Defense Service Medal with service star, Armed Forces Expeditionary Medal with service star, Humanitarian Service Medal and Military Outstanding Volunteer Service Medal.
School of Public Administration | Katie Broman
Katie Broman has served as Executive Director of the Omaha Community Playhouse since January 2017. Prior, she served as Director of Marketing and Public Relations for both Opera Omaha and the Omaha Community Playhouse, as well as Marketing Specialist for Metropolitan Community College.
Katie graduated magna cum laude with a B.S. in Journalism with an emphasis in Advertising and Public Relations and holds a Master of Public Administration with an emphasis in Nonprofit Management, both from the University of Nebraska at Omaha (UNO). She received the honor of the UNO College of Communications, Fine Arts and Media Rising Star Award in 2014.
Katie lives in Omaha with her husband Corey, her three-year-old son, Bishop and her one-year-old daughter, Dia.
School of Public Administration - PhD in Public Administration | Dr. Dell Gines
Dell Gines is the Senior Community Development Advisor for the Federal Reserve Bank of Kansas City. He is committed to helping empower economically distressed communities through innovative economic development strategies. He is a national thought leader in entrepreneurship led economic development and ecosystem building.
During his career he has received numerous commendations for his work in the community, including, the Federal Reserve Bank of Kansas City President's award (twice), the Community Healing Network Award for Grassroots Community Service and the Kansas City Top 100 Influencers in Technology. Additionally, Dell received The Ten Outstanding Young Omahans under 40 Award, and University of Nebraska Omaha Chapter National Council of Negro Women Award for Outstanding Community Service. In 2020, the Kansas City Black Achievers Society inducted him.
He has authored four guides and one eBook on the subject. His most recent work is a research report on Black Women Businesses. Dell also is a well-traveled speaker, speaking in over 20 states and 50 cities during his ten years at the Bank. Dell is one of less than 5,500 Certified Economic Developers (CEcD), holds a Master of Business Administration, Master of Science in Finance, and holds a PhD in Public Administration.
School of Public Administration – Emergency Management and Disaster Science | Nicholas Walsh
Nicholas Walsh serves as an Emergency Preparedness Coordinator with a decade of experience in disaster preparedness and response. He currently specializes in healthcare emergency preparedness and exercises for Nebraska Methodist Health System. Throughout his years of experience, Nicholas has served in positions in the local, county, state government and nonprofit sectors including serving as the Nebraska State Mitigation Officer. Nicholas was one of the first graduates of the UNO Emergency Management degree before continuing on to complete the UNO Master of Public Administration program.
When Nicholas is not preparing for doomsday, he is serving Nebraska's youth on the Nebraska Masonic Youth Foundation board and local youth group advisory boards along with spending time with his wife, young daughter, and corgis.
School of Public Administration – Master of Public Administration | Alec Gorynski
Alec Gorynski is a philanthropy, community development, and social responsibility leader with over fifteen years of experience across private, nonprofit, and government sectors. Currently Alec serves as the President and CEO of the Lincoln Community Foundation where he leads the organization's effort to facilitate philanthropy and community leadership to develop the Lincoln community. Prior leadership roles include serving as the Vice President of Community Development, Corporate Philanthropy and Social Responsibility for FNBO and President of the FNBO Community Development Corporation, Vice President for Community Affairs at Bank of the West, and Deputy Grant Administrator for the City of Omaha Office of the Mayor.
Alec's career also includes extensive professional community service where he has helped co-found two community development financial institutions. Appointed by the Governor to two State of Nebraska boards, he has held numerous board, officer, and committee roles with multiple foundations and community development organizations. Alec holds a Master of Public Administration from the University of Nebraska at Omaha, and Bachelor of Science degrees in Psychology and Criminal Justice from Peru State College. Alec and his wife Laura have three children: Jamie (8), Ben (6), and Claire (4).
School of Public Administration – Urban Studies | Manne Cook
Manuel Cook (Manne) first encountered the importance of place through the work of his mother, a wildlife biologist and UNO alumni, who instilled in him the importance of ecosystems in an individual's quality of life. He studied Spatial Sciences at Rijks University in the Netherlands, and has a Master in Science in Urban Studies and a Graduate Certificate in GIS from the University of Nebraska at Omaha.
He is an urban-planner, cultural entrepreneur, creative place maker, and anti-displacement advocate from North Omaha whose work seeks to create vibrant places and livable built environments. Manne's work anchors partnerships with artists and grassroots organizations.
He is a former Neighborhood Planner for the City of Omaha. He contributed to the 2018 Affirmatively Furthering Fair Housing report and led several planning efforts in North Omaha.
Currently, he is the Urban Development Manager with Spark CDI. His projects include: developing an urban design lab that prioritizes Black urban designers (Fabric Lab), planning and constructing the North Omaha Trail, supporting the design and development of several place making and real estate development projects across the city, and providing consulting for area and neighborhood planning efforts.
He is a board member of Culxr House, Modeshift, Amplify Arts, Heartland BCycle, and Partners for Livable Omaha. Manne received Omaha by Design's first Young Urbanist Award in 2019.
School of Criminology & Criminal Justice | Dr. Charles Katz
Charles Katz is the Watts Endowed Family Chair of the School of Criminology and Criminal Justice and Director of the Center for Violence Prevention and Community Safety at Arizona State University. He also currently serves as the Director of the Master of Science in Crime Analysis.
Dr. Katz' work focuses on police transformation and strategic responses to crime. He currently serves as a research partner to the Phoenix Police Department to evaluate their BJA sponsored initiatives related to body-worn cameras and Crime Gun Intelligence, and serves as principal investigator of the Arizona Violent Death Reporting System (Az-VDRS) and the Arizona Unintentional Drug Overdose Reporting System (Az-SUDORS) sponsored by the CDC. He regularly collaborates with USAID and UNDP to develop comprehensive strategic plans to reform international police agencies.
He recently completed several research projects for the US Department of Homeland Security and USAID in El Salvador and Honduras on issues involving MS13 and gang and delinquency prevention.
School of Criminology & Criminal Justice | Dr. Phil He
Phil He is Professor of Criminology and Criminal Justice at Northeastern University since 2003. He served as Vice Provost for Graduate Education, Vice Provost for Faculty Affairs, and currently serves as Vice Provost of Faculty Diversity at Northeastern. Dr. He is Vice-Chairman of the Asian Criminological Society Supervisory Board and President of the Council for Chinese American Deans and Presidents.
Professor He's teaching and research interests include policing, comparative criminology and criminal justice and quantitative methods. He was a recipient of the Professor Robert Sheehan Excellence in Teaching Award from the School of Criminology and Criminal Justice at Northeastern and the Outstanding Alumni Achievement Award from the School of Criminology and Criminal Justice at the University of Nebraska at Omaha. His research has received funding from the U.S. National Institute of Justice and the MacArthur Foundation.
Dr. He continues to serve on the Criminology Advisory Board of the Journal of Criminal Law and Criminology. Professor He received his law degree from Xiamen University (China) in 1988 and Ph.D. in Criminal Justice from the University of Nebraska-Omaha in 1997.
Grace Abbott School of Social Work | Carla O'Donnell-Rizzo
Carla is the new CEO of Completely KIDS that serves more than 2000 children and families in our community. Carla's love for social work and serving the children in our community began even before attending UNO and earning her bachelor's degree in Psychology and Master of Social Work. She volunteered at Completely KIDS (then known as Camp Fire Boys and Girls) in high school.
Carla was an adjunct professor in the Grace Abbott School of Social Work and Creighton University. She completed a Fellowship with the National Institute of Out of School Time through Wellesley College. Her volunteer service includes being a founding board member of the Nebraska Chapter of the American Foundation for Suicide Prevention, volunteering for St. Joan of Arc Catholic School and the Dual Language Academy, and serving on the boards of the Sammy Strong Foundation and St. Joan of Arc School.
Carla received the TOYO (Ten Outstanding Young Omahans) Award, Leadership Omaha Class 38, and most recently her selection into the Nonprofit Executive Institute. Carla is a Gross Catholic School alumna. She and her husband Steve are parents to four boys.
Aviation Institute | Brian Bronson
Brian is a self-proclaimed entrepreneur who does not let the grass grow too long under his feet. He graduated from Iowa Lakes Community College and then the University of Nebraska at Omaha. He has been involved in many business ventures, most recently holding the position of Chief Executive Officer of a legacy aviation company in Omaha. Recently, Brian and the board of directors sold the company to Aircraft Spruce and Specialty.
He holds an FAA Airline Transport Pilot Certificate. Brian shares his love of General Aviation with many people and shows how to harness the power of General Aviation for business or pleasure has defined his professional life. Brian says, "Selling airplanes isn't about selling airplanes, it's about selling time. Time is the only commodity you just can get more of."
Brian enjoys spending time traveling with his loving and supportive wife Tiffany. They have crossed the country numerous times via commercial aviation and Brian's favorite…General Aviation. Every year they look forward to their annual trip to the island of Aruba. In 2021, Brian and Tiffany welcomed their first grandchild into the family, an absolutely perfect adorable baby girl named Layne. He looks forward to sharing the love of General Aviation with her and future grandchildren.
ABOUT THE HUBERT LOCKE DISTINGUISHED SERVICE AWARD
Dr. Hubert Locke served as the first permanent dean of the College of Public Affairs and Community Service from 1972 to 1976. In 2002, the college established an award to honor an individual who has demonstrated exemplary commitment to the ideals of public service through their professional activities, community service, and philanthropy.
After leaving UNO, Dr. Locke joined the faculty of the University of Washington where he served as dean of the UW Graduate School of Public Affairs from 1982 to 1987. His distinguished record of public and community service represent the highest ideals of CPACS. We are proud to recognize individuals who emulate his accomplishments.
Hubert Locke Distinguished Service Award | Mary and Rodrigo Lopez
Rodrigo and Mary López have a long history of community service in Omaha. Both have served on numerous non-profit boards and have been appointed to several public service boards and commissions related to housing, community planning and public personnel. In 2020, the López' received the United Way of the Midlands' Citizens of the Year.
Mary served for many years as Career Services Director for the UNO School of Public Administration, and now, as president of AmeriSphere Companies, oversees the operations and expansion of Capitol Place in addition to serving on several community advisory boards and committees, including the Munroe Meyer Institute, United Way Tocqueville Women's Initiative, and the Omaha Public Library Foundation Advisory Council.
Rodrigo is chair of AmeriSphere Companies and currently serves on the Boards of Directors of Mutual of Omaha Insurance Company, Lamp Rynearson, Omaha Performing Arts, and The Durham Museum. In 2021, the Omaha Chamber of Commerce Business Hall of Fame inducted Rodrigo.
Both Mary and Rodrigo have been long-time donors and volunteers for the University of Nebraska system. Rodrigo was a member of the University of Nebraska Foundation Board of Directors. He continues to serve on the Foundation's Audit Committee. Mary served on the Trustee Engagement Committee. Both are members of the Foundation's Executive Committee and UNO Committee for the current capital fundraising campaign.
UNO is especially dear to them as Mary received master's degrees from both the College of Education and the School of Public Administration. Rodrigo is a graduate of the EMBA program in the College of Business Administration, and serves on the CBA's National Advisory Board and the Chancellor's Hispanic Advisory Council. Mary serves on the UNO College of Public Affairs and Community Service Dean's Advisory Council, and a number of committees related to the School of Public Administration. Together, they have established three scholarship and leadership funds at UNO to provide students financial support to continue their education and achieve their highest professional goals and aspirations.