UNO Aviation Students Participate in Leadership Day at Southwest Airlines
Students within the UNO Aviation Institute participated in Leadership Day at the Southwest Airlines Training Facility in Dallas, Texas.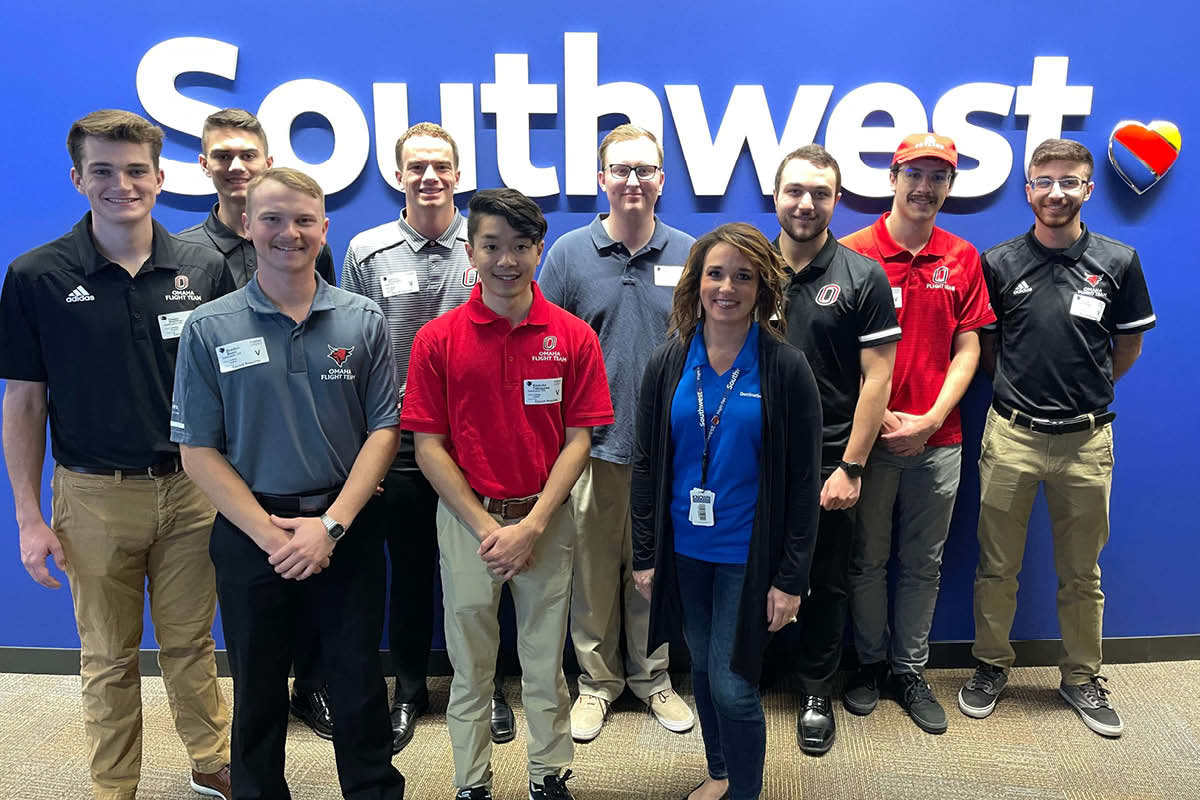 UNO Aviation Students at Southwest Training Facility.
Nine UNO Aviation students who have been accepted into the Destination 225º program had the opportunity to attend a Leadership Day hosted by Southwest Airlines at the airline's Training Center in Dallas, Texas. Prior to the visit, the student each successfully completed the ADAPT Assessment tool to see if they fit into the Southwest culture and passed an interview with the Southwest pilot hiring board.
The Leadership Day represents an initial "touchpoint" for students accepted into the program to visit the Southwest training facility and meet with the program's lead mentors and other Southwest representatives from the airline's flight operations division.
Southwest Airlines currently partners with four university aviation programs and three industry partners to provide an accelerated career path for students who participate in the program. Students who successfully complete their degree programs will flight instruct for approximately two years or until they meet a 750-hour flight time requirement. Graduates are then placed at Jet Linx Aviation or one of the other industry partners to fly business jets or Boeing 737s in charter operations for two or three years before they move on to Southwest Airlines and begin their Part 121 Carrier careers.
This partnership is a tremendous opportunity for students, UNO's aviation program, Jet Linx Aviation, and Southwest Airlines. The demand for pilots for scheduled Part 121 air carriers like Southwest Airlines and Part 135 charter operators like Jet Linx Aviation is growing. Despite the impact of COVID, the demand for air travel is returning much sooner than some analyst predicted and a program like Destination 225º is remarkable for students at the UNO Aviation Institute.
The focal point of the Leadership Day was a day-long classroom session with two Destination 225º lead mentors, including First Officer Jennifer McIntyre who has been at Southwest for just over two years an is a 1998 graduate from the UNO Aviation Institute. Students learned about Southwest's Operational Priorities, which emphasize safety above all else while balancing the airline's commitment to low-cost operations, reliability, and hospitality. The students also learned about Risk and REsource Management, which guides decision making across the airline.
Students also heard from Southwest Airlines senior management, including David Retnam, Senior Manager of Flight Operations and Bob Waltz, Vice President of Flight Operations. Both spoke about the Destination 225º pathway, the current state of the airline industry, as well as current and future need for pilots at Southwest. Students also had the opportunity to tour the Southwest Airlines Training Center including a close-up look at a number of state-of-the-art flight simulators and training devices as well as a full cabin simulator that flight and cabin crews use to practice emergency procedures including in-cabin fires and emergency landings. Students also had the opportunity to see Southwest Airlines artifacts and memorabilia displayed throughout the facility dating back to the airline's beginnings in 1971.
The aviation industry is once again poised for tremendous opportunities for growth. While finding qualified pilots is the goal of the Destination 225° program there is also a need for flight attendants, aircraft mechanics, maintenance specialists, dispatchers, air traffic controllers, airport operations supervisors, training personnel, and more. Successful companies like Jet Linx Aviation and Southwest Airlines are thinking outside the box to recruit and retain talented employees. Programs like Destination 225° and opportunities like this Leadership Day give students a sense of belonging as well as a clear pathway to starting their career. 225° is not just a compass heading but a Destination for success. Southwest Airlines and Jet Linx Aviation are charting a new direction for students in the University of Nebraska at Omaha Aviation Institute.