The Ethical Dilemma: Who's Tracking Our Medical Data?
Tools like smart watches track health data, most of the time for personal use. But, do you know what's really happening with that data after you log how many hours you slept? Dr. Andrea Wiggins researched this issue, and is kickstarting a conversation about the ethics of citizen science, personal health data, and what happens to our data after it's collected.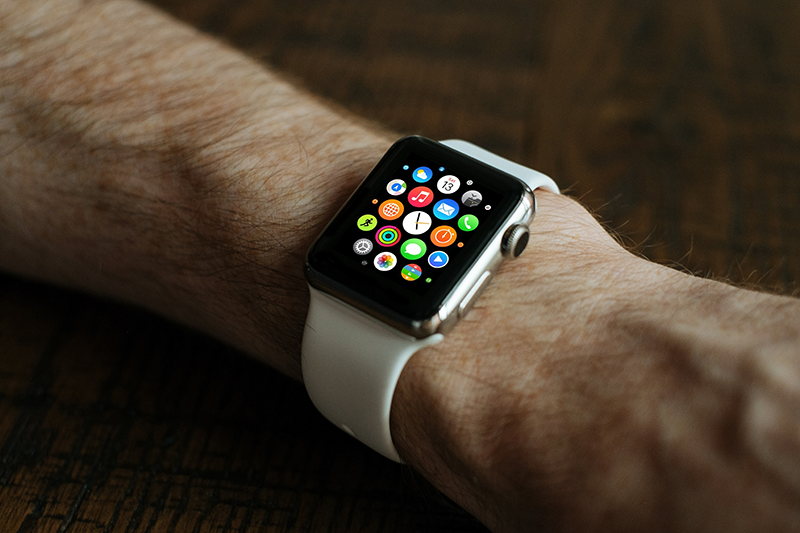 Wearing a smart watch is an easy and casual way to gather data on your health. Did you hit your target heart rate during your spin class? Are you getting your steps in, every day? With modern health tracking devices, you can dive deeper into everything from fertility tracking to glucose meters.
While tools like smart watches help track data for your own use, do you know what's really happening with that data after you log how many hours you slept? Personal information about our health is being mined, stored, and used in ways that are not really regulated.
This got Dr. Andrea Wiggins' attention. Dr. Wiggins is an assistant professor at the University of Nebraska at Omaha (UNO) College of Information Science and Technology (IS&T), and she started taking a hard look at the role citizen science (when people who aren't necessarily professional scientists participate in science) plays in the biomedical and health space. The data that citizen scientists compile can hold a wealth of information that's ripe for the picking, and that's why she wants to make sure that personal data – like the stuff that we're voluntarily tracking with our smart watches – is being used ethically.
"There's been major growth in citizen science practices, but slower adoption in health and biomedical sciences," Dr. Wiggins said. "In health and biomedical research, there are different consequences and ethics management concerns than we're used to addressing in other fields."
Researching Ethics
Realizing there are no real guidelines for these issues, and that many people participating in this kind of citizen science operate outside of the regular institutional frames, Wiggins dove into the variations of ethical issues that come out of citizen science in health studies, such as issues with using proprietary platforms. In essence, some of these platforms could do whatever they want with your data and the consequences are minimal. Regardless of whether aggregating data is led by users or researchers, a variety of ethical issues can come up, especially when the ownership of the data is opaque.
"It's a bit of a wild-west space in terms of implications for ethics. There are privacy issues that people aren't very well informed on," Wiggins said. "There are pros and cons to sharing health information. People have been tracking their health for ages, but the way the data is aggregated and shared is different now. Technologies are making a difference, and the way we approach these projects that involve the public needs to shift as well."
Kickstarting a Conversation
Recently, Wiggins submitted a paper to the American Journal of Bioethics (AJOB) in an effort to provide a better understanding of what citizen science looks like in biomedical and health research. Her goal was to share her depth of knowledge on citizen science with the research community, to help broaden the perspective and kickstart a conversation about how to approach these challenges.
The paper received so much attention, 22 responses from other authors focusing on a variety of ethical concerns, that the publication will be dedicating an entire issue to exploring citizen science in health and biomedical communities. Wiggins is pleased to see such overwhelming interest from health researchers in developing a better understanding of the full range of what could be happening and where the potential lies.
"There may be dragons [when we start to explore this issue]. That doesn't mean we shouldn't tread there, but we need to be thoughtful," she said. "Patient-centered medicine is a growing space, [and citizen science is an important tool to develop it]."
AJOB invites other people to add to the conversation, which Wiggins said has helped deepen her knowledge about what's going on in citizen science for health research across the globe. Questions about regulations, how we distinguished between professional and citizen science, cultural awareness, and who's included in these projects have all been raised.
"The potential for what citizen science could be in this space is really interesting, this paper has opened the doors wider to discuss that," Wiggins said. "Citizen science approaches increase the dialogue between medical professionals and patients, which can help diagnoses and treatments. The lived experience is really valuable."
Interested more in this conversation? Check out Dr. Wiggins' paper, The Rise of Citizen Science in Health and Biomedical Research, in American Journal of Bioethics this August.