Game Play
From preparing students for careers in the gaming industry to using games in patient rehab, UNO is going to work with video game play.
published: 2019/05/03
contact: Susan Houston Klaus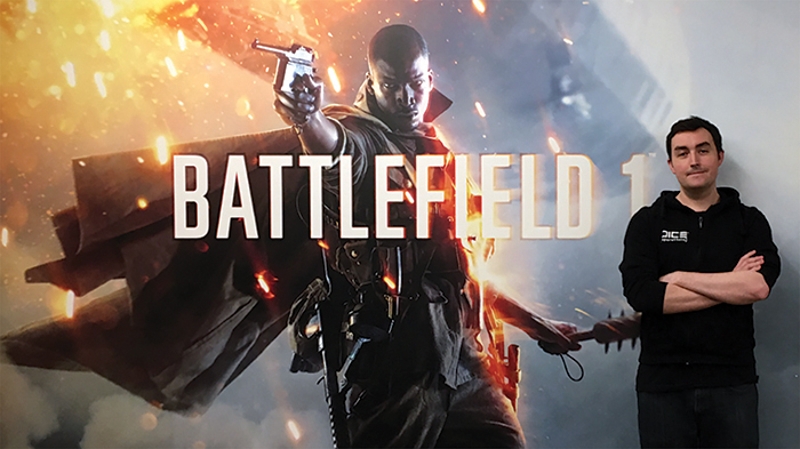 The gaming bug bit Jay Austin when he was about 5 years old.
The first time he played a Nintendo game was at an after-school daycare. "They just had one original NES with a couple of the games and you just had to take turns playing," he says.
Waiting for his moment for another go at Mario Bros., he was hooked. That Christmas, he asked his parents for his own Nintendo.
"Unbeknownst to me, that was the year the Super Nintendo was released. I was very insistent saying, 'No, no, no, I want a Nintendo like the one at school.' My parents had to really persuade me to upgrade."
On the Battlefield
Growing up, he always knew he wanted to do something involved with making games. That changed over the years, from designer to programmer to other aspects of the business.
Austin earned a BS in computer science from UNO in 2008; two years later, he got his master's in game design from the Rochester Institute of Technology.
After a five-year stint working as a program manager for Microsoft in Seattle and then in Beijing, he moved to Stockholm. There, he took a post as analytics team lead for DICE game studio, part of video game company Electronic Arts.
He's in charge of a team of analysts who work on DICE titles. Right now, that's the "Battlefield" franchise.
"Our purview spans a pretty broad range of topics at the studio," Austin says.
"We work on all of the systems that need to be in place to collect, store and analyze data about the games that we make," he says. That includes how many people are playing those games and how they're being used.
He says he appreciates his undergrad education for giving him the broad perspective on all the different disciplines one can be a part of in the gaming world, including programming, design, art and data analysis.
"At UNO, I got to try out a bunch of different things to find what I liked doing. When I graduated, I had a pretty well-rounded core skill set."
The art of gaming
UNO students interested in gaming can explore an emphasis in art via a game design concentration in media arts. Or they can choose a computer science track with a game programming concentration. Either way, they have an opportunity to get their feet wet with a broad range of coursework.
Lilly Lu, an associate professor in the College of Communication, Fine Arts and Media, heads the relatively new concentration in game design.
Coursework is focused on developing the artistic and professional aspects of game development, including creating visual content, game design theories and practice and emerging gaming culture.
Students on this track study the game development process of tabletop games, as well as 2D and 3D digital games. They also learn how to create visual content for interactive online games and character design. Advanced game design students study special topics and project opportunities in virtual reality.
A Game Design Studio offers students service-learning opportunities to apply their game design skills over the entire game development process in a real-world project.
Access to high-tech tools
Housed at the Dr. C.C. and Mabel L. Criss Library, the Creative Production Lab is a great place for aspiring gamers to access high-end tools to produce their artistic endeavors or to try out a new technology.
Charles Fisher heads the lab. Its driving force, he says, is to make emerging technology available to students and the UNO community for the express purpose of getting them industry-ready and opening creative outlets to them.
"Those can range from people coming in to use some of our higher-end computers to make the graphics or stickers for their gaming groups to folks doing voiceover work for their video games and animated media."
A notable feature of the lab is its VR equipment, a second-generation Oculus Rift connected to a PC. Users can play games from Steam and from the Oculus site.
It's a chance to give lab patrons an up-close experience with pricey technology that's out of range for most users.
"The expense of offering VR as a creative opportunity is already a hurdle, which it shouldn't be," Fisher says.
"If it's going to be an emerging and a competitive technology, then we need to have students access it on the ground level and build things for it."
In his other life, he's the creative director for RHO Interactive Entertainment, where he does character design, animation, world design and project management.
The Omaha-based startup, founded by Fisher and other UNO grads, produces interactive games for local organizations like Omaha Healthy Kids Alliance, the Omaha Children's Museum and Lincoln Children's Museum.
Reaching out to the community
Through the Attic, housed at UNO's College of Information Science & Technology, undergrads and postgraduate students develop tools to educate and entertain.
One is called "Gout Racer" (yes, you read that right …), designed to help UNMC rheumatology students learn ways to treat and manage gout symptoms.
"It came about as a request from one of professors at the department of rheumatology," says Zac Fowler, manager of the Attic. "They thought, 'Let's make it a little more entertaining for students.'"
"We had a student work with their offices to conceptualize the game, come up with the styling, get the content from the physician, put it in the game and then build and deploy it."
Another is "MIS Tornado," a real-time strategy game that charges players to save as many survivors as possible in eight minutes. Originally created as a tool to illustrate the complexities of information systems, its users have gone beyond the classroom to include gamers from around the country, Fowler says.
"Four Forces" was created for the SAC Museum as a game for elementary and middle school visitors. The tablet-based tool is based on the four forces of flight. Students virtually mix and match pieces of the airplanes on display at the museum to see if they can make something that flies.
Support for stroke survivors
Helping the greater community through gaming is also a big focus of Brian Ricks, an assistant professor in the College of IS&T.
His research lab, in partnership with the UNO Department of Biomechanics and local physical therapy programs, is creating games for stroke survivors to make recovery less tedious and maybe more enjoyable.
Ricks and students in IS&T have been developing software where patients in rehabilitation post-stroke will wear a VR headset as part of their therapy.
"You're doing things like picking up airplanes and throwing them through hoops, and you're getting feedback like you would in a viral app on your phone," Ricks says. "You're scoring points, trying to beat someone else's score and getting lots of visual feedback."
During the game, the technology tracks the movements of the patient's body to make sure they're doing the correct number of repetitions and using the right muscles to improve their movement.
The Stroke VR project has been in development for about two years, Ricks says. He and the team are preparing to roll it out to a pilot group of hospitals this summer.
Proof is in the portfolio
With so many options available to students interested in gaming, Austin has this advice:
"No. 1, figure out the discipline that you really want to work in, because there's a lot more to software in general than just programming," he says.
"There's design, programming, testing, audio, art, and there are ancillary things like marketing and finance. Figure out where you want to work, what you want to specialize in and then start building a portfolio of work."
He urges students to include projects they've done on their own or part of their university curriculum.
This, he says, "will show off that you not only have the credentials that so you're good at this discipline, but also the proof in your portfolio to demonstrate your skill set.
"More than ever, there are more opportunities to go and contribute to either public projects or there are all sorts of game engines that you can work in for free. It's very easy to start creating content or doing work if you know what you want to do and you've got the drive to go do it."
As for those Nintendo games he cut his teeth on, they'll always have a place in Austin's heart—and home.
Last Christmas, he got a Nintendo Switch.
GAMES THAT GAMERS PLAY
When they're not at work, here's what you'll find these gamers playing:
Brian Ricks says his game of choice astonishes his students. "After our kids are in bed, my wife and I love to collapse on the couch and not move while we do the New York Times crossword puzzle."
Charles Fisher plays two or three hours a week. His favorites: Destiny and Morrowind. "Both of them have successfully created a whole world around very different aesthetics and pull you into being willing to create a single entity and character and stick with them for 1,200 or 1,300 hours of gameplay."
Jay Austin has Battlefield on his playlist, of course. But he also likes Command & Conquer: Rivals. "It's a really deep strategy game that I probably put more hours into in a week than I do anything else."
See the story in UNO Magazine.